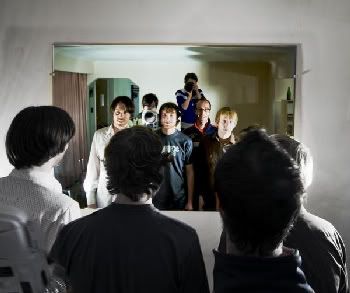 As
The Diableros
mentioned over at their
MySpace
the other day, they've recorded a few demos 'motown-style' (ie. live-off-the-floor, 1 mic for the drums, 1 mic for all the other instruments, with the vocals added later) which they've made available for listening on their
MySpace
- the songs are entitled 'When The Water Rises' and 'Heavy Hands', the latter of which is available for download currently at their
official website
. The band play a show at The Boat on December 19. Both are great tracks btw, full of ringing guitars and invigorating melodies - and is that a baritone sax during 'Heavy Hands' I hear? [photo by
Holly Thomas
]
Merry Christmas from
Vice Records
and
The Raveonettes
with a reverb drenched bit of holiday melancholy(and if you're thinking of including the song on your next Christmas mix playlist, you may want to clip the Vice advert at the end of the song):
MP3
:
The Raveonettes - "Come On Santa"
Muchmusic
MuchOnDemand
's Tim Deegan interviewed
Franz Ferdinand
(well two of 'em anyway) while they were in town, the guys speaking about the record 'Tonight' and having wanted to make a dance record, but in a different way.
NME
brings news that Two-Tone Ska revivalists
The Specials
will reunite in 2009 to celebrate their 30th anniversary, though for the moment with gigs scheduled only for the UK.
Muchmusic Blog
reports that Quebec outfit
Malajube
will release their new album "Labyrinthes", on February 10, 2009.
The new
Neko Case
album entitled "Middle Cyclone" is out March 3, 2009 through ANTI-.
ANTI-
has the tracklisting up and
Pitchfork
has the kick-ass cover art.
Ohbijou
's Casey Mecija posts over at the band's
MySpace
about the air getting colder, the band's road weary travels over the last few months with
The Acorn
, and planning over the next couple of months on rehearsing, writing and recording their new album entitled "Beacons" which they plan on releasing in April 2009.
The January/09 schedule for
Wavelength
at Sneaky Dee's is now up at
Stille Post
.
Brooklyn's
Bishop Allen
will bring their chirpy indie pop to the El Mocambo on January 17, tickets $10.