concert review
:
Neil Young
,
Wilco
,
Everest
@
Air Canada Centre
(Toronto, Ontario), December 4, 2008
Neil Young @ Air Canada Centre (December 4, 2008)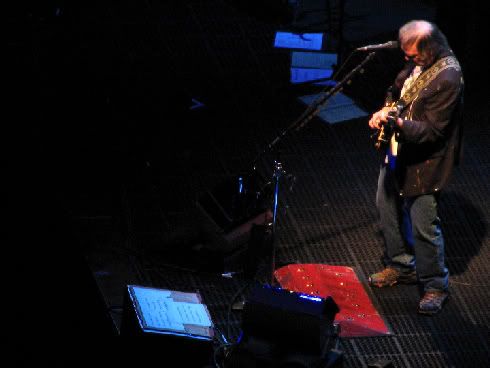 The large arena/stadium concert is something I haven't experienced very often in my years of going to shows. I can only two large arena shows I've gone to - The Cult at Skydome in the late 80's(my 1st concert ever), and U2 at Exhibition Stadium during their Zoo TV tour in the early 90's. (I guess you can also count Sloan at Varsity Arena in the mid-90's in promotion of "One Chord To Another" but that was a smaller arena from what I recall.) I guess I was only waiting for the right artist to come along before I'd venture back to hockey arena or stadium for a concert and that artist was Neil Young. Who better else.
Whether there was any sort of egoistic element in picking the openers remains to be proven, but it's hard to deny Neil Young's influence in the music of Californian Americana outfit Everest nor his sonic influence that runs through at least some of the music of Wilco. In the end, both bands were deeply happy to be playing with one of their musical heroes. Although Everest were completely unknown to me except for the fact that their debut album "Ghost Notes" was released earlier this year through Mr. Young's boutique label "Vapor Records, that managed to convince me of their talent wit their lovely, robust folk rock melodies, jammy at times, but completely enjoyable. It's a shame they only played to only a 1/3 full arena. In the excitement of the anticipation of getting to see Neil Young for the first time, it was easy to forget that one of my faves Wilco were also on the bill. My previous times see Wilco were at the much more intimate(and hence better) venue Massey Hall and it was a discombulating experience to see Wilco play an arena with me sitting in the nosebleed section. Of coure there was a little bit of a disconnect, added to the fact that Wilco weren't playing a full set. However with Wilco's
setlist
leaning towards some of their most soothing songs("Via Chicago", "Jesus, Etc", "California Stars", "Impossible Germany"), in some respect, sitting in the 300 section was an ideal way to experience some of Wilco's loveliest melodies as they wafted through the arena. I don't mean to give you the impression they were slick as say The Eagles(no we don't want that)....guitarist Nels Cline tore up the guitar solos with fiery skill and the sudden noisy collapse of instruments that occured during points in "Via Chicago" (like Neil's excursions into feedback) showed that Wilco have an edgier side to them.
I've had an on and off relationship with Neil Young's music over the last 20 years, my earliest introduction probably being a cover of Neil Young song by another artist but through the years, as a music fan, it was almost impossible to ignore his influence on popular culture nor let his songs seep into my musical concsciousness. Whether as a forebearer of grunge and alternative music (going so far as to tour with the likes of Sonic Youth and Pearl Jam in the 1990's), or bringing his acoustic folk to a new generation with his appearance on MTV's Unplugged, or bridging the gap between music fans(particularly youth) and noteworthy social or political issues with his songwriting and involvement with causes like The Bridge School and Farm Aid, his influence is far-reaching. But now seems like the time where Neil has nothing else to prove and he feels comfortable looking back his career as his two shows at the Air Canada Centre last week (the first of which I attended) in Toronto showed him to be.
With his wife peggy and his Electric Band, the Mr. Young played a
setlist
stacked with many of his most well known songs, coming off like a rough and tumble aging rocker who hasn't lost an ounce of grit since his younger days. Though all my previous times at the Air Canda Centre have been for Raptors games, and in better seats, it wasn't until I ventured to my seat in the 300 section, row 16 (practically near the ceiling), that I realized how large Air Canada Centre is. Looking down upon the mass of people that had filled the venue for Neil, when Neil and company finally filed onto the stage, it was a jubilant response that greeted them, not only as a sign of respect but also of appreciation for his contribution to popular music over the years. Granted there was almost no possibility of the 300 section feeling the electricity that the crowd on the floor must have been feeling during Neil's set, but a few rounds of handclapping and pockets of people standing at times kept the spirits up in the nosebleed sections. Taking the 'greatest hits'(with a few detours) approach he touched on various aspects of his career playing electric ("Powderfinger', "Hey Hey My My", "Cortez The Killer")), acoustic ("The Needle And The Damage Done") and almost bordering on accappella(if not for the sombre pipe organ accompaniement) with a serene reading of "Mother Earth"(off of "Ragged Glory"). I'm reminded of a day back in my youth(man, do I feel old) when my family and I were at the Canadian National Exhibition and I could hear Bruce Springsteen playing live from within Exhibition Stadium, the enormity of the experience as The Boss' vocals echoed through the grounds, but on the other hand the music was deeply invigorating and personal. Really, that was exactly the same experience I had seeing(for the first time) Neil Young play live and one I won't soon forget.
Photos
:
Neil Young, Wilco, Everest @ Air Canada Centre (December 4, 2008)
MySpace
:
Everest
MySpace
:
Wilco
MySpace
:
Neil Young