Crystal Stilts (photo credit: Lauren Bilanko)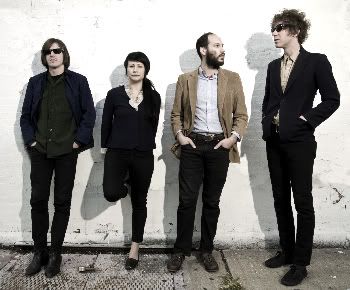 It's obviously Sweden's
Love Is All
's night at the Horseshoe Tavern tonight but I do strongly encourage attendees to get there for Brooklyn's
Crystal Stilts'
set. With the release of their debut full-length "Alight of Night" freshly released through
Slumberland Records
(though some of the songs have been kicking around for a bit, having been released independently earlier this year on their self-titled EP), the band delivers a hazey, reverb-drenched album of both major and minor chord pop songs. My first impressions garner comparisons to obvious influences like
The Velvet Underground
with a hint of
The Jesus and Mary Chain
, while lead vocalist sounds like a more woozy take on
The Magnetic Fields' Stephen Merritt's
debonair baritone at times with a little deadpannedness of
Joy Division 's Ian Curtis
, siphoned through a haze of reverb. The minimalist rock n' roll instrumentation of The Velvet Underground is a large part of the sound, and depending on one's appreciation for such aesthetics(which I do), that'd probably determine whether you'd like Crystal Stilts. Yes, they do at times have strong melodies, but other times they're less obvious and buried beneath the din or more simplistic to the point I wondered whether the band could pull off some of these songs acoustically. The answer to that question I would say would be 'no', the biggest culprit perhaps being "Verdant Gaze" that seems to plod a long with without any discernible melody. At their best, as on
"Shattered Shine"
they most obviously adhere to my comparisons to Stephen Merritt and The Velvet Underground though with an added touch of the most gloriously melodic ringing guitar arrangement guiding the song along. The overall strength of the album lays in the band's ability to maintain a consistent sound but apply variations in instrumentation and music genres to keep things interesting. There's the minor-key garage stomp of "Bright Night", the JAMC surf stomp of "Crystal Stilts", the poppy, organ-ified "Prismatic Room", the noir-country twang of "Graveyard Orbit", the cinematic 60's-ish pop sounding "Spiral Thought"(a garage-y take on
The Last Shadow Puppets
IMO) and the sun-kissed
Beach Boys
pop of album closer "The City In The Sea". Thoroughly entertaining.
Myspace
:
Crystal Stilts
Video
:
Crystal Stilts - "Prismatic Room"
(music video)
Bell Orchestre
have joined the
Arts & Crafts
roster who will release their sophomore full-length in early 2009, with touring to follow.
Soulstress
Bettye Lavette
will be at The Diesel Playhouse on June 3, 2009.
Update
: Commenter Kate C. informs that The Diesel Playhouse is closing so it appears Ms. Lavette will have to look for a new venue.
The
Soundscapes
staff have posted their best-of lists of 2008.
Herohill
posts his fave Canadian EP's of 2008, and I realize I have some catching up to do.
Sara Bareilles
will be at Church of the Redeemer on February 28, 2009 according to
Pollstar
.
Andrew Bird
has confirmed a bunch more North American tour dates including a return to Toronto for a show at Queen Elizabeth Theatre on April 3.
As
Chartattack
and
Chromewaves
pointed out,
The Weakerthans
and
The Constantines
join forces again for their Rolling Tundra Revue cross-Canada tour, with a stop at the Phoenix confirmed for March 31. It seems bets are that it'll probably be moved to a larger venue(or possibly multiple dates at the Phoenix), but if you really want to go I'd suggest buying your tickets right away.