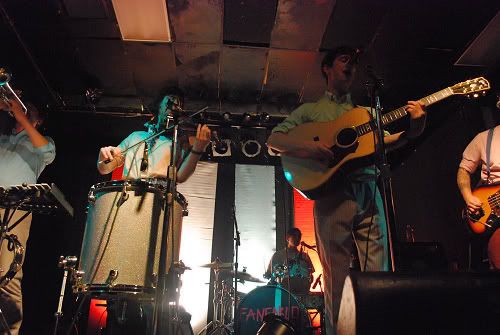 Fanfarlo: photo by Michael Ligon
Update[April 15/2010, 11:15 pm]:
Review now up.
When
Fanfarlo
had to cancel their debut Toronto appearance(due to Simon of Fanfarlo having his passport stolen) which was originally to take place back on December 15 at the El Mocambo, I'm sure some people were bummed. Although I'd heard of them even before that, I'd been slow to catch on but the cancellation did give me an opportunity to catch up. After picking their 2009 debut "Reservoir", I was immediately smitten and made a beeline to pick up a ticket to their show which had eventually been rescheduled for the larger
Lee's Palace
on April 15. Comparisons to
The Arcade Fire
aside, Fanfarlo do create a satisfying blend of string-laden and sometimes horn-augmented, indie-folk rock. As if we really needed another one of those bands, but in this case they are essential because they write the most tuneful melodies.
I must work on being less cynical about opening bands I don't know as nowadays more often than not I don't make enough of an effort to show up early enough for them. Having sampled Los Angeles
Robert Francis
rootsy, folk-rock on his MySpace, it's hardly innovative but possesses a sincere passion and is well-executed.
My arrival to the venue was just prior to second openers, New Zealanders
Lawrence Arabia
. Perhaps it was my cynicism of openings bands I'd never heard of, but at first I didn't find Lawrence Arabia that compelling. What I did appreciate about the band immediately was their musical influences, one foot continuing in the rootsy, folk-rock direction of first opener Robert Francis, but the other foot squarely within the rich New Zealand/
Flying Nun
quirky pop influences. While the beginning of the set seemed less essential, the band soon found their stride having saved their better songs for remainder of the set, with a good melodic alt-country tune or two and more quirky, yet tuneful pop-oriented material.
These days some bands don't look like bands. Case in point,
Vampire Weekend
whose collegiate, preppy wardrobe doesn't exactly scream rock-star although perhaps is more equated, at least currently, with hip indie fashion. Similarly, when Fanfarlo walked out onto the stage in their khakis and pastel-coloured oxford shirts, with vocalist Simon Balthazar wearing boat shoes and multi-instrumentalist Cathy Lucas wearing sensible tassled shoes, it was hard to tell if there was an element of irony in their wardrobe. On the other hand, I didn't mind it at all - I myself have added a couple pairs of boat shoes to my wardrobe recently. Still, if the preppy wardrobe had put you off at least you'd be pleased to know that bassit Jusin Finch was rockin' a substantial tatoo on his forearm - and he also had a rockin' moustache, if that's you're thing. With drummer Amos Memon's bass drum emblazoned with their band name and the back wall of the stage adorned with illuminated multi-coloured vertically-hung rectangular strips of fabric, the audience was clearly adulated for the band's arrival.
To bring up Arcade Fire again, Fanfarlo clearly resembled them most on "Drowning Men" right down to the collective percussion and spirited tempo, and the song's general texture which reminded me a lot of Arcade Fire's "Rebellion". However, as the band did show, they clearly aren't copyists - for example, Simon's vocals are clearly swoonier than Win Butler's. While elements of the band's sound may be similar to Arcade Fire at times or to other bands. Fanfarlo do have an album's worth of stellar material that stands up on its own, combining standard rock instrumentation with trumpet, violin, and keys, and utilizing group vocals, although more often than not, the focus alternating between Simon's swoon and Cathy's enchanting timbre. The band's physicality on stage showed a bit of restraint, a bit disappointing when you expect the band to really let loose on their most urgent songs. On the other hand, with songs as good as "I'm A Pilot", "Drowning Men", "Ghosts", and "The Walls Are Coming Down" staying true to the recorded versions was almost more than enough.
Photos:
Fanfarlo, Lawrence Arabia @ Lee's Palace, Toronto (April 9, 2010)
MySpace:
Robert Francis
MySpace:
Lawrence Arabia
MySpace:
Fanfarlo