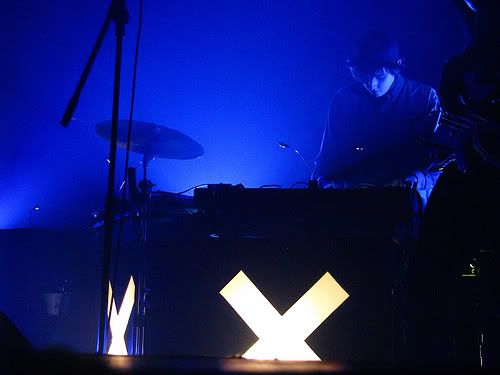 The xx: photo by Michael Ligon
It being Easter last weekend I almost forgot about The xx show happening the night of Easter Sunday. It was at the Love Is All show at Horseshoe Tavern the previous night that Tom M. reminded me that The xx show was indeed happening the following day. Realistically, I probably would have forgotten. So after spending the afternoon into early evening of Easter Sunday with family, I headed down to the
Phoenix
for the night.
I missed LA DJ
Nosaj Thing
, but if I'm correct in assuming, it was a DJ set right? If it was, did he spin his
remix of The xx's "Islands"
or perhaps his remix of our very own
Drake's "Drake Forever"
?
It was a decently packed house when I arrived wit Swedish duo of
jj
already into their set. The duo consists of guitarist Joakim Benon and vocalist Elin Kastlander. With prerecorded backing tracks there was not much activity on stage except for Elin singing and Joakim playing a bit of acoustic guitar or some peculiar dancing so perhaps it was a bit wise that they had a video projection backdrop to keep us a bit interested. The duo's rhythmic, ethereal pop is interesting enough, but that live set tanked in my opinion.
If I'd had more forsight back last year, I'd have jumped on The xx bandwagon sooner. When they rolled through town late last year, opening for Friendly Fires, I'd initially passed on the show because I wasn't too familiar with
The xx
. And of course that show sold out after I decided I wanted to go. I'd given them a few listens but initial impressions were that their minimalist tunes sounded a bit calculated. Subsequent listens were however more gratifying. Built on a bed of simple beats, skeletal guitar and bass, and enticing melodies, the group songs manage to draw from a several genres like r n' b("Basic Space") and post-punk ("VCR"). At their best(say for example "Shelter") the tension that is achieve absolutely mesmerizing.
The band consisting of Jamie Smith on drum machine/programming, Romy Madley Croft on guitar and vocals, and Oliver Sim on bass and vocals began the show behind a white sheet that hung across the stage as the silhouette was cast against while they performed the stellar opening of "Intro". When the sheet dropped it revealed the group huddled around Jamie's electronic setup, illuminated only by the band's name "XX". Romy mentioned that the show that night was the anniversary of their first headlining show. For the remained of the show it was a challenge to ignore the chatter from the back crowd and stay attentive to the group's subtle, tension filled tunes and I will say for the most part I was successfully in ignoring the former and enjoying the latter.
Although the group weren't the most animated, their demure stage presence did somehow fit the mood of the songs. Romy was the least expressive of the trio, but on the other hand Oliver had a expressive swaying posture in his bass playing. While I wouldn't have known from listening to the record, I can appreciate Jamie's nimble handling of drum machine duties better after seeing them live. On a side note, I've recently seen a drum machine in person and it's more complicated than I would have imagined.
Highlights of the evening were their silhouetted performance of "Intro", their mesmerizing performance of "Shelter", their
Bronski Beat
-"Smalltown Boy" keyboard intro to "Infinity" (no, I wasn't imagining it) and their haunting cover of UK artist
Kyla
's "Do You Mind". The band came out for their encore consisting of their song "Stars" complete with a starry illuminated backdrop outlining a large 'X' behind them. Musically and visually satisfying, I'm looking forward to seeing them again when they play a rather larger stage at Kool Haus on April 20 when they open for
Hot Chip
.
Photos:
The xx, jj @ Phoenix Concert Theatre, Toronto (April 4, 2010)
MySpace:
The xx