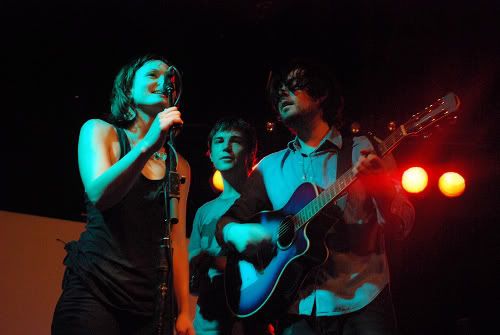 Land Of Talk: photo by Michael Ligon
Update[April 13/2010, 11:45 pm]:
Review now up; photos now up also.
When
Land of Talk
's Elizabeth Powell lost her voice in September 2008, the band was forced to cancel a few tour dates including a date at
Lee's Palace
on September 27. They made up that cancelled show when they played the Horseshoe Tavern in early 2009 on January 15, at the time promoting the release of their debut full-length album "Some Are Lakes". From that show, I recall noticing Powell's vocal difficulties but the trooper that she was she held back if only slightly but still sang a fine show. Soonafter the band took a break from touring and the band evenutally released a new EP entitled"Fun and Laughter" at thed end of October 2009. It's been well over a year since I'd last seen them live and for their most recent show at Lee's Palace last week, it was good for the band to promote their new EP. God knows I hadn't been paying attention and didn't even know they had a new EP. Now I know - and it's a good one.
I was a little surprised but at the same time not surprised, if that makes any sense, that the Thursday turnout for the Land of Talk show last week was so good. As far as I recall, I don't think advance tickets at any of the local record stores sold out. There was a healthy attendance for fellow Montrealers
Adam & The Amethysts
and by the time Land of Talk hit the stage it felt like like a sold out crowd, at least from my near-the-stage vantage point looking back. But then given that it'd been over a year since the band played in Toronto, I presume there was many a fan looking forward to this show. My one and only time seeing Adam & THe Amethysts live was at
the Silver Dollar back in June of 2008
during NXNE and had featured a full band, but this time around it was just Adam and one Amethyst with Rebecca Lessard on cello accompanying Adam Waito on guitar and vox. I have a little regret showing up to their set barely catching their last two songs. Down to a duo for this show, there was a nice minimalist chamber-pop quality to Adam's tuneful, casual pop songs. I would have liked to heard more but from the crowd reaction at the end of the set it seems for those who caught more of the set than me, the duo went over well. At least the wait for Land of Talk wouldn't be long.
For all the vocal problems Elizath Powell's gone through, there was virtually no hint of them at their show last week. With Powell's raspy vocals as strong as ever, and with the band's now established current rhythm section of drummer Andrew Barr and guitarist Joseph Yarmush playing with a renewed sense of vigor(and also joined at times by Adam Waito on guitar), the audience's warm reception to the band's first show in Toronto in over a year was more than deserved. Hitting just about every song expected from their two EP's (2006's "Applause Cheer Boo Hiss" and 2009's "Fun and Laughter") and their full-length (2008's "Some Are Lakes"). The one song I don't recall them not playing that I would have wanted was "All My Friends" but otherwise it was a most satisfying set list. While the band's penchant for urgent, gritty, tunefulness was mostly on display it was with the slowed-down rootsy leanings of 'Troubled' that was practically the highlight of the evening for me.
The night wasn't without it's technical mishaps. Not that I'd noticed, but it seems one of the amps(Liz's monitor) had been off, but then with the flip of switch, and a signal to the sound guy that everything was alright, things got back on track, but not that anything had ever been off track for me. Of course, the band came back to play a few songs for their encore, ending off the night with a rendition of
Big Star
's "Thirteen" featuring the trio moving closer to the front of the stage, doing 3 part vocal harmonies into one mic, and Yarmush on acoustic guitar. Even though it was Land of Talk, I had some initial reservations - there was always the possibility that their cover would have been run-of-the-mill, but thankfully it turned out that the the three-part vocal harmonies were beautiful and the overall performance including Yarmush's "Thirteen" guitar solo, inspired. Icing on the cake.
Photos:
Land of Talk, Adam and The Amethysts @ Lee's Palace, Toronto (April 8, 2010)
MySpace:
Adam and The Amethysts
MySpace:
Land of Talk