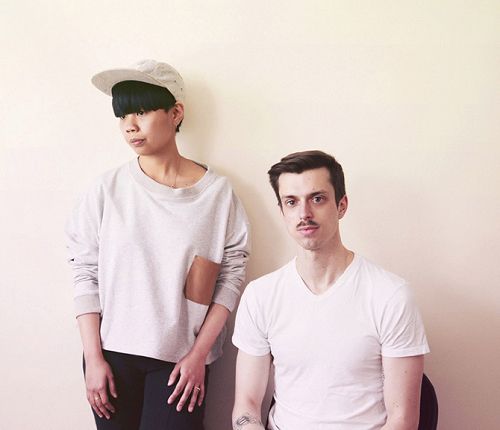 Warm Myth: photo by
Reynard Li
Although, I'd mentioned in my previous post
NXNE
was a washout because of going to the
Radiohead
show at Downsview Park tonight, the opportunity has risen that I may check out some of the afternoon NXNE events and depending on the time that me and my brother get out from the Radiohead show, perhaps I'll check out a later night NXNE set. And while I've see The Flamings Lips several times live (both locally and abroad), part of me will miss seeing them play a free show in the heart of downtown Toronto. I hope there's some wicked overhead photos taken of the show that will hopefully surface on the web. So here goes my picks for NXNE for tonight and tomorrow.
Saturday June 16, 2012
Afternoon ----- As they've done for the past several years,
Sonic Boom Records
who moved months ago from their original location on Bloor St. West of Bathurst to their current location inside Honest Ed's just down the street, will continue their NXNE tradition by hosting a slew of live acts this afternoon. Some may miss that basement stage of the old location but onward and upward this should be a fine afternoon. Check out the
lineup
. Or else one might fancy the
NXNE Day Party @ 218 Brock Ave
where each of the bands on the lineup will be performing 10 minute sets. Another option which is a little less guaranteed at this point is the
Bruise Cruise
sponsored by
M for Montreal
and
BrooklynVegan
with bands performing on a boat for the afternoon - there's an RSVP which is now closed but I've heard (and this may or may not be true) that if you show up and they still have room, you may still get on-board. Finally there's the in-store down at Urban Outfitters (235 Yonge) street which will have sets from
Vacationer
,
Zulu Winter
,
Young Magic
, and
DIIV
between 1-4 pm (
via
).
2 pm ----- If you happen to be down near the Waterfront, maybe check out female Toronto-based, rapper
Masia One
who'll be performing at the Redpath Stage at Harbourfront Centre. I kind of forgot how ridiculously talented she is. I remember back in 2003 when she had named her debut album "Mississauga" (
as a tribute
to all the Mississauga-based friends and business associates who helped her launch her rap career) and being a Mississauga, I never forgot that.
8 pm -----
Warm Myth
was a totally unknown entity to me until I'd read in the
NXNE guide
that they are the
"secretive new project of Casey Mecija of Ohbijou. For stratospherically inclined fans of Washed Out, Memoryhouse et al."
They'll be playing an early set at The Garrison tonight. I'll have to catch them another time.
9 pm - 11 pm ----- Unfortunate timing for any other artist or band playing during this two hour time slot because when Oklahoma psych / weirdo-pop veterans
The Flaming Lips
come to town to play a free outdoor show, they will trump everything else. Even if you're not a fan of their music, their live show has to be witnessed. C'mon, frontman Wayne Coyne walking around in a transparent giant bubble over the crowd - why would you want to miss that?
10 pm ----- If I had to choose I'd probably be at the Rivoli to check out Swedish duo
The Deer Tracks
based on the recommendations of
Chromewaves
. Although, the Bowie-esque, indie-pop of Toronto's
Mac Demarco
, who is playing the Silver Dollar, is very, very tempting.
11 pm ----- I caught the garage-y, Dylan-inflected vocals Vancouver outfit
Indian Wars
when they played Static Zine Issue 4 Launch at vinyl / vintage clothing outlet
Of A Kind
this past Wednesday. They're playing a set at Sneaky Dee's (and if you don't catch them then, they are also playing a set later that night at Dakota Tavern at 2 am.) Another option is new-ish Toronto folk outfit
BEAMS
whose
demo
(up for listening on their Bandcamp) is pretty impressive.
11:15 pm ----- If it was at all possible I would be heading to the Phoenix Concert Theatre for the long-awaited return of 90's Chapel Hill, North Carolina indie rock legends
Archers Of Loaf
. Their show isn't officially an NXNE one but the band's tour documentary
"What Did You Expect?"
did screen this year as part of the NXNE film festival. From someone in the known, advance tickets have apparently not sold as well as hoped so I implore both NXNE and non-NXNE patrons to head down and score a ticket for perhaps will be your last time to catch the band live in Toronto.
Midnight ----- If I'm back from the Radiohead show and downtown in time, I'm still not fully committed to anything in this time slow, but it'd be a tug of war between punky rock n' roll of
Teenage Head
at The Great Hall, the dance-rock tunes of
Young Empires
at Horseshoe Tavern or the emo-ish sounds of
Rival Schools
at Wrongbar.
1 am - L.A.'s
Bleached
play their 3rd and final show of their 3-night stint at the Silver Dollar tonight. But then there's Aussi, now NYC-based, duo
WAZU
whose dark electro-pop stylings is tempting - they're also playing a set Sunday night at Rancho Relaxo at 9 pm.
Sunday June 17, 2012
Afternoon ----- It's Father's Day people. Let's spend time with our dads.
9 pm - 11 pm ----- In all likelihood, Saturday will be the last day of NXNE for me, but if I do get tempted to venture out it'll be for the free show down at Yonge Dundas Square headlined by
Ghostface Killah
and
Raekwon
.