NXNE
is in the books for another year and it was one of the more spontaneouos ones I've had in years. I bumped into some familiar faces along the way, but didn't seem many of you. It seems, by the looks of others NXNE coverage, we were all checking out different bands which is good in a way as the festival gets a wider scope of coverage because of that. I'd planned on starting my NXNE on Wednesday night with the 9 pm set at the Rivoli by Brooklyn dreampop outfit
Heaven
but found out at the venue that the group had border troubles and didn't make it in to Canada. That explains why their name had conspicuously vanished from the NXNE website schedule earliery in the day. Part of me wanted to stay for the 11 pm set by the Montreal-based
Mozart's Sister
, the electro-pop project of Caila Thompson-Hannant, a member of Shapes & Sizes but my impatience / desire to perhaps call it a night got the best of me.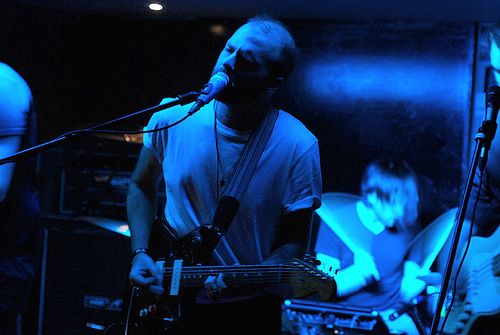 &nbsp
Rituals: photo by Michael Ligon
However I looked at my
NXNE picks
for that night and saw that I had a pick for 10 pm that night down Queen St. westbound at The Shop @ Parts and Labour with Toronto group
Rituals
so I decided to jump onto the streetcar, ride westbound and along the way decide whether I should check out the show at The Shop. I'd come to my senses by the time I reached Parkdale and got off at the stop that was practically right in front of the venue [I had booked the next two days off work and decided to forgo sleep and not waste this opportunity.] My first time at the venue, my first impressions of it was that like the underground, intimate music venue of The Drake Hotel, The Shop @ Parts @ Labour was like an industrial, laid-back version of that. The venue was quickly filling up already. By the crowd reaction, my impression was that Rituals were still relatively new to the scene but the band's brand of music merging post-punk, no-wave and subtle psychedelic tones went over well with the crowd including myself. Music was more textural than melodic although not necessarily void of melody which I think I picked up in the gritty vocals or harmonic guitar tones in a song or two. Generally, they fall within the category of not-necessarily-my-thing-but-interesting-nonetheless and if more adventurous listening is your thing, definitely check them out. The band released a self-titled 7" EP in 2011 and earlier this year their
Mesmerized
EP as a digital download through their
Bandcamp
.
I almost packed it in for the night but then was convinced to stay for the next set by Olympia, Washington band
Milk Music
. Their grungy look, most of the band with long hair and one member with beard definitely fit in line with their sound which I could best describe as Slacker-dom punk, their sound more complex but essentially an extension of grunge and bands like Dinosaur Jr in the 90's. The band rose from the underground in 2009 with a self-titled cassette and then their
Beyond Living
EP (which got a wider release in 2011) and earlier this year released their full-length debut
Cruise Your Illusion
[ha ha, wicked title!] through
Fat Possum Records
. I'm tempted to listen to them but their set, which seemed to meander at times like a band on an extended jam, didn't quite gel for me that night. Oh, and the venue was getting too tightly packed and I had to escape towards the back for a breather. Although, there was a special guest [Tampa art-punks Merchandise] slotted for the midnight set time, I decided to call it a night.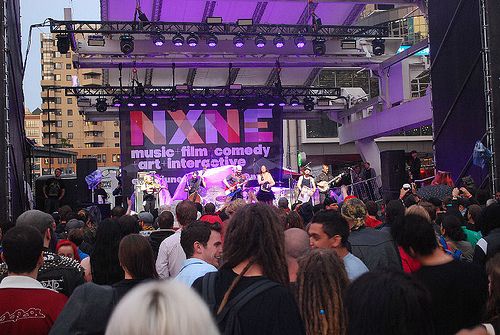 &nbsp
Old Man Markley: photo by Michael Ligon
Got a later start to the festival the next day but after getting organized, I made my way downtown to Yonge Dundas Square with nothing really better to do. It was punk night at the Square with Southern Californian punk rock veterans Social Distortion scheduled to play later that night. I arrived earlier as Los Angeles punk and bluegrass band
Old Man Markley
were already into their set. With the weather being uncertain, there wasn't that large of a crowd on hand which probably was a disappointment but the band didn't seem to mind. With male and female vocals, the band's punk tunes were embellished with root-sy elements such as fiddle and sounded enjoyable although certainly were not my thing. In tribute to the deceased singer Tony Sly of Northern California punks
No Use For a Name
, Old Man Markley played a cover of one of their songs ("The Feel Good Song of The Year") which seemed to go over well with the punks in the audience. Around since 2011, the band released their second album
Down Side Up
through Fat Wreck Records earlier this year.
&nbsp
Social Distortion: photo by Michael Ligon
Not that I was ever a huge fan of
Social Distortion
but a selection of their tunes ("Ball of Chain", "Story of My Life", their cover of Johnny Cash's "Ring of Fire", "I Was Wrong") and later Mike Ness' first solo album seemed to have infiltrated my music listening back in the 90's, part of it due to the
alt-country
movement that I'd gained an affection for. Lead singer Mike Ness had been so bad-ass looking back in the 90's with his arm tattoos and greaser haircut, and although his hair is grayer, and was perhaps more dapper this night with his black collared shirt and black fedora he's still as bad-ass as ever. Intermittently raining throughout the half-hour or so I stayed for his set but after Ness and his band played "Story Of My Life", I was satisfied and I took towards Queen St. to catch the streetcar towards the Horseshoe Tavern.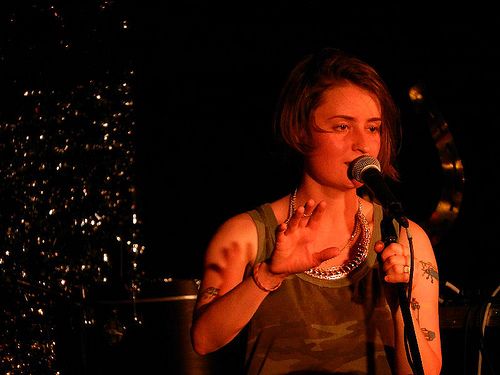 &nbsp
Carmen Elle of Diana: photo by Michael Ligon
Toronto's
Diana
were the band I was at the Horseshoe Tavern to see for their 10 pm time slot and as I had expected the place was almost near capacity. That the band's
Canadian MusicFest
set had alluded to
earlier this year
, the band are getting more popular by the moment. I started at the back but was fortunate to get closer to the stage off to the side near the merch table to get a better view by the time they got to playing their most excellent electro-soul-pop single
"Born Again"
, vocalist Carmen Elle's smooth vocals floating over a delectable bed of dreamy synths, subtle beats, and voluptuous bass guitar backing, for which the 12-inch vinyl was being sold. A palpable excitement floated throughout the crowd, although it did felt bit scene-ish, but overall it was a good indication of hopefully exciting things to come for the band, most eagerly their full-length debut entitled
Perputual Surrender
expected to come out on
Paper Bag Records
on August 20 to which
they were recently signed
in Canada [
the band were signed
to indie label
Jagjagjuwar
in the US.]
&nbsp
Merchandise: photo by Michael Ligon
Having skipped out on the secret headlining slot of Tampa indie-punks
Merchandise
at The Shop @ Parts and Labour the night before, I decided to stick around for them following the mass exodus of people after Diana's set. Comfortably full again by the time they took the stage, frontman Carson Cox announced it was birthday and if I recall something along the lines about hoping to get drunk. While the band members histories had roots in the hardcore / punk scene were, Merchandise are less punk and more noisy melodic rock, at times romantic sounding at least to my ears. Post-punk, if you will. The more I think of it they sound like noisier cousins to UK's
White Lies
. For a first time seeing them, I liked what I heard as did the audience also who wanted an encore if I recall, but didn't get one. Three albums in, the band's most recent full-length is this year's
Total Nite
released through Iowan indie record label
Night People
, garnering an 8/10 from
Pitchfork
.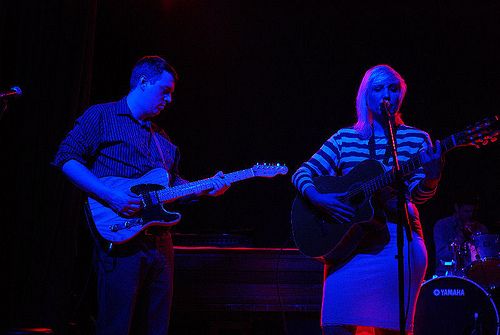 &nbsp
Olenka and The Autumn Lovers: photo by Michael Ligon
I could have stuck around at the Horseshoe Tavern for
Dan Deacon
's set who I've never seen live, but I decided to end the night in a quieter fashion with the midnight set of London, Ontario indie folk group
Olenka and The Autumn Lovers
over at The Great Hall. Playing to a small but adoring audience, I noticed almost right away that there was less of the Eastern European folk influence in what they were performing and that there was a more prominent rootsy influence that Olenka and her band were focusing on. It seemed like an all-too brief set but nonetheless enjoyable.
Photos:
NXNE in Toronto (June 12, 2013)
Photos:
NXNE in Toronto (June 13, 2013)