Friday night of this year's
NXNE
was relatively a light one for me as it turned out. I'd already decided that I'd brave the crowds down at Yonge Dundas Square for Canadian singer-songwriter Hayden and headliners The National. Unlike the previous day's weather, this evening was perfect on that note. It was fortuitous that I took a spot near the front, stage left, for Hayden's set when I did as it filled up quickly and only after looking at a few of my crowd shots did I see that the crowd extended all the way back to Yonge St. for The National's set.
Hayden: photo by Michael Ligon
Starting a little after 7:30 pm,  
Hayden
took to the stage with a drummer and bass guitarist. His seventh full-length, the
Polaris Music Prize
long-listed
Us Alone
was released this past February through
Arts and Crafts
. Churning through some classics like "Bad As The Seem" and "Trees Lounge" and other older ones, interspersed with a selection from the new album, Hayden alternated between songs from guitar to keyboards. Singer songwriter
Lou Canon
 (his sister in-law in fact) came as a special guest singing and playing keyboards on the song "Blurry Nights" as she does on the studio version on
Us Alone
, a lovely folk-rock number duet between her and Hayden.  He was at his best on tracks like the poppy "Rainy Saturday" off the new album which showed he still has life left in him. The venue itself was perhaps unforgiving in conveying Hayden's talents when you have thousands of fans waiting for no one else but the headliner, but perhaps Hayden's set converted a few music fans.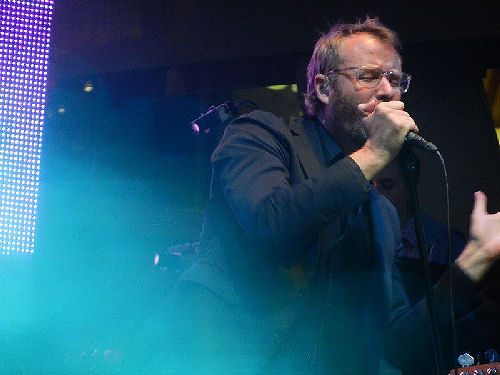 Matt Berninger: photo by Michael Ligon
As
The National
's show
at the Air Canada Centre (theatre configuration) in December 2011
attested (the largest venue in Toronto they had played up till that point), The National had reached stadium-level status and succeeded. Getting booked to headline a free show at Yonge Dundas Square during NXNE was almost too good to be true and with the very recent release of their sixth studio album
Trouble Will Find Me
through
4AD
,  this show was bound to be special or at least great. And it was. More than any other National show I've seen, this may have perhaps been the funniest I've seen Matt as he jokingly commented on the environment around him especially the Beyonce billboards staring at him from across the Eaton Centre and the Jack Astor patio above and to the side that he jokingly invited everyone after the show for a drink. I'd anticipated the band perhaps playing an hour and a half tops but having started just after 9 pm, the band went almost to 11 pm. It was a fine
set list
giving attention mostly to their most recent album and their previous one
High Violet
obviously but with a few nods to the fan faves off of
Boxer
and
Alligator
. The band didn't just phone it but seemed to give it as much as they would for any other show. Like Matt has done during previous shows including their show in Toronto at the Air Canada Centre back in December 2011, Matt jumped down into the audience at one point, running through crowd while singing with a wired mic with fans dutifully lifting the mic cord over their heads for Matt in order for it to not get tangled, ending with Matt back up at the front of the stage and the audience adrenalized.
The National: photo by Michael Ligon
I was hoping for an acapella "Vanderlyle Crybaby Geeks" to end off the show like they'd done back in December 2011 at the Air Canada Centre but really didn't think they actually do it in this outdoor venue. But lo and behold,
they did it
, as the entire band, including their horn section, moved towards the front of the stage, the Dessner brothers flanking each side of the lineup and adding some spare guitar. As the band sang acapella to the audience it didn't take long for the audience to join in wholeheartedly, perhaps the loudest audience singalong I think I've ever heard. Any sort of crowd chatter was stopped virtually in its tracks to the point that all you could hear besides the singing was the traffic noise off in the distance. What a wonderful end to a terrific show. That I hadn't checked out any more of the NXNE festival that night was perhaps because everything else would just pale in comparison and so I packed it in and ended on a high note.
Photos:
NXNE - The National, Hayden (June 14, 2013)