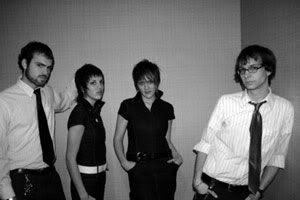 Bella
's album
"Pretty Mess"
is spotlighted over at
Soul Shine Magazine
. Reading the review prompted me to search the 'net for some info, bringing me to the band's
MySpace
site. Actually, I remember reading about the band months ago on the
Exclaim!
message board. After listening to some of the samples on their MySpace site, I'm hooked.
Soul Shine Magazine
describes their album as "Indie Dance". I heard bits of
New Order
(listen to
"Crystal Tears"
),
Ladytron
, and straight-ahead indiepop. You can
stream some songs
over at their official site. The band'll be playing a couple of live dates soon in Canada including May 22nd in Vancouver, then June 9th in Toronto at
The Drake
(as part of
NXNE
). The band's MySpace site indicates that they call San Francisco and Vancouver home. A little bit of
Technorati
searching also came up with this
blog
. Really nice to see that a member of the band's parents are really proud of her! [photo from
http://www.bellamusic.org
]
I'm still thinking of going to the
Monade
(side project of
Stereolab
's Laetitia Sadier) show tonight at
Lee's Palace
. I've just been listening to a live session Monade did on May 13, 2005 for
MPR's 89.3 The Current
. It's like Stereolab but with guitars at the forefront.
Speaking of live sessions at
MPR's 89.3 The Current
, there were recent sessions with
Mercury Rev
(May 12/05) and
The Raveonettes
(May 10/05).
Rilo Kiley
and
Thievery Corporation
are the guests today and upcoming sessions include Ida(June 2nd),
The Dears
(June 3rd) and
Ted Leo/Pharmacists
(June 14th).
Caught the info on
Muchmusic
yesterday that they'll be broadcasting on June 5th, highlights from the recent Coldplay show at the
Kool Haus
in Toronto. Y'know the show which sold out in one minute.(damn scalpers and industry people) They showed some clips on
MuchNews
yesterday and damn, if that wasn't the fullest
Kool Haus
I've seen ever.
Download
[mp3]
Rilo Kiley
's
Coachella 2005
performance. [link from
Largehearted Boy
]. I'll be seeing 'em this this Thursday May 19th in Toronto at
The Opera House
. The band will also be at the
Edge
studios at 6:30pm that same night for an interview(and we can only hope a live session). I might go to that as well.
Frank Black will be the guest tomorrow on
BBC 6 Music
's
Gideon Coe
Program. Sessions start around the 20:40:00 mark(about 8:40 London, England time or about 2:40 Eastern Standard Time). Sessions usually
archived
in the future.
I realized yesterday that last week was the first time I think I've ever posted consecutively for 7 days straight. I make no promises for this week especially considering all the shows I'll be going to...
Monade
tonight(possibly),
British Sea Power
(tomorrow),
Snow Patrol
/
Athlete
(Wednesday),
Rilo Kiley
/
Nada Surf
/
The Brunettes
(Thursday),
Decemberists
(Saturday)...Hey, Friday's still empty. I'm not working that day so I'll definitely be catching on some valuable sleep. If I fill Friday with a show(maybe
Kasabian
?), 6 concerts in 6 nights will definitely be a record for me. Let's just hope my weary bones can take it.