concert review
:
Lily Allen
,
Mark Ronson
@
Lee's Palace
(Toronto, Ontario), October 8, 2006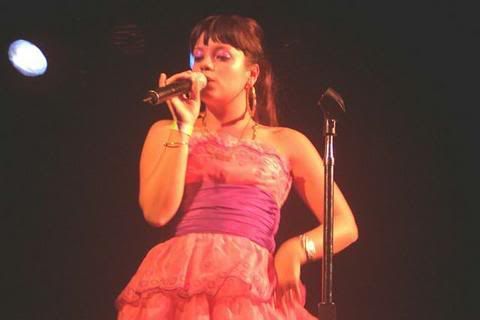 There was one of two outlooks one could have had to
Lily Allen
's
way-too-short
North American concert debut yesterday evening at Lee's Palace: take it in stride(after all, she only has one album and a few b-sides) or be totally disappointed(read: pissed). I was of the former and for the
half and hour
that she did perform it sounded really good. Dressed in her now-signature chiffon dress, pumps, makeup, and gold chain around her neck, it was just her on vocals accompanied by a few gentlemen on bass guitar and keyboards/programming. She performed a lot of her signature tracks starting off the evening with the calypso-ish "LDN", then making her way to the dynamite non-album track "Nan, You're A Window Shopper"(a parody of 50 Cent's "Window Shopper"). Performing several more album tracks, she eventually ended her main set with the reggae-ish "Smile" which got the biggest reaction from the audience and deservedly so. Actually, I think the proper thing she should have done was to perform everything(or at least most) she's recorded so far. She didn't perform b-side "Cheryl Tweedy", nor album track "Everything is Wonderful" which I would love to have heard. Even if she performed the entire album and her b-sides the show still might have fallen under an hour but then I think most people would have understood given that she doesn't have a lot of recorded material under her belt. Lily was quite polite throughout the show and for most of the night she didn't really express the attitude she's known for in the press - ok she did sarcastically joke about the guy who came on stage to fix the height of the mic stand, and for that being his job for the night he had to go and fuck that up. Otherwise, Lily was smiling throughout the show, exuding a charm and likeability, shimmying and walking back and forth across the stage as she sung. Even though she didn't come back after her encore(for which she performed her debut album closer "Alfie") I didn't perceive any audible grudge from the audience. But if she ever comes back to Toronto she definitely has to up the ante and fill out the rest of her set somehow. Covers perhaps?
Here are my
photos
.
As a footnote, DJ
Mark Ronson
opened the show with a set of mashups that were good. Not amazing by any standards but really more towards let's-get-this-party-started vibe. Although, I must mention that him mixing The Strokes with The Jackson 5 was pretty cool.
Just Keep Bloggin'
was at the show also and has a review and photos(including the setlist) from the show.
Suze
has a review also.
A View From Above
has a short video clip of Lily performing "LDN". More photos from the show from
ma-me
.