concert review
:
Beirut
,
Saffron Effect
@
Horseshoe Tavern
(Toronto, Ontario), October 4, 2006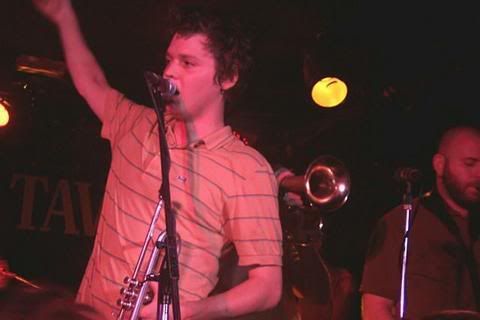 Exoticism is the new indie rock, and was none moreso exemplified a few nights ago in Toronto. On the same night(October 4), San Franciscan harpist, singer-songwriter
Joanna Newsom
performed to a devoted audience over at The Mod Club while Santa Fe native Zach Condon performing under the moniker
Beirut
, was over at the Horseshoe Tavern with a full band compliment performing an exhilirating set of Eastern European-flavoured, crooner-esque pop tunes. It's peculiar that this new exoticism in pop music is coming from Americans but even more peculiar the genuineness of it all. If I could have, I'd have gone to both Joanna's and Beirut's shows, but in the end I chose Beirut because I've been enjoying their debut CD "Gulag Orkestar" recently and I wasn't really familiar with Joanna's music all that much.
Openers for the night were Toronto's own
Saffron Sect
. The lead singer/guitarist Gaven was instantly familiar, and I'm sure he was the same Gaven who used to be in the now-defunct
The Flashing Lights
. A few more gentleman(on bass guitar and drums) and one woman(on flute) rounded out the rest of the band. There was also one other gentleman who played an instrument called a hurdy gurdy but I only remember him playing on one or two songs then sitting out the rest of the set. They started off the set with a flute-driven, Gaelic-sounding instrumental but then delved into a set of vocal songs that leaned towards a melodic, psychedelic, folk-rock sound. Gaven displayed nice, clean guitar lines and I was impressed with the flute arrangements. At times, I heard hints of a jangly-guitar, early-
R.E.M.
sound. Their sound was unabashedly backwards-pointed, but was performed with a breath of fresh air.
I have discriminating tastes when it comes to music artists or bands that are barely out of their teenage years. I'm more inclined to blame my lack of enthusiasm for a young artist's music on their youth. But every once in a while a young artist/band comes along who sounds so assured of himself/herself/themselves and
Beirut
is one of those artists. The brainchild of wunderkid Zach Condon, he led a youthful group of musicians on to stage in an straggly
Arcade-Fire
- marching - band - like procession. I will admit that the mysticism of what Beirut looked like was somewhat lost after taking a gander at Mr. Condon(who looked sort of like
Elijah Wood
) and the youthful group of indie kids that backed him up. No matching wardrobe, nothing particularly distinguishable about any of them - just a bunch of normal looking indie kids. What they lacked visually as an ensemble they made up in spades musically as well as energy. The music was a pastiche of different musical styles that combined an Eastern European, gyspy-flavoured, flamenco, mariachi feel to more standard indie rock/pop fare such as
The Magnetic Fields
and a touch of
Rufus Wainwright
. Taking a mini-orchestra approach, the music was created utilizing a variety of instruments including strings(violon, cello), accordion, keyboards, horns(trumpet, bass saxophone), several ukeleles, drums and probably a few other things I'm forgetting. Considering how young they were, I was surprised how well-versed they were on their instruments from the double-trumpet outro on "Postcards From Italy", to the accordion on "Mount Wroclai", to the spright violin arrangement that played throughout "Scenic World". With the music a combination of old world charm and new world outlook, it was held together nicely by the crooner-esque vocals of Zach Condon whose vocals reminded a lot of Rufus Wainwright with a pinch of Stephen Merritt. Apparently(according to someone over at
Stille Post
) the band did a version of a song called "Brazil"[I believe this was a song they played during their first encore, because it sounded awfully familiar]. And closing out the night during their second encore, several members of the band jumped onto the packed floor to perform a celebratory mariachi-sounding song which had the entire crowd smiling and dancing. Props to the Beirut fellow on tambourine for keeping the crowd pumped up for most of the night, and even more props to the entire band for a thoroughly wonderful performance.
Here are my
photos
.
The Genealogy of Taste
has a review of the show also.
Las Herramientas Del Diablo
was there too and has some photos(in which I can see the back of my head in one of them).
Watch video clips of Beirut who recently performed a live session in
Spin
's studio.
Check out the band's
MySpace
site.
If you hadn't already picked up on this, Beirut recently
signed to 4AD
. 4AD will be releasing an expanded version of "Gulag Orkestar" outside of North America.
Amazon.co.uk
lists the 2-disc version coming out November 6. You can purchase the original CD release for quite a decent price over at the band's indie label
Ba Da Bing!
.