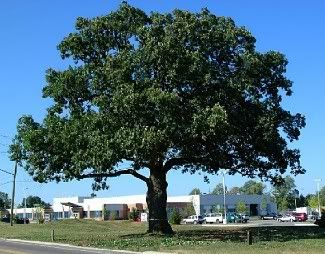 Sarah Harmer
continues to support her environmental concerns and as her latest
Scrawl
(dated Oct 18, 2006) over at her website says, she'll be performing a fundraiser with Toronto-by-way-of-Brantford upstarts
Ohbijou
on November 5 in Oakville, Ontario at the Halton Regional Centre Auditorium - the cause this time is to save a 250-year old White Oak Tree(located at the entrance to the auditorium) which is in very real danger of being cut down. The road has to be widened and Sarah says that Halton Region says that if a few hundred thousand dollars can be raised then the tree can be saved and a road will be built around it. All info can be found over at Sarah's website under her October 18, 2006
Scrawl
. Info can also be found at
Halton.ca
and
Oakvillecentre.ca
. Tickets are $30.00 but it's a worthy cause.
that's worth supporting.
On a related note, Sarah's live DVD entitled "Escarpment Blues"(a documentary of Sarah's 2005 "I Love The Escarpment" tour to raise awareness of environmental issues regarding the
Niagara Escarpment
) will be released October 31, 2006. I was fortunate to watch the Toronto premiere of this documentary at this year's
NXNE
film festival earlier this year and it's an entertaining[the music] and insightful work.
Hamilton, Ontario's
View Magazine
speaks with Jon Rae Fletcher of
Jon Rae and The River
about the sacred vs. secular, gospel and soul influences of the band's new album "Knows What You Need", released October 4 in Canada on CD by Baudelaire Records and on vinyl by We Are Busy Bodies. The band are in Halifax today but will return to Ontario in a few days for a short tour around the Golden Horseshoe which'll take them to Toronto for a show at Lee's Palace on November 10.
Billboard
reports that
Spoon
hope to be finished recording their new album by November, with a tentative release date scheduled for April or May of 2007.
Chartattack
reviews
Beck
's show at Ricoh Coliseum from Monday October 16, 2006 and they also report that the following night Beck recorded an intimate live performance for
Bravo
's
Live at the Rehearsal Hall
which will be broadcoast December 5.
Pitchfork
offers an mp3 of
Pavement
performing "Fight This Generation" at their show at the Palace in Los Angeles on April 21, 1994. This is an mp3 from the entire live show download that
Matador Records
is offering to people who pre-order the upcoming deluxe reissue of Pavement's "Wowee Zowee" album (dubbed the "Sordid Sentinels" edition) from participating record stores. People who preorder the release will also receive a poster and, while supplies last, a limited 7". For complete info, go
here
.
The
Paper Bag Records
roster are busy
touring
, and notably,
Uncut
have a whack of cross-Canada dates through October and November. They're opening for
K-os
at The Mod Club on October 30.
I.O.U. over a the
Metric
Forum offers a few audio rips of a couple of Metric live sessions including a recent session for the
Rob Da Bank Show
(BBC Radio 1)[
scroll down for download link
], and Jimmy and Emily performing an acoustic session for
Rolling Stone
[
scroll down for download link
].
NPR
is streaming the full concert webcast of
Wilco
at Washington, D.C.'s 9:30 Club on Thursday, October 19.