concert review
:
Jens Lekman
,
Final Fantasy
,
Katie Stelmanis
@
The Great Hall
(Toronto, Ontario), April 7, 2008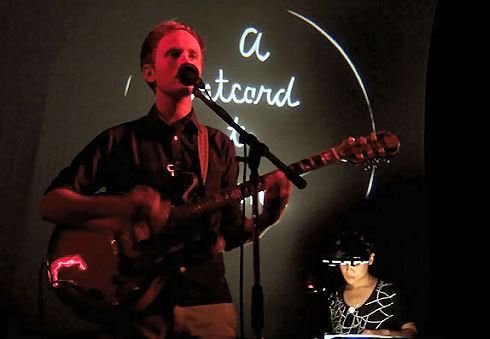 When I first caught the news that Jens Lekman was going to play a two-night stint at The Music Gallery(for April 7 and 8) with Katie Stelmanis opening the first night and Final Fantasy the next, I decided to buy a ticket for each show. However, those bragging rights went out the window when the two-nighter was changed to one-night and moved to the larger The Great Hall to accommodate more fans, some who'd originally been left disappointed when the original two nights sold out relatively quickly. Much of my excitement for Jens' original plans to play at The Music Gallery were based on that blissful evening that he and a few friends played at that venue
back in 2005
which I admitted was by far
my favourite show of that year
. So it wasn't to be at The Music Gallery this time but Great Hall was a fine replacement. I'd never been there until that night and it was a nice discovery - the second floor banquet hall(where the show took place) was beautiful in it's spaciousness, nice wooden floor, adequately high stage, and second-level balcony area. This was the setting for Jens Lekman's return to Toronto after an almost three year absence.
Young Toronto artist Katie Stelmanis, accompanied by percussionist Maya Postepski, opened the show. Downsized to a duo(
from the full band that I'd seen Katie with during CMW
), it was Katie on vox/keyboards, and Maya on drums and percussion, as well as activating back rhythm tracks on the trusty iPod. The performance was equal parts stark, dramatic vocals, approaching-on-threatening drum arrangements, and somber minor-key melodies. The drumming(fairly straightforward time signatures) seemed much more propulsive this time around, and to great effect. Towards the end of the set, the string of lights attached to the front of Katie's keyboard were illuminated casting Katie for a bit in half light and shadow to great visual effect. The stage lights were turned up subsequently as Katie and Maya performed a unconventional yet still stirring rendition of Roy Orbison's "Crying".
Given the career path of Owen Pallett(aka Final Fantasy) over the last several years, it's surprising that the most 'intimate' show I saw him live was when he opened for The Arcade Fire
at Danforth Music Hall in 2005
. The only other time I saw him live was at
last year's Canada Day show at Harbourfront
. I don't expect him to perform many intimate venues in Toronto anymore, or not all that often, so it was a treat to catch at Great Hall a few nights ago. A set riddled with sound problems, much of it was not really that bothersome to me as it was to others, but perhaps the beautiful visual overhead projections of artist
Stephanie Comilang
were a distraction. Looping pedal at his disposal, much of the set of course was Owen and his violin, but Owen also took a turn at keyboards. Much of Owen's music is mood music to me - that is, I need to be in the mood to listen to his brand of classically - influenced, sometimes whimsical, pop music, hence my only casual familiarity but live the songs are much more engrossing. Old songs were played and a few new songs were introduced - the regular deal. Good set, but let's move on.
It's a shame that Jens band couldn't join him this time except for percussionist Tammy Karlsson and her "lovely bongos"[I couldn't help but chuckle when Jens said this]. The majority of the set was a stripped down affair with Jens on vox and guitar and sometimes joined by Tammy on bongo drums. Lovely in its own right it, Jens solo performances are perhaps better suited for romantic serenades while sitting under a tree[like he did after the show at a park nearby, for which I unfortunately didn't stick around for]. Much of what is interesting and enjoyable about Jens' most recent album "Night Falls Over Kortedala" is the creative integration of electronic elements/rhythms in Jens' pop confections and for most of the night that element was sorely missing, notably the disco rhythms of "Sipping On The Sweet Nectar". However, the sampler/iPod or whatever Jens was using was striked up as the sampled opening twinkling piano sounds of "I'm Leaving You Because I Don't Love You" wafted over the crowd as Jens segued into a performance of that song. The fuller sound brought to the proceedings by Owen Pallett on violin was much appreciated by me especially on songs like on the romantic "Your Arms Around Me" and "You Are The Light". "The Opposite of Hallelujah" featured the trio of Owen, Maggie Macdonald and visual artist Stephanie Comilang(taking a break from her visual projections) on background vocals. The most audience participation came early on in the evening during "Sweet Summer's Night On Hammer Hill" during the 'My Heart goes ba, ba, ba, ba, ba....' part and other than listening and laughing to Jens' humourous anecdotes and comments, it was mostly about listening to the music and soaking it all in. Unfortunately the show didn't meet the blissful levels of his last show at The Music Gallery in 2005, but considering the almost 3-year gap between shows, I'll consider myself fortunate for seeing him at all.
Check out my photos from the show over at
Flickr
.
More reviews/photos of the show at
Chromewaves
,
It's Not The Band...
,
Narratives
,
chartattack
and
Eye Weekly
. BTW, nice to meet
Bob
and
Jen
.
MySpace
:
Katie Stelmanis
MySpace
:
Final Fantasy