Portishead at Coachella 2008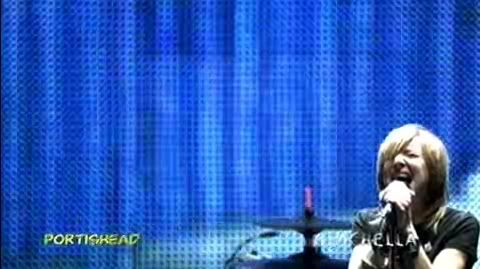 An an ounce of regret weighed on me as I watched
Portishead
's set at
Coachella
this past Saturday night through
AT&T's Blue Room
internet video feed. With a little motivation I might have just organized another trip back to Coachella, although thinking back to my trip to the festival in 2004, it was a lot of planning, within a short period of time. Cherish that trip as I do, I don't miss the heat, the sweat, the lineups, the overpriced water botteles and my aching body at the end of each day(and back then it was only two days, unlike the present's three day festival).
Whatever one's qualms might be about corporate sponsorship, AT&T's affiliation with Coachella was a positive one if only for them to have the foresight to broadcast Portishead's penultimate set of day two of the festival(no offense,
Prince
). Remember when internet video was choppy, grainy and just downright not worth it? Internet streaming video today is much better today and while that technical improvement is appreciated, it's still rare that I feel any sort of emotional connection to any live video streaming over the internet. That said, Portishead's Coachella set exceeded all my expectations. As crisp picture quality I've ever seen for internet streaming video, the multi-angled camera shots took full advantage in conveying the awesomeness of Portishead's stage production which cast the band and stage in varying degrees of light and shadow, and hues of black, white, blue and red against a giant video screen backdrop that revealed the subtlties in expression of the band members' faces and musicianship. Beth Gibbons was maybe never more exposed as the camera took the most intimate closeups of her face as she sang into and hung on her microphone for dear life.
Portishead's return to the tour circuit has been a selective one as so far they only have a select number of European dates lined up(and apparently won't be touring in the US[and presumably in Canada] until 2009).For North Americans, Coachella was to be their proving ground after a painful 11 year absence between their last album, the self-tited "Portishead" and the to-be-released-tomorrow new album "Third" and their first live show in North America in 10 years. I will say that Portishead rose to the task both in terms of the performance of the older material(changing things up a bit for example in an even more intimate version of "Wandering Star") and the newer material that bookended and sprinkled the set which displayed the evolution of Portishead from its trip-hop roots but still felt like Portishead in terms of rhythm, vocals, and dynamics(although the loud was louder than anything you'd have expected from them - a pleasant surprise). It was as thoroughly enjoyable and goosebump-inducing as one could expect. Portishead are back.
Watching a concert on the internet will perhaps never replace the live experience - the communal aspect and the sensory impressions - but from thousands of miles away, I made that intimate connection to Portishead. God, I wish I'd been there, but on the other hand, knowing my luck I'd probably have had some tall dude stand right in front of me.
Here's the
setlist
.
The L.A. Times
and
NME
reviews Portishead's set.
Check out some awesome photos from Portishead's Coachella set over at
Brooklyn Vegan
(courtesy of
Ryan Muir
).
Deaf Indie Elephants
has the whole set available for download in mp3 format. So does
Mystic Chords Of Memory
[via
Brooklyn Vegan
]
Photos galore of Portishead at Coachella over at
Flickr
.
Lots of spectator video of Portishead's Coachella set over at
YouTube
.
And a last reminder, Portishead's new album "Third" is in stores tomorrow. Or you can purchase the limited-edition box set over at the
Portishead Online Store
.