concert review
:
The New Pornographers
,
Okkervil River
@
Phoenix Concert Theatre
(Toronto, Ontario), April 8, 2008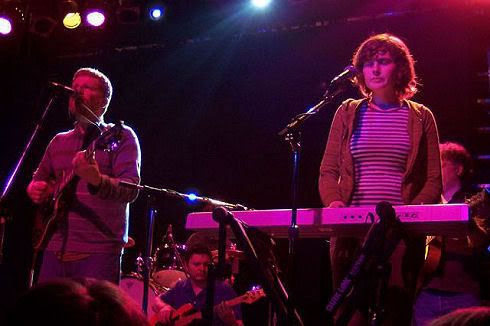 An odd pairing of sorts, Vancouver power poppers The New Pornographers and the literate, emotive Americana of Okkervil River took over the Phoenix last Tuesday. As still a relative newcomer to the band, jumping on the bandwagon so to speak with their last album "Black Sheep Boy" and seeing them for the first time live
back in September 2007 at Lee's Palace
, Okkervil River's opening set last Tuesday was a chance for me to reacquaint myself with their live set. Do my eyes and ears deceive me but were lead vocalist Will Sheff's vocals and mannerism's more affected this time around? They put on a damn fine set still in my opinion, but it seemed that Will was putting more effort into his vocals to emote rather than letting it come across naturally. New guitarist Charles Bissell from The Wrens was a joy to watch in his sort of jerky guitar playing style, at times locking his elbow as he whipped out some mini windmill guitar strums.
One thing's for sure, but Toronto never gets tired of The New Pornographers,
especially if Neko Case and Dan Bejar are in tow
. No Dan this time around(in any case, I'll get to see his baby
Destroyer
at Lee's this coming Saturday), but
Neko Case
was in the house, and her presence and vocals were a definite asset, especially on brooding numbers like "Bones Of An Idol" and "The Bleeding Heart Show". Of course, The Porns' are best during their uptempo numbers(only because they distract one from the fact that they have little stage presence), by now which you all know which they are, but highlights of course included "Mass Romantic", "The Laws Have Change", "Sing Me Spanish Techno", and "Use It". Thanks, to Neko for pointing out the new art work adorning the Phoenix's walls - somewhat disturbing art of psychotic looking clowns - I"m sure Neko pointed out the art out in jest but really they are kind of creepy, don't you think? I liked how Carl cheekily said he almost didn't notice them. That humorous banter aside, The Porns' stuck to what they do best, which is the music. Musically, they never disappoint at least in my books, but sometimes I wish they'd dress up in bunny suits or do something else visually to make their live set a better live experience. The cover of ELO's "Don't Bring Me Down" was a welcome diversion although why during the last few times they come through Toronto haven't they thought of performing their cover of Toronto 80's rock band
Toronto
's
"Daddy Don't Know"
? Just a thought. (If they could perform in full cheesy 80's dress-up, that would be a bonus.)
Check out my photos from the show over at my
Flickr
.
More reviews of the show over at
Chromewaves
,
chartattack
and
Burnside Writer's Blog
.
MySpace
:
Okkervil River
MySpace
:
The New Pornographers