concert review
:
Clinic
,
Shearwater
@
Lee's Palace
(Toronto, Ontario), May 11, 2008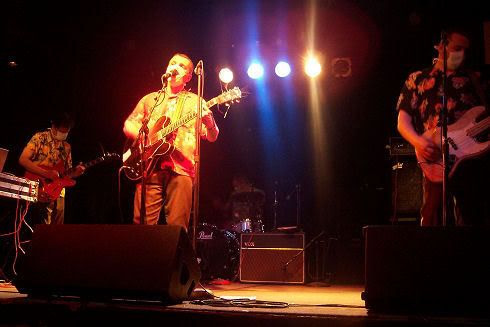 Given Shearwater's Jonathan Meiburg doing double duty in that band and
Okkervil River
at least until recently(as he's
now officially left
Okkervil River to concentrate on Shearwater), the easy path to describing Shearwater, by a newbie like me, is to compare them to Okkervil RIver. Based on their performance at Lee's Palace this past Sunday night, I did find that they mined a similar sombre territory as Okkervil River during their more introverted moments. With white lights at the base of the stage pointing upwards and half illuminating the band members, it set a dramatic mood that nicely complimented the similarly moody folk-rock numbers. I found Shearwater's dramatic folk-rock tunes to be precision-calculated from the intertwined instrumentation of strings, keys, guitar, drums and Jonathan Meiburg's choir-gentleman vocals to the length of the songs themselves which aesthetically I could have imagined as longer and drawn out but rather for the most part stayed within a more conventional 4-5 minute pop timeframe. All killer and no filler. Although, it wasn't a huge crowd onhand for their set, those of us there audibly showed our appreciation.
An odd lineup pairing Shearwater with headliners Clinic, but then who said consistency was a necessity. Frankly, I was bored with Clinic's
last performance at the same venue in March 2007
, but this time around it was a marked improvement, even if it seems that attendance to their shows seems to dwindle a little each time they pass through town. Perhaps it being Sunday night kept a few people at home, but by the time Clinic hit the stage at least it filled up more. With nary any medical scrubs in sight, the band still maintained their signature surgical masks, and also came decked out in Hawaian shirts. Clinic's maniacal pop-billy romps have over the years tended to sound a little samey across albums to the extent that I never even purchased their last few albums
"Winchester Cathedral"
and
"Visitations"
, but with their recently-released new album
"Do It"
from which the band played some numbers from, Clinic showed they have a few tricks still up their sleeve. Worthy additions to the band's repertoire included skewed takes on rockabilly('The Witch') and 50's bachelor pad lounge music('Free Not Free'). Most of the set material resided in that menacing pop territory with hurried strummed guitar, plodding bass, sinister organ, a bit of melodica, topped off with vocalist Ade Blackburn's distinctive sing-speak and the band played it energetically. It's a bit bothersome they're not much of a talker but oh well, maybe they're trying to maintain their mystique. We did encourage the lads to come out for two encores[which in total, I recall wasn't more than four songs] and I realized one thing at the end - I'm not tired of Clinic yet.
I took some photos but have been too lazy to sort through them, but stay tuned.
Update
[May 31, 2008]:
Photos up
. I also added the photo above.
Chartattack
enjoyed the show as well.
Just a reminder, that Shearwater will return to Toronto next month for a show with
Frog Eyes
and
Evangelicals
at Horseshoe Tavern on June 23.
MySpace
:
Shearwater
MySpace
:
Clinic