concert review
:
British Sea Power
,
The Rosebuds
@
Lee's Palace
(Toronto, Ontario), May 16, 2008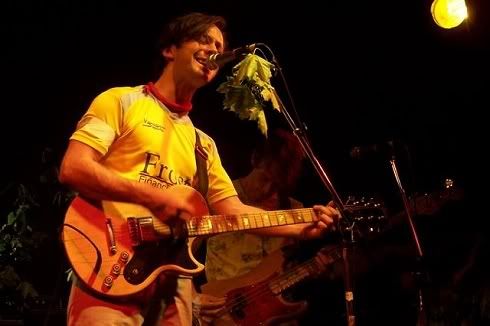 I started off my evening with Raleigh, NC's indie pop-rock trio The Rosebuds. (For an account on first opener
Jeffrey Lewis
, check out
It's Not The Band I Hate ...
). Not much has changed musically
since I saw them in July 2005 at The Mod Club
opening for
Teenage Fanclub
. They're an amiable bunch with their sunny pop melodies, girl-boy vocals and just enough ooomph in the instrumentation(electric & acoustic guitars, drums, and keyboards) to keep the twee to a minimum - over time I really think I could get into them. That said, their set was more a pleasant rather than exhilirating experience for me, although the opposite was true for that one vocal male fan in the audience who yelled out a request and which the band later did perform and dedicate to him to his delight.
2005 was also the last time I saw
British Sea Power live when they played a frenetic live set in May of that year, also at Lee's Palace. As with that show in 2005, local Toronto anglophile/eccentric
Kayvon
was on hand again(handpicked by the band themselves apparently) to introduce British Sea Power to the excited crowd(and really 3 years is way too long of a wait!). The 6-member strong group took the stage holding in their hands leaf-adorned tree branches(presumably from the neighbourhood) which they proceeded to decorate the stage with. Yes, they did this last time they were in Toronto but I haven't tired of it yet. With a set heavily focused on the new disc "Do You Like Rock Music?", with several from their debut "The Decline of British Sea Power" and only one(unfortunately) from their second album "Open Season", the band's urgent melodic rock songs swelled with the mix of the energetically performed guitars, drums, keys, viola, cornet and Yan's(or sometimes Hamilton's) vocals. The physical antics(eg. shoulder-carrying of members) of the band were kept to a minimum this time around except for a moment when guitarist Noble lifted Kay-Von(who had a camcorder on hand) and carried him off stage to the side of the club for a moment as Kayvon continued to shoot. Shooting footage for a DVD perhaps? I don't know. Bass guitarist/occassional vocalist Hamilton was an interesting subject to watch for most of the night - wearing a loose sleeveless top(which in all honesty I think was a women's top, though showing off his muscular biceps) he gave off this eccentric weirdo vibe, with facial expressions that alternated between vacant gazes toward the audience and pained expressions of energy. Energy spent by the end of the more than hour long set and drenched in sweat, Hamilton and the band continued their tradition of no encores, and left the stage with the audience wanting more although thoroughly satisfied with what we'd already got. Overall, their set ranks as one of the most exhilirating I've seen this year.
Photos to come.
Update
: Photos over at my
Flickr
. In the meantime, check out reviews/photos of the show over at
It's Not The Band I Hate...
and
The Panic Manual
.
MySpace
:
The Rosebuds
MySpace
:
British Sea Power