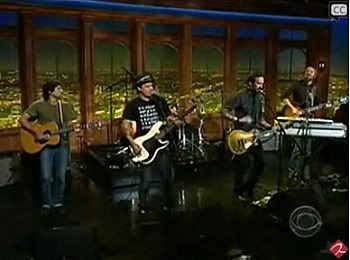 Sometimes all it takes to discovering a favourite new band is to stay up late and watch the late-night talk shows. New
Sub Pop
signees
Grand Archives
made their debut television appearance yesterday on
Late Late Show With Craig Ferguson
performing an energetically poppy version of "Torn Blue Foam Coach". It was first time hearing them, and they're a wonderful discovery. I may just check 'em out live when they come to Toronto for a show at El Mocambo on June 6. Full dates over at their
MySpace
. And now their performance yesterday:
Video
:
Grand Archives - "Torn Blue Foam Coach" (live on Late Late Show With Craig Ferguson - April 30, 2008)
video link courtesy of Bona Fide Darling
Raleigh, North Carolina's
Annuals
are at the Drake Underground on June 16, tickets $15. The band's newest EP "Wet Zoo" was recently released. Check out the video for 'Sore' from the EP:
Video
:
Annuals - "Sore" (music video)
Jill Barber
stops in at Harbourfront Centre on June 27 and 28 as part of the Banff Lake Louise Tourism sponsored 'A Rocky Mountain High' weekend event.
Beth Orton
will be at Danforth Music Hall on July 8, tickets $29.50. Her last album "Comfort of Strangers" came out in 2006 and I've heard of no news of new material, but she did a brief solo acoustic tour in the US in March, so I wonder if she'll be going that route for the Toronto show.
Newest
Vice Records
signees Berlin's
King Khan And The Shrines
have two shows lined up at the Horseshoe Tavern on July 23 and 24, tickets $15, 8 pm doors the first night and tickets $10, 9 pm doors the second night. I don't know why the ticket price is different for each night but that's what
rootmeansquare
says.
Lycanthropy
brings news that new blog-hyped act
Does It Offend You, Yeah?
will hit Toronto for a show at Drake Underground on August 4. They remind me of a collision between dance-punk and electronica - I'm sure the kids'll love 'em. Check out a music video:
Video
:
Does It Offend You, Yeah - "We Are Rockstars" (music video)
Everybody Cares, Everybody Understands
points to new
Shins
. Ok, it's The Shins performing on a children's show, specifically Nickelodeon Jr.'s live-action music series for kids,
Yo Gabba Gabba
! The song's called "It's Okay, Try Again" and as kids songs goes, it's a fun little ditty. For convenience check out the YouTube vid below(which'll air on Nickolodeon in the future):
Video
:
The Shins - "It's Okay, Try Again" (on 'Yo Gabba Gabba')
Stereogum
's got the goods on the new
Sloan
album "Parallel Play"[due out June 10]. Stereogum also has an mp3 of the song "I'm Not A Kid Anymore" from the new album available for download. Thanks to Stereogum for pointing to a stream of the album:
Stream
:
Sloan - "Paralell Play" (album)
Calgary's
Sled Island Festival
gets even better with the addition of grab bag full of worthy acts including
Broken Social Scene
,
Tegan and Sara
,
Grizzly Bear
,
Yo La Tengo
, and
Okkervil River
among others. Check out the news over at
Chartattack
. Broken Social Scene is playing Sled Island AND Montreal's
Osheaga Festival
, which makes me wonder if they're ramping up for more Canadian dates including a hometown show.