concert review
:
The Long Blondes
,
Drug Rug
@
Lee's Palace
(Toronto, Ontario), May 22, 2008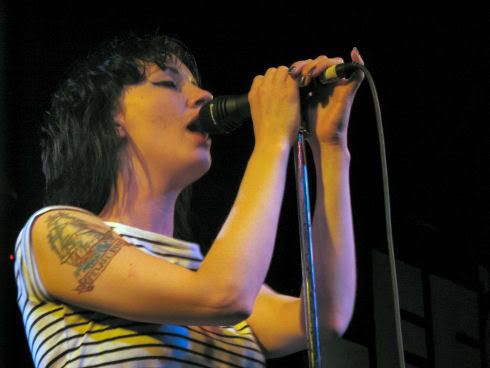 I didn't make it for first opener local artist
Hunter Valentine
but made it to Lee's Palace soonafter second openers Cambridge, Massachusetts' Drug Rug began their set. The four-piece had an exhuberance that was totally admirable. In a way, they sounded like kids bashing away at their instruments(keyboards, drums, bass, guitar) topping it off with their screechy vocals. Much of it came across like a big rig driving down the highway right at you - brash, noisy and ready to knock you off your feet. That's all well and good sometimes actually. I recall an underlying rootsy, melodic element that was quite decent though in some respect I sometimes hoped that the instrumentation would come across clearer to let the melodies shine more. The sparse crowd on hand seemed to love 'em which is well-deserved although I'm still on the fence with them. But I'll keep an ear on them.
Since Sheffield, UK band The Long Blondes' live Toronto debut at Lee's Palace
last June
, it's somewhat surprising I haven't gained much listening mileage out of their debut album
"Someone To Drive You Home"
. It's a highly listenable album of spunky, glammy guitar pop, perhaps distinguishable most of all by the effervescent vocals of frontwoman Kate Jackson. Even moreso, they nailed their live Toronto debut, much of it of course due to the sparkling personality of Ms. Jackson, that left us salivating for more. Perhaps the only reason I didn't listen to them more often since then was for the simple fact of having too much good music to listen to last summer.
The Long Blondes returned to Toronto and Lee's Palace last Thursday and while it wasn't as packed nor as frenetic of an atmosphere as last time, both original fans and curious onlookers showed their appreciation for the band's energy. Sporting a shorter though still feminine haircut, and wearing a striped short-sleeved top(that prominently displayed her tattoo on her upper-right arm) and short shorts, Kate danced, shimmied and posed while singing. The rest of the band's energy levels may have been pale in comparison, but Kate only proved to showed that some bands are only as good as their frontperson. Guitarist Dorian Cox and drummer Screech Louder achieved a satisfactory level of energy, while the other ladies of the band, though not necessarily emotionally removed from the goings-on, rather, IMO, exuded an aura of euro-cool and subtle sexiness. Bassist Reenie Hollis had such a subtle yet endearing hint of a smile for most of the set while guitarist/keyboardist Emma Chaplin, wearing a retro prom-inspired dress was girl-next-door sexy in her own right.
Musically, as the set was a partial introduction to tunes off their most recent disc
"Couples"
(which I hadn't heard before that night), it was nice to hear the variations the band have added to the Long Blondes' sound. Some of the new tunes obviously were continuations of the band's uptempo glammy pop numbers from their first album, while others had a darker feel. I recall some almost disco-y influences and a little more variation in tempo with some of the newer material. In my review of their show last year, I wrote,
"The band's greatest achievement that night - making this guy in his thirties(and probably many others there) feel like a teenager all over again."
The new material shows a maturity of sorts perhaps, but in the end The Long Blondes showed they still are loads of fun.
Stay tuned for my photos. I recently 'inherited' a
Canon PowerShot S5 IS
and this was my first time using it at a concert - man, do I need to learn how to use all its features. It's
hard
getting good pics in auto mode.
Update
: Here's my
photos from the show
.
MySpace
:
Drug Rug
MySpace
:
The Long Blondes