The National @ Molson Ampitheatre (June 8, 2008)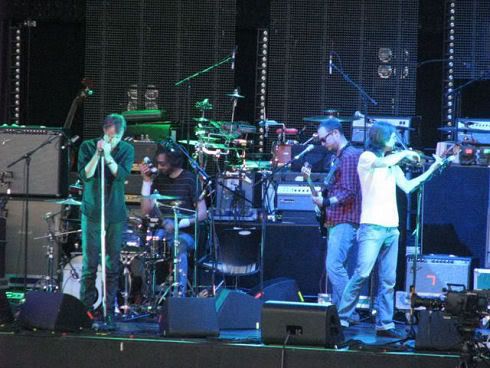 Modest Mouse @ Molson Ampitheatre (June 8, 2008)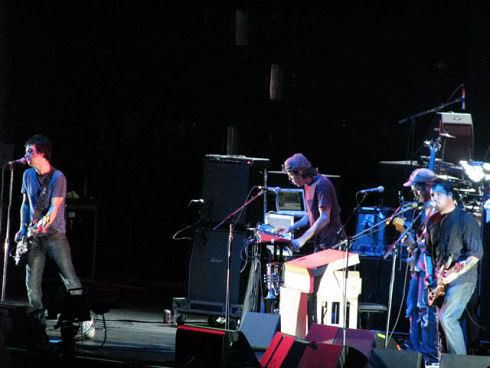 R.E.M. @ Molson Ampitheatre (June 8, 2008)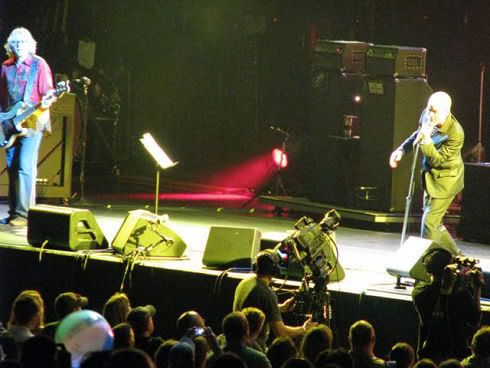 concert review
:
R.E.M.
,
Modest Mouse
,
The National
@
Molson Ampitheare
(Toronto, Ontario), June 8, 2008
It may have been somewhat egoistic for R.E.M. to devote much of their set this past Saturday to tunes off their most recent album "Accelerate" and latter-era obscure album tracks. On the other hand such confidence did pay off as some (well actually a lot of) the newer material had its moments, resonating with a melodicism and energy that's on par with R.E.M.'s decent songs.
As expansive as first openers The National's sound is, it wasn't enough to draw more than a polite response from the half full ampitheatre. It was brief set which leaned towards songs off "Boxer" was satifying musically and the expanded horn section was appreciated. However, on a pure energy level, the energy was practically sucked out. The band performed adequately but in terms of translating that to the audience it just didn't happen. Perhaps an early evening time slot in a half-full ampitheatre setting, with most people for the most part looking forward to R.E.M. and maybe Modest Mouse is not the best circumstances to experience The National.
On the other hand, second openers Modest Mouse drew a little more energy from the crowd with pockets of people in the stands(like the group of young girls sitting a row behind me) even standing up for their set. I've never devoted much time to listening to them on CD honestly. Most naysayers of the band blame vocalist Isaac Brock's whiny vocals. They're not the most attractive vocals necessarily but I actually I'm quite comfortable with them. Set closer 'Float On', admittedly, was the only song of theirs I could actually name but I found that the rest of the set, while unfamiliar to me, had a melodic, rhythmic, almost Talking Heads quality that was quite enjoyable.
With the sun setting, after respectable sets from openers The National and Modest Mouse, R.E.M. took the stage against a backdrop of a video screen that projected images of the band and geometric patterns and shapes for the entirety of the set. As the set unfurled, I realized how much of it was unfamiliar to me. I jotted down the set list as much as I could, but most of it ended up being lyrics and strings of words rather than actually song names. I'll admit, I was mainly an R.E.M. singles fan (and a fan of a few album tracks here and there), but as the set progressed I discovered gems that made me wish I devoted more time to R.E.M. The set was a good mix of fan favourites, latter era album tracks and a healthy dose of tunes off of "Accelerate" and for the most part treaded an mid-tempo to upbeat pop-rock territory. At times, the set changed pace like the sombre "Drive" or the sublime all-acoustic take on "Monster" track 'Let Me In'. However, it seemed like R.E.M. had it's mind on rocking out and they did with songs like encore opener, "Accelerate" track 'Supernatural Superserious', a fantastic melodic zip-through of a song. It was about midway through their set I began wondering whether the song requests from the audience might start, and one of the tracks that I was hoping they would play they suddenly began, with the laid-back, melodic 'Electrolite'. It was however the fan favourites like 'Losing My Religion', 'The One I Love', and encore closer 'Man On The Moon' that sparked mass-standing-up and audience singalongs.
Mr. Stipe made an effort to engage the audience, if not with his dancing, then at least banter-wise. Mr. Stipe was as nice as could be giving a shout-out to Toronto's
Mary Margaret O'Hara
who was in the house, and thanking Toronto video production team
Crush
for
producing the video
for their song "Hollow Man" and who were also apparently in the audience. Making reference to the hot weather in Toronto, he said it made him(a Georgian) very happy, which drew a chuckle and a smile from the crowd. Giving insight to their song 'Houston', Michael Stipe described it as a response to the US government's reponse to the Katrina Hurricane in New Orleans. Michael also urged everyone to pass by the Amnesty International table, though I doubt most people actually made it there.
The icing on the cake for me was when they brought up current Modest Mouse guitarist
Johnny Marr
(one of my fave guitarists of all time) to add some jangle to 'Fall On Me', and the added bonus to hear live that vocal interplay between Mike and Michael was pure heaven. A song about the environment never sounded so good.
My photos from the show are up at my
Flickr
.
Chartattack
,
The Toronto Star
,
The Toronto Sun
,
Eye Weekly
,
Chromewaves
, and
It's Not The Band I Hate...
review the show.
You can download audio of the show over at
dimeadozen
. [via
murmurs.com
].
MySpace
:
The National
MySpace
:
Modest Mouse
MySpace
:
R.E.M.