concert review
:
Lightspeed Champion
,
Flowers Forever
@ Lee's Palace (Toronto, Ontario), June 11, 2008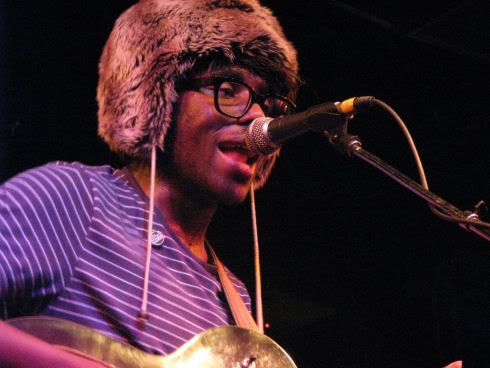 I can't speak firsthand about first openers Charleston, North Carolina's
The Explorers Club
, although I heard they were all sorts of Brian Wilson-esque goodness, but second openers Omaha, Nebraska's Flowers Forever and headliners UK's Lightspeed Champion were as opposites as two could bands could be playing on the same bill.
Glow-in-the-dark, larger than life, cut-out, faces adorned the stage, with moments of smoke-machine billowing and eerie lighting set the mood for Flowers Forevers sinister punky, garage pop. I hadn't known until after the fact that, Derek Presnall, is the guitarist and vocalist for indiepop outfit
Tilly and the Wall
so maybe that ignorance made me approach Flowers Forevers set with an open mind. I've read several items on the band that make the accusation that Derek's change in musical direction with Flowers Forever sounds forced, but honestly I though Flowers Forever were decent. Though, perhaps on a bill as a warm-up to the pure pop sounds of Lightspeed Champion is a little weird.
If Flowers Forever's set was a little too jolting to the system, Lightspeed Champion's set was as a good a remedy as one could get. Stepping it up from playing as a duo, when Dev played with violinst Mike Siddeel
at the Horseshoe Tavern in March of this year
, they were joined by a drummer(Anna Prior) and bass guitarist this time around, fleshing out songs off of "Falling Off The Lavender Bridge", and later on in the set utilizing the configuration on a surprising rocking rendition of the Star Wars Darth Vader Theme. Other than the latter's obvious benefiting from the full band, I found myself feeling that Lightspeed Champion's set back in March was the better one. I'd probably feel differently if I could hear the female drummer's background vocals better (like Emmy The Great's delicious background vox on the album), but otherwise the added drums and bass guitar this time around wasn't nearly as much of an improvement as I'd hoped for for songs that were already great performed with just guitar, violin and vocals.
Even on an off day Dev's banter contributions are still as charmingly goofy than most, but even still, banter quantity was less this time around than last. He apologized for being 'anti-social' when he took a moment to discuss the NBA finals with a fan near the front of the stage who apparently brought it up. He also complimented the venue and it's high stage - ok, so that wasn't funny, but hey a compliment's and compliment, and if there's a music venue comparable to Lee's Palace anywhere with a stage as high or higher than Lee's Palace, I want to know.
My photos from the show are over at
Flickr
.
Reviews of the show over at
Chromewaves
and
It's Not The Band I Hate...
.
MySpace
:
Flowers Forever
MySpace
:
Lightspeed Champion