Billy Bragg @ HMV [Yonge & Bloor] (June 17, 2008)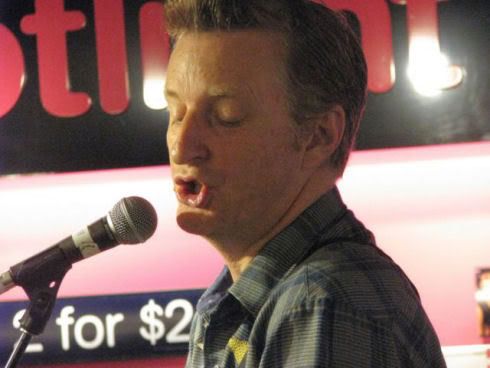 Prior to his proper gig at Harbourfront,
Billy Bragg
performed a brief solo acoustic instore at the grand reopening of HMV's Yonge and Bloor location this past Tuesday. I missed a bit of it but did catch full performances of 'Waiting For The Great Leap Forward' (with some timely, biting lyrical changes which ponder the next music format that's forthcoming) and set-closer 'A New England' during which Billy encouraged an audience singalong especially during the chorus. Even during the brief time I was there, I still managed to catch some of Billy's humourous banter. He spoke about his son who's in that period of discovering his own musical tastes and Billy recounted how his son would him ask whether he heard of artists like
Jimi Hendrix
and
Kansas
, at which the audience chuckled. Given the mention of that latter band, Billy instead turned his son onto
The Clash
's "London Calling" which had the audience roar with approval only to have Billy respond that now his son's into
Green Day
. Ha ha.
A few more of my photos are over at
Flickr
.
MySpace
:
Billy Bragg