concert review
:
Orchestra Baobab
@
Harbourfront Centre
(Toronto, Ontario), July 3, 2008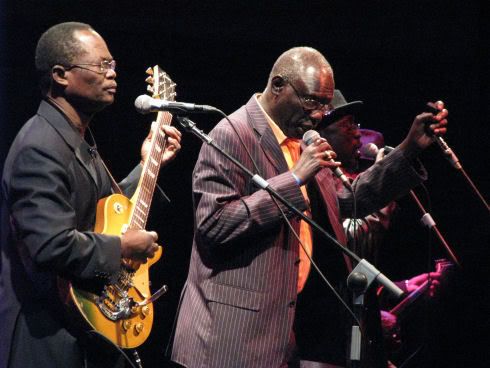 Whether planned or not, a pair of Harbourfront shows this past week,
Sean Kuti and Fela's Egypt 80
(from Lagos, Nigeria), and collective
Orchestra Baobab
(from Senegal) nicely coincide with Toronto's
Afrofest
happening this weekend down at Queen's Park. I didn't make it to the Sean kuti show afterall (
though by all accounts it was a fantastic show
), but I did make it to the Orchestra Baobab show this past Thursday and it was a great display of musicianship which was highly entertaining. My only musical point of reference is that they reminded me a lot of Ry Cooder's
Buena Vista Social Club
, though with an Afrobeat flavour. Orchestra Baobab played a great set that was an intoxicating mix of guitar melodies and arrangements, horns, percussion, and lead vocals with different members taking turns at it, contributing their own unique vocal styles. It's a shame my understanding of French is so poor because I couldn't understand most of their banter which apparently some of the audience picked up on. However, the lyric "Ca C'est Vrais" ["This is true"] came through loud and clear, and the band got the audience to participate and chant it gleefully. The member of the group in baggy pants who played saxophone was obviouly the jester of the group playing bursts of jazzy saxophone licks, and playing up near the front of the stage, and during the band introductions raising his arms in victory, then happily jumping off stage to the crowd's level to shake hands with the fans. The gentleman on lead guitar, was introduced if I recall as the chief/leader of the Orchestra and honestly he was one of the best guitarists I've seen live ever. Fantastic show.
More of my photos over at
Flickr
.