concert review
:
Rogers Picnic
@
Historic Fort York
(Toronto, Ontario), July 20, 2008
Dallas Green (of City and Colour) @ Rogers Picnic (Historic Fort York - July 20, 2008)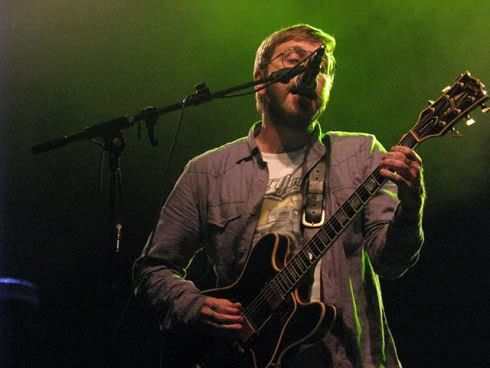 The good things about having missed the first three acts of Rogers Picnic this past Sunday at Historic Fort York - 1) I missed the worst of the torrential downpour of rain for the day, and 2) I have less to write up about! I wasn't terribly disappointed to miss the funky electro-rock of Scarborough duo
The Carps
. On the other hand I'm sorry I missed
Born Ruffians
who I've managed to still not see live up to this day. I was also looking forward to catch UK grime-rap artist
Dizzee Rascal
but unfortunately it wasn't meant to be.
I was fortunate enough to walk in to Historic Fort York problem-free and the rain temporarily on hold with NYC's
Vampire Weekend
already into their set of cheery-sounding indie pop. It's a shame that the weather couldn't be as sunny as Vampire Weekend's tunes were. The band had the crowd join in on the chorus chant of "Blake's Got A New Face". They seemed to go over well with the crowd overall - though for my tastes more pleasant-sounding than actually enticing. I'm assuming they performed "Mansard Roof" though apparently I missed it.
I'd sauntered over to the DJ tent to catch a bit of
Let's Go To War
's DJ set. Not necessarily my thing, but the beats were interesting enough and energetic.
Seemed like the clouds just got greyer by the time
Animal Collective
hit the stage, though only down to the duo of members Panda Bear and Avy Tare actually being present. Not having heard them before, they managed to impress me with one of the most musically interesting sets of the day - bits of percussion, guitar, keyboards and electronic sounds combined to give off a certain experimental vibe, though there were definitely melodies buried beneath the chaos. The vocals/melodies sounded a little Brian Wilson-esque at times which is always good in my books. Even if it was during their set that I actually had to pull out my rain poncho, it was all worth it.
Montreal electro-funk duo
Chromeo
were perhaps the most entertaing band of the day - musically their upbeat electro-funk, 80's influenced pop concoctions (including generous amounts of vocoder) had at least some of the crowd dancing and in between songs they kept the crowd smiling with humourous small-talk. The band's 80's influence was displayed quite overtly at times, like when they preceded one of their songs with the opening riffs of Dire Strait's "Money For Nothing". I think they were the only band (other than headliner City and Colour) to actually come back for an encore which they started out by performing an inspiring version of Journey's "Don't Stop Believing" - I doubt many of the younger crowd even knew the song though there was one guy, caught on the Jumbotron, singing the lyrics to the song enthusiastically. Good photo-op too, especially with each member's keyboards adorned in front with fake women's legs so that when they stood behind the keyboard it looked funny.
I had sauntered over to the DJ tent after Animal Collective's set at which point the rain (before it dissipated) was as strong as it was going to get for the rest of the day.
Junior Boys
' Jeremy Greenspan was spinning though with the rain unrelenting and many taking shelter under the tent, it was hard to get in. Fortunately, Jeremey was still spinning after Chromeo's set and I managed to get into the DJ tent and hear some of Jeremy's beats up close, as well as snap a few photos. Oh and just by showing my Rogers cellphone to the Rogers staff onhand, they gave me a Freezee. It doesn't necessarily take much to please me.
Tokyo Police Club
kept the momentum (after Chromeo's set) going with an inspired set of their energetic, tuneful indie rock. This being only the second time I'd seen them live (
the first being at Nathan Phillips Square in January of this year
), there's not much more to add really. We clapped, we did a group 1-2-3-4 count-in to one song, and we (ok, some people) danced. But, boy do the kids sure love 'em. I haven't had much listening time with their music overall, and maybe I'm in the minority here (especially with the kids, who probably favour their earlier releases), but the relatively more mellow "Tessellate" off the new album is a great pop song.
If you'd closed your eyes during
Cat Power
's set (backed by her Dirty Blues Band), you'd have heard some moments of sheer beauty(delivering a smokey cover of "Dark End Of The Street" for example). Of course, after having made it through a rainy, sometimes gruelling day, the last thing we wanted to do was not witness her presence. That being said, we had to bear witness to Chan pacing somewhat ackwardly from one side of the stage to the other, occasionally signalling to the sound guy about apparent sound problems (though I didn't necessarily notice anything of too discernible). From my initial presence in the press pit, I moved further back, though on the left side of the field to get a better view of the stage only to have Chan occassionally move so far to the left side of the stage to move out of my visual range. There was still the Jumbotron to look at thankfully. Chan's soulful mellow melodies eased the day into night capping off the daylight portion of the festival, making way for City and Colour's headlining evening set. Perhaps the last two spots of the day should have been switched as after Cat Power ended her set throwing flowers to the crowd and apologizing for her hoarseness, there was an exodus of people who didn't stick around for City and Colour.
On a scale of relativity, I'd rather listen to the acoustic strummings of
City and Colour
than the hardcore tendencies of Dallas Green's other band
Alexisonfire
. While I appreciate the aesthetics of City and Colour's music, I still don't count myself much of a fan though Dallas proved on occasion the emotional resonance of his songs. Call me a wuss, but his song "The Girl", which he dedicated to his girlfriend (Leah Miller?) backstage whose birthday it was, is one of the most tender love songs I've heard in a while. The song started off with Dallas performing it in folky, acoustic fashion before the rest of the band joined in to convert it to country-ish backporch, romp. The electrified band configuration of City and Colour is less interesting in my opinion and think City and Colour works best when Dallas performs solo or performs with band acoustically. Towards the end of the set, the Rogers staff brough out two giant balloons for the crowd to throw around. Each time the balloons bounced off the crowd it'd change colour. Dallas could only comment along the lines of when did the show turn into a
Flaming Lips
concert. It was all good fun. Though the crowd was thinner during City and Colour's set than it had been for Cat Power, the fans that stuck around were much more vocal, and it ended up being a fairly enjoyable set. It was a bit awkward at the end though that the encore was determined by a txt message poll being flashed across the Jumbotrons. The poll showed "Comin' Home" in the lead and with that I decided to make my home, although I could hear Dallas' emotive solo performance of the song in the distance as I walked away.
Photos
:
Rogers Picnic @ Historic Fort York (July 20, 2008)
MySpace
:
The Carps
MySpace
:
Born Ruffians
MySpace
:
Dizzee Rascal
MySpace
:
Vampire Weekend
MySpace
:
Animal Collective
MySpace
:
Chromeo
MySpace
:
Tokyo Police Club
MySpace
:
Cat Power
MySpace
:
City and Colour