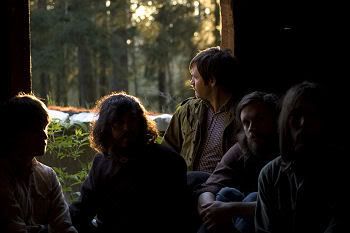 Well I was looking forward to seeing five-piece Sub Pop outfit
Fleet Foxes
tonight at the Phoenix (opening for
Stephen Malkmus
) but it
appears they've cancelled
due to 'exhaustion'. Oh well. No sense in complaining about it, I guess. I picked up their
debut full-length
over the weekend in anticipation of their show and have grown really fond of it. It's a great blend of vocal harmonies, melancholy melodies and modest folk-rock instrumentation.
The Beach Boys
influence jumped right out at me with Fleet Foxes' delectable vocal harmonies as on 'White Winter Hymnal', though they manage to prevent their own songs from being mere fascimiles (though 'Heard Them Stirring' does remind me, in a good way, of a long lost Beach Boys
"Smile"
-era vocal-harmony, instrumental outtake). There's a sombreness at times like on 'Meadowlarks' but overall their album's more melancholy than gloomy. On more straight-ahead-vocal-sung (ie. less harmony-laden) tracks like 'Ragged Wood' and 'Tiger Mountain Peasant Song' vocalist Robin Pecknold comes off sounding a bit like
My Morning Jacket
's Jim James, which is not a bad thing necessarily, but when the band's so strong out of the gates with their harmony-laden songs, the straight-ahead-vocal-sung tracks come off slightly disappointing. When a lot of indie rock these days is (or has been) about the instrumentation and or casually slack vocals (and this is not meant as a knock against you Mr. Malkmus), it's refreshing to see the emphasis that Fleet Foxes put towards vocal harmonies. And that distinction sets them apart. [photo by
David Belisle
)
MySpace
:
Fleet Foxes
Video
:
Fleet Foxes - 'White Winter Hymnal' (music video)
Video
:
Fleet Foxes - 'Crayon Angels' (Judee Sill cover - Black Cab Sessions)
:
:
Coming up soon, Calgary's
Jane Vane and The Dark Matter
, plus Toronto's
The Coast
(on a bill rounded out by The Salingers and Adam Bell) will be at the
Horseshoe Tavern
on July 26, tickets $6.00.
Chartattack
points out the tour itinerary of Jane Vain and The Dark Matter (who will also be playing an early set 9:10 pm set at the Horseshoe on July 29 as I pointed out in my previous post.)
Halifax's
Dog Day
will be at the Silver Dollar on August 19.
San Francisco's
The Dodos
and Portland's
Au
will be at the Horseshoe Tavern on October 6.
Henry Rollins
has a show (I'm assuming a spoken-word show) at Queen Elizabeth Theatre on October 27.
I wonder when the next set of acts will be announced for this year's
Virgin Festival
in Toronto but if it's any consolation, the DJ 'B-Live' tent is shaping up with
Switch
,
Sebastian
,
Flosstradamus
,
Drop The Lime
,
Thunderheist
,
Let's Go To War
,
Mario J
and
Nasty Nav
scheduled for September 6 and
Moby
,
Deadmau5
,
Lee Burridge
,
Doman and Pettigrew
,
Sydney Blu
,
Evan G
and
Harmonik Rage
scheduled for September 7.