concert review
:
Sigur Ros
,
Parachutes
@
Massey Hall
(Toronto, Ontario), September 22, 2008
Sigur Ros @ Massey Hall (September 22, 2008)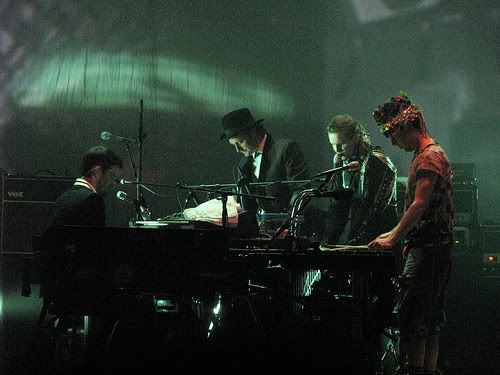 Walking into the soothing sounds of Icelandic group Parachute's set, my first impression was that they sounded a little like Sigur Ros, though with a tendency towards their quieter side. Even as numbered as they were and while they did have a mult-layered sprawling sound at times, acoustic instrumentation and subtle playing generally focused the sound towards hushed tones. It's perhaps not fair to fault them too much for sounding too 'Icelandic'(if we meant enigmatic vocals, lyrics, and melodies and pristine, multi-layered instrumentation) - I mean if the UK can have Britpop and the US hip-hop and R n' B well it wouldn't be unreasonable to think Iceland could(or would) have a certain defined pop sound. At least Parachutes, in my opinion do it well, although I guess in the end they don't stand apart too much from their older, more experienced brethren.
I thought it was a little serendipitous that the night Sigur Ros performed in Toronto that it happened to be
Car Free Day
. On a day like Car Free Day which on one level is an opportunity to reflect ecologically, Sigur Ros seemed to me like a particulary relevant soundtrack, in that I've always felt the organic quality of their music whether it be in soaring guitar, vocals, & melodies and propulsive drumming that felt like a celebratory reflection of nature itself (and maybe in particular the natural wonder of their own country of Iceland) or in their more introspective hushed tones which felt almost womb-like. Playing as a four-piece to a sold out audience, the band played against a backdrop that at various times showed everchanging, mysterious, multi-coloured screen projections (perhaps, at its most poignant when it showed old photographs and closeups of unknown eyes) and giant, spherical, constellatory objects (at one point it seemed something resembling snow fell from above). The stage at various times was awash colours spanning the spectrum of hues. Sigur Ros did what they do best which is to maintain an instrospective, mysterious vibe though I guess with more recent forays into songs at least resembling pop music, they sounded at times even playful, encouraging a 'singalong' during one song in the main set and a clapalong during a song in the encore.
In my opinion this was a much better show that the
previous time
(in September 2005 at the same venue) I'd seen them, especially if the rapturous audience was any indication. It was only icing on the cake when the encore ended and an enormous amount of multi-coloured confetti was launched into and dumped onto the audience. I wasn't in the direct line of fire unfortunately having to instead see it from my floor seat from underneath the overhang of the first balcony, but still it was a joy to watch. I'm still wondering if Sigur Ros had to foot the bill for the clean-up.
Photos
:
Sigur Ros, Parachutes @ Massey Hall (September 22, 2008)
MySpace
:
Parachutes
MySpace
:
Sigur Ros