concert review
:
Goldfrapp
,
Great Lake Swimmers
@
The Music Hall
(Toronto, Ontario), September 14, 2008
Goldfrapp @ The Music Hall (September 14, 2008)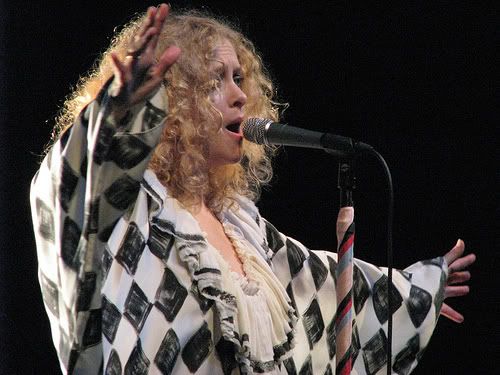 This past Sunday was a blissful evening of Autumn-toned folk melodies with Toronto's Great Lake Swimmers warming up the audience with its brand of hushed acoustic folk-rock before UK's Goldfrapp took the stage to continue the trend before switching gears to their danceable electro-pop sound.
Though I'd just saw
Great Lake Swimmers
perform a few days earlier(at Yonge Dundas Square), it's never too soon to see them perform again. Minus Julie Fader, it was Great Lake Swimmers as a four piece this time around. It's somewhat redundant to judge on musical merits, one Great Lake Swimmers show to the next. As usual, Great Lake Swimmers were musically tight and physically laid back though the varying component for me really now seems to be the venue that they play in. They've played dank clubs, churches, and and more recently the concrete surroundings of Yonge Dundas Square and now the seated theatre environment of The Music Hall. As with their show at Church of The Redeemer last year, I think Great Lake Swimmers are mostly a band that is best enjoyed as a spectator when seated although when Great Lake Swimmers pick up the tempo like on 'Your Rocky Spine', it's those rare occasions when the band's encouraging the audience to clap (which we did), and we're tempted almost to get out of our seats (which we didn't in the end).
Back in May 2005
, I'd reminisced about
Goldfrapp
's infamous show at The Opera House in 2001 when vocalist Alison Goldfrapp stormed off stage (not before throwing her beverage on the ground; or was that in the audience?), apparently because she wasn't satisfied with the sound. Other accounts I read also mentioned that part of the reason that Goldfrapp had left the stage (only having performed about 7 songs) was not just that they were frustrated with the sound problems but also were not happy with something a heckler had said. To this day, I still don't know the full story. It's been a long 7 years since then that I've been waiting to see Goldfrapp live again [although having surfed the internet I've come across that they may have been in Toronto in 2003 - how did I miss that?]
Goldfrapp loosely divided the set between their quieter restrained material performed during the first half of their set with their uptempo and or danceable electro-pop numbers anchoring the second half. As perhaps I should have expected, they only performed two songs('Paper Bag', and 'Utopia') from "Felt Mountain" while as expected much of the set was drawn from their most recent effort "Seventh Tree". It's the inbetween albums("Black Cherry", "Supernature" that I wasn't as familiar(although I did recently pick up "Supernature") with although the songs from these albums that were included in the set(like 'Number One', 'Ooh La La', 'Train', 'Strict Machine' which all came during the latter half of the set) were almost immediately recognizable and with the aforementioned songs in particular, deliriously infectious and energetic. With encore(which ended up being two songs), the show was about an hour and a half in length though had it been longer I would have loved to hear more off "Felt Mountain" (like 'Pilots') or various album tracks like 'Ride A White Horse' and 'Beautiful' (off of "Supernature"). Musically, I loved every song in the set, though perhaps too painstakingly did they reproduce the studio versions in this live setting. It didn't matter much with the audience who were rapturous(especially this one girl who took it upon herself to dance alone) with every song performed, especially so when 'Ooh La La' was performed, prompting the entire audience including myself to finally get out of our seats and dance.
Allison Goldfrapp exuded a eccentric, earthy vibe dressed in her clown-inspired moumou dress which wasn't so much frumpy since it fit more like a mini dress. Her band(which included a harpist who for most of the set I couldn't see from my vantage point) wore similar white attire. In terms of stage decoration there was a geometric patterned backdrop and a few what-seemed-to-be taxidermed animals decorating the stage. It seemed to be a similar stage production to their
recent show in NYC at Radio City Music Hall
but not nearly as much colourful lighting.
Overall, it was well worth the seven year wait and at $32.50 a ticket a steal compared to the in-excess-of-$100 that I'd overheard some people in the audience mention that some suckers had to pay for tickets to see Goldfrapp at Radio City Music Hall. Toronto 1, NYC 0.
Photos
:
Goldfrapp, Great Lake Swimmers @ The Music Hall (September 14, 2008)
Video
:
Goldfrapp - 'Clowns' (live at The Music Hall - Sept 14, 2008)
Video
:
Goldfrapp - 'A & E' (live at The Music Hall - Sept 14, 2008)
Video
:
Goldfrapp - 'Eat Yourself' (live at The Music Hall - Sept 14, 2008)
Video
:
Goldfrapp - 'Number One' (live at The Music Hall - Sept 14, 2008)
Video
:
Goldfrapp - 'Ooh La La' (live at The Music Hall - Sept 14, 2008)
*
Video
:
Goldfrapp - 'Monster Love' (live at The Music Hall - Sept 14, 2008)
video courtesy of flickeringwasteland
*
except which is from mrwillw
More reviews of the show from
The Panic Manual
,
Fazer
,
Jam! Showbiz
and
Will-W, Wong (Facebook)
.
Chartattack
has an interview with Alison.
MySpace
:
Great Lake Swimmers
MySpace
:
Goldfrapp