Bloc Party @ Virgin Festival (September 6, 2008)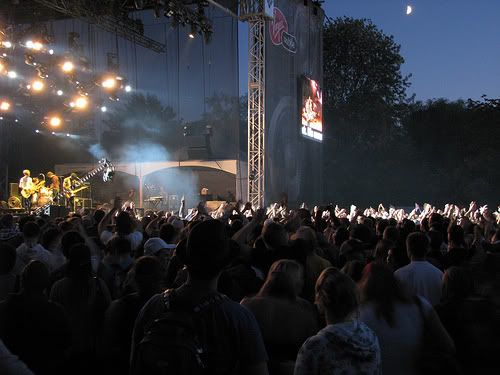 I have to give a big thanks to the
Virgin Festival
for approving my media accreditation this year. With perks like a VIP ferry, free dinner each day, a relatively comfortable VIP area, and access to the photo pit for the Main and Second stages, it's really spoiled me for any future outdoor festivals I'll be attending.
Although this year's lineup didn't necessarily bowl me over, with a little effort and good time management I still got to check out an interesting if not decent selection of artists throughout the day. Day One started out with me missing some of the mainstage acts, but I was able to get into the Molson Canadian Rocks Zone to catch some of
The Fratellis
' acoustic set, at least before they called it quits after they got drowned out by The Constantines who began their set on the main stage soonafter. Who ever thought of overlapping those two sets, well, nice one.
The Constantines'
set was my first opportunity to utilize my media pass and snap some photos of the band up close so I made a dash over to the mainstage. Though The Cons' melody and grit was musically in top form, it seemed one of their most subdued performances.
I stayed for a bit but then decided to head over to see Uk's
Spiritualized
scheduled to peform over at the TD Bank Stage just over the foot bridge. My rushing wasn't necessary as the start of Spiritualized's set was delayed. While Spiritualized's last jaunt through town was disappointedly to some a gospel acoustic set, this time around it was the electric band version. With a band and a couple of soulful, backup singers, Spiritualized performed a selection of newer songs and older fan favourites. It wasn't as cathartic experience as I'd hope (maybe it was seeing them perform during the daylight) but still it was very good, and it was all worth it just to see them play "Come Together".
With The Fratellis acoustic set having been cut short a few hours prior, I decided to stick around at the TD stage and catch their electric set, and as such, while there were many a fan in the audience and while I recall bopping my head at times, I seriously do not remember anything else about their set.
Back to the mainstage
Against Me!
had just begun their set of aggressively sung and played though infectiously melodic pop music. Not the first time I've heard them (God knows how many times I've heard Edge 102.1 play their 'hit' "Thrash Unreal") and I'm not a big fan of them but they were a needed shot of adrenaline for the day which up to that point had been kind of mellow.
As dusk set, the penuntilmate act of the day UK's
Bloc Party
didn't disappoint, drawing on older favourites and some newer material. While I musically I prefer Bloc Party over headliners
Foo Fighters
, I will give props where due and say that Foo Fighters and more specifically Dave Grohl knows how to draw a participatory element from the crowd, whether that be communal chuckling in reponse to Grohl's humourous banter or group singalongs(in particular to a few acoustic renditions of songs like "My Hero" and "Everlong"). And that Dave Grohl is one foul-mouthed dude. Don't let his angelic smile in the "Big Me" music video fool you.
Photos
:
Virgin Festival @ Toronto Islands (September 6, 2008)