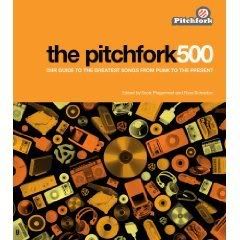 Out today in book stores is
"The Pitchfork 500: Our Guide to the Greatest Songs from Punk to the Present"
which compiles
Pitchfork
staff's 500 favorite songs from 1977-2006. I'm looking forward to reading the individual commentaries although if you'd like to take a gander at the list
From Closer To Near
has it up [via
It's Not The Band I Hate...
]. Along this line I'd also highly recommend a few books by Garry Mulholland -
"This Is Uncool: The 500 Greatest Singles Since Punk And Disco"
and it's follow-up
"Fear Of Music: The Greatest 261 Albums Since Punk And Disco"
, both interesting reads. I've barely scraped the surface of both books actually but what I've read is great. I just found a used hardcover mint copy of "Fear Of Music" recently and I picked up a copy of "This Is Uncool" earlier this year at Chapters for about $6.99 (I think
Chapters
might still have it but otherwise keep your eyes out for it anyway).
I got an e-mail that
Eagles of Death Metal
poster boys Jesse "Boots Electric" Hughes and Joshua "Babyduck" Homme will be at The Bovine this Wednesday night for a
DJ set
. No cover charge, although I won't guarantee no line-up.
A reminder that the first annual
Toronto Nu Jazz Festival
goes down November 13 to 15 with shows at Revival, Supermarket and The Opera House. Check out the
promo video
. It kicks off with UK's
The Herbaliser
at Revival on November 13, tickets $18 in advance or $25 at the door. Check out the rest of the schedule and ticket info at the link above.
If the temperature isn't already an indication that winter is just about upon us, then well there's no going back now that the City of Toronto's confirmed a couple of their winter
Special Events
schedules.
The Calvacade Of Lights
takes place November 29 to December 31 with it going city-wide this year with
lighting displays in twenty neighbourhoods and tourist attractions
. The Opening Celebration takes place November 29 at Nathan Phillips with a
holiday concert
that features several performers including
Serena Ryder
. In the new year from January 30 to February 12 is the annual WinterCity Festival, music-wise which will feature a few free concerts at Nathan Phillips Square -
Thunderheist
and
Shad
on January 31 and
The Stills
on February 7.
Gentlemen Reg
will be opening for
Stars
on December 12 at Queen Elizabeth Theatre.
Parkdale troubadour
Justin Rutledge
will embark on his "Incredible Shrinking Tour in promotion of his new album "Man Descending". He'll be touring opener
Jenn Grant
for a few Ontario dates (Waterloo, Hamilton, Kingston) before heading west, then will swing back to Ontario at the end of the month for shows in Guelph and and Peterborough before ending this second Ontario leg with 5 dates in Toronto at "...decreasing capacity venues across the city, starting at the Horseshoe Tavern, then moving to Hugh's Room, the Dakota Tavern, the Cameron House, and culminating in a final night at the diminutive Not My Dog..." in Parkdale. Toronto dates take place from November 28 to December 2 respectively. Full details including openers for each night at
Six Shooter Records
.
American Laundromat Records
drops an indie feast of
Cure
-loving goodness with a 16-track CD titled "JUST LIKE HEAVEN - A TRIBUTE TO THE CURE!" being released in the new year on January 27. You can preview tracks over at the label website by launching their radio player. Participating artists' comments can be read
here
.
And please take a moment of silence at 11 am to recognize our armed forces and fallen soldiers this
Remembrance Day
.