Shad @ Virgin Festival 2008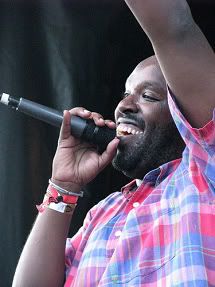 Once again Matthew at
I(Heart)Music
has conducted his annual poll of Canadian bloggers for their
top ten hottest artist/bands of the year
and again I've happily participated. I found it more difficult this year to compile a list although not because of a lack of Canadian talent - on the contrary there's an abundance of talent to choose from. My definition of 'hottest' is not merely a barometer of artists' success/achievements(e.g touring, new release, record label signing) this year but also factors the connection I made to the music whether that be seeing them live or listening to their music. For example, I've been a long-time fan of
Feist
and there's no doubt she was probably more successful than ever this year(what with her
Juno Awards sweep
and
appearance on Sesame Street
just to name a couple of things) but overall I had more of a distant connection to her music this year. With my definition of 'hottest' established the only thing that made it difficult to compile my list was that I've been a little negligent this year in keeping up with Canadian music either in seeing live shows or checking out new releases. I could have forseen having included bands like
Holy Fuck
and
Bruce Peninsula
on my list but I'm not too familiar with either nor have I seen either of them live. In the end, I came up with ten artists that I connected to on some level this year, some already on the path to success and a few who I hope to see on next year's top ten list. My top 10 below, including commentary:
1)
Shad
(
Myspace
)
I'd been impressed with this talented London, Ontario MC since seeing him perform in
2006 at the Brigantine Room at Harbourfront
, bringing the house down with his lyrical flow and freestyle. I haven't yet listened to his 2008
Polaris Music Prize
-nominated album "The Old Prince", although I'm assuming it's every bit as good as his song
"The Old Prince Still Lives At Home"
, whose Fresh Prince-inspired music video is one of the best music videos of the year. A dynamite side-stage set at
this year's Virgin Festival
only adds to his musical hotness this year.
2)
Cadence Weapon
(
Myspace
)
His 2008 release "Afterparty Babies" has been winning me over with each listen, an entertaining pastiche of samples, beats and Rollie's playful lyrics. Signing with US label
ANTI-
this past year, it's just another disappointing reminder that talented Canadian artists seem to have to be acknowledged elsewhere before their home country takes notice.
3)
Katie Stelmanis
(
Myspace
)
To quote myself regarding Katie's
performance at The Great Hall in Toronto back in April
(opening for Jens Lekman), "The performance was equal parts stark, dramatic vocals, approaching-on-threatening drum arrangements, and somber minor-key melodies." I also saw her perform with a full band back
in April March during Canadian Music Week
and likened it to a theatrical experience - full of drama and atmosphere. One of the more unique musical experiences of the year.
4)
Two Hours Traffic
(
Myspace
)
The next generation in east coast hook-filled power pop and maybe the best band to ever come out of Charlottetown, PEI. I haven't yet listened to their Polaris Music Prize-nominated album "Little Jabs" although I did pick up one of their old EP's but I was immediately hooked when they played an infectious
instore set at Sonic Boom Records in Toronto during NXNE
.
5)
Land of Talk
(
Myspace
)
All respect to fellow newly-signed
Saddle Creek
roster-mates
Tokyo Police Club
and
Sebastian Grainger
, but Land of Talk are the best of that bunch. With a new album "Some Are Lakes" finally released and vocalist Elizabeth Powell's new part-time gig as part of
Broken Social Scene
, things are heating up for them.
6)
Final Fantasy
(
MySpace
)
The go-to guy this year having conducted/arranged the string arrangements on the debut album of UK duo
The Last Shadow Puppets
, and teaming up with Swedish crooner
Jens Lekman
and UK psychedelic outfit
The Flowers of Hell
for live performances, this was in addition to his own hectic touring schedule. As a lead up to his next full-length "Heartland", he also released a couple of EP's, one ["Spectrum, 14th Century" EP] which I've heard and have found to be a worthy addition to his catalogue.
7)
Great Lake Swimmers
(
MySpace
)
They deserve a spot in the top 10 if only for the fact that they've toured like madmen throughout 2008, in Toronto alone since the summer having opened up for Robert Plant/Allison Kraus at Molson Ampitheatre, played a
TIFF-related event at Yonge Dundas Square
,
opening for Goldfrapp at The Music Hall
, and playing an intimate show at Lee's Palace just recently. A concert special they filmed last year at the Phoenix will be screening at selected Cineplex Odeon theatres starting November 5. 2008 was a good year for them.
8)
Laura Barrett
Toronto kalimba-playing, whimisical-voiced musical artist Laura Barrett released her debut full-length "Victory Garden" this past September but also collobarated with Toronto turntablists
iNSiDEaMiND
(offering her ethereal vocals on their track "The Tiniest Spy") and continued to perform live with
The Hidden Cameras
(as she did during the band's homecoming performance
at this year's Pride
). A true underdog winning fans with every performance.
9)
The Coast
(
MySpace
)
Once purveyors of anthemic pop rock music, they've loosed the reigns with their most recent album "Expatriate" toning the atmospherics down and sounding more natural in the process. Still those melodies remain. It seems like it's been non-stop touring on this continent this year for the guys and the new year'll bring them to the UK for more tour dates and hopefully greater success.
10)
Olenka and The Autumn Lovers
Barely out of the gates in terms of buzz within the indie scene, I anticipate things picking up with the release of their debut full-length coming out soon.
My favourite discovery of this year's NXNE
, lead vocalist Alexandra Krakus exudes a natural charm and exquisite vocal style(not to mention an interesting foray into her native Polish), breathing life into her band's gypsy-folk creations.
Update[Nov 3/08]
:
The rest of the vote-getters
.