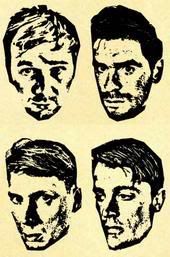 By now common knowledge to most (I posted the news at
Stille Post
over the weekend),
Franz Ferdinand
will be playing an intimate show at Lee's Palace on December 4. Tickets are onsale November 13 at 10 am through
Ticketmaster
only, tickets $25. I'll be at the
Neil Young
and
Wilco
show at the Air Canada Centre that night. As
Chromewaves
hypothesizes there should hopefully be some 'proper' North American tour dates in the not-too-distant future - 'proper' meaning the band likely playing a big-ass venue like Kool Haus or God-forbid Sound Academy or Ricoh Coliseum. Shudder. The band's new single "Lucid Dreams", to appear on their forthcoming album "Tonight: Franz Ferdinand" can be heard/downloaded over at the band's website.
Coming up quickly,
Casiotone For The Painfully Alone
will be playing a show in Toronto on November 15 at 6 Nassau (a venue in Kensington Market). Via
Stille Post
]
As part of the
2K Sports Presents The Bounce Tour
,
Q-Tip
and
The Cool Kids
will be at the Phoenix on December 5. Tickets $24.50. [via
REMG
]
The Russian Futurists
have been confirmed to open for
Stars
for their December 11 show at Queen Elizabeth Theatre.
Tropics
have been added to the bill at the Horseshoe Tavern on December 11 with the previously announced
Love Is All
and
Crystal Stilts
(man, I swoon every time I hear "Shattered Shine"). [via
Against The Grain
] On a side note, as
Brooklyn Vegan
points out, Love Is All 's new album "A Hundred Things Keep me Up At Night" will be released November 18 (no longer November 11) through
What's Your Rupture
and you can listen to the new Love Is All album plus watch Halloween-themed videos for each song over at
What's Your Rupture's YouTube Page
.
Though still unconfirmed there's a few dates at the
Horseshoe Tavern
I'll be keeping my eye on. November 25 will be the 15th Anniversary of
The Edge 102.1
Dave Bookman's Nu Music Nite. December 5 and 6 will celebrate the venue's 61st birthday - details are to be announced this Friday November 14. The venue website promises a few 'special guests' on November 25 while
if last year's celebrations
were any indication, hopefully the venue's birthday celebrations this year will be decent if not outstanding.
What has recently been confirmed for the Horseshoe include a visit from German-Danish indie rockers
18th Dye
on December 2(part of the no-cover Nu Music Nite) - I remember reading about them a while back with their Matador-released
"A Tribute To A Bus"
though I never really got around listening to them much but I like the alternately spacious and crunchy guitar indie rock I hear over at their
MySpace
.
The Skydiggers
bring their down-home country rock to the Horseshoe for their annual Christmas shows on December 19 and 20, tickets $25.00 onsale today. As usual,
The Sadies
ring in the new year on December 31 with their annual New Year's Eve show at the Horseshoe, tickets $20.00.
Up the street from the Horseshoe,
Elliott Brood
will ring in the new year on December 31 at Lee's Palace.
Everyone's favourite hardcore-concertgoing / indie-listing / music blogger Jennifer Polk is profiled over at
BlogTO
.
Finally some
Neko Case
news as her most recent
Travelogue update
was on the night of the election (just prior to
Obama
's win) as she comments on the goodwill expressed by Canadians in the studio she was recording in cheering on Obama that night. On a purely musical note she mentions being at the end of the recording process, which means a new album sometime in the future!
Tomorrow, the double CD reissue's of
New Order
's
"Movement"
,
"Power, Corruption and Lies"
,
"Low Life"
,
"Brotherhood"
, and
"Technique"
will be in stores!
Pitchfork
goes to the task of reviewing them.