concert review
:
The Airborne Toxic Event
,
Alberta Cross
,
The Henry Clay People
@
The Mod Club
(Toronto, Ontario) - March 4, 2009
The Airborne Toxic Event @ The Mod Club (Mar 4, 2009): photo by Michael Ligon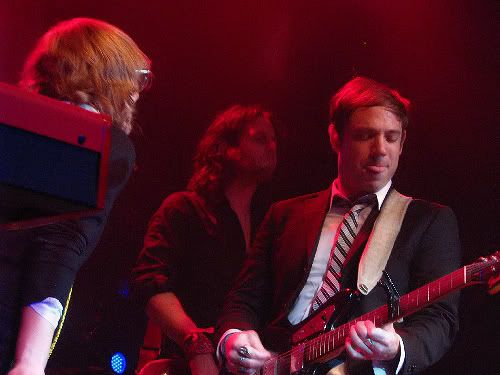 Oh Los Angeles. I'd been through Los Angeles as I'd arrived and departed from there back in 2004 when my friend and I went to Coachella. Los Angeles is such a sprawling monstrosity of a city, both beautiful and ugly, and when it comes to it's music scene, from my outsider perspective it's hard to pinpoint anything indentifiable of it. From my understanding, it's probably more likely that bands from Los Angeles identify themselves more by their neighbourhood than Los Angeles proper. Last Wednesday night at The Mod Club, headliners The Airborne Toxic Event came to represent Los Feliz while one of the openers The Henry Clay People came to represent Glendale. As much as the Los Angeles music scene has been under the radar for me lately (in comparison to say the London[UK] and NYC), the show last Wednesday showed that it was alive and kicking.
I came in to the venue just after first openers The Henry Clay People had started their set it seemed and there was already a healthy crowd there. I was fortunate to catch most of their set but had I'd only seen the
Pavement
sticker on one of the guy's guitar cases and their set-closing cover of The Rolling Stones' 'Honky Tonky Woman', it would have been more than an accurate reflection of their influences. Singer Joey Siara sang with a bit of Malkmus' slackness, but otherwise the songs were a rollicking stab at rock n' roll as I'd ever heard. Joey's younger brother Andy on guitar also took turns at lead vocals and at the tender age of 22 [I believe I recall Joey saying that Andy just turned 22] showed that he's no slouch in the vocals department. It was just a bonus to their set when Airborne's Steven Chen joined them for one song to contribute some of his guitar virtuosity. It's a shame that they live all the way on the west coast but hopefully they'll make a trek through Toronto again soon.
Perhaps a bit of cross-country ambassadorship brought Brooklyn's Alberta Cross to the bill, filling the second opener slot. Although based in Brooklyn, their MySpace reveals they're an Anglo-Swedish outfit - as to how they ended up in Brooklyn, that alone is probably a story into itself but I haven't read that much into the band. Musically they have one foot in classic rock, maybe most notably
Neil Young
as on 'Song Three Blues' which churns slowly with it's keyboards, crunchy guitars and vocalist Petter Ericson Stakee's high-pitched croon. The band does reflect a more contemporary alt-rock sound on the sombre but urgent 'Leave Us Or Forgive Us'. Most notable in the instrumentation department in my opinion was guitarist Sam Kearney who's meaty guitar arrangements added much to the band's sound. I'm undecided as to whether Petter's high-pitched vocals are the best fit to the band's sound although the more I listen to the band's songs on their MysPace the more I'm thinking the band's music speaks for itself. Overall, they had a more serious tone to their set than the one preceding it but ultimately it was inspired.
If I could go back in time I would have not skipped The Airborne Toxic Event's set at last year's
Virgin Festival
purely on the basis of what I still believe is an awful band name. Maybe it was with a little serendipity that I heard their magnificent single 'Sometime Around Midnight' on
The Edge
a few months back and actually enjoyed it immensely - it's a song that builds from quietly sung vocals and guitar strums to a swell of instrumentation and strings with the urgency and sonic similarities of
Arcade Fire
. And I here I thought that mainstream alternative rock radio had gone down the shithole. It's surprising to me that the band is from Los Angeles as they don't meet any of my preconvieved notions of what a band from LA should sound like (nor look like, taking cues it seems from Interpol in their mostly black attire). Aside from the aforementioned Arcade Fire comparison with 'Sometime Around Midnight', just a sampling of their sounds on their MySpace bears to mind New York City with the
Strokes
-ian pop textures of 'Gasoline' and the
Interpol
-ish post-punk and deadpannedness vocals on 'This Is Nowhere'. As their live set would attain to, violinist Anna Bulbrook's playing as well as guitarist Steven Chen's atmospheric guitar melodies added a anthemic dimension to their music at times. With only one album, their 2008 self-titled debut, under their belt, their set was understandbly short(although they did play a few new songs) but ultimately satisfying. During the end of their third last song of their main set, a fight broke out around the front of the stage (near me actually, but I had nothing to do with it, I swear) between two groups of patrons and the guilty party was subsequently kicked out as the band played on. In some way it felt the whole incident was on cue as just as the guilty part was led out by security, the band seemingly cued into 'Sometime Around Midnight' and the crowd's euphoria was almost tangible. The show could have ended their for me and I'd have been satisfied but they played one more song('Innocence') then came back for an encore towards the end of which they invited audience members to jump up on to the stage with them as people gladfully did and the band brought the song to a rousing conclusion. Expect big things from them in 2009. And Toronto, consider yourself lucky as the band had
to cancel their subsequent Ottawa and Montreal dates
due to aggravation of vocalist Mikel Jollett's laryngitis, which I'd never have guessed he had based on their Toronto show.
Photos
:
The Airborne Toxic Event, Alberta Cross, The Henry Clay People @ The Mod Club (March 4, 2009)
MySpace
:
The Henry Clay People
MySpace
:
Alberta Cross
MySpace
:
The Airborne Toxic Event