Tindersticks: photo by Richard Dumas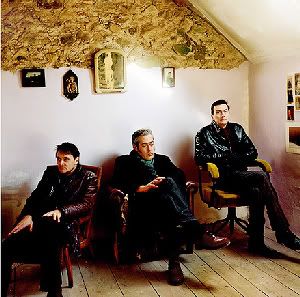 Perhaps it's no better time than the present that music fans take hold of Nottingham, England outfit
Tindersticks
from the reigns of obscurity. They've been releasing albums of smoldering, woozy, smoky pop music since their self-titled debut way back in 2003 and while I've been aware of them since then and have even listened to them on occasion, I've only gained a deeped appreciation for them more recently. In some ways they're more relevant than ever, with Tindersticks' frontman Stuart Staples vocally bowing down to the altar of
Leonard Cohen
who he himself has gained a new audience with younger folks as he readies to embark on his first US tour in 15 years. Tindersticks also remind me of a woozier, more exotic version of
The National
's dark, organic pop-rock, that band's frontman Matt Berninger also taking cues from Mr. Cohen. Further, artists like
Portishead
(especially their newer material) and
Antony and The Johnsons
evoke a similar desperation in their music that Tindersticks have pursued more than occasionally.
I've been picking up Tindersticks' albums with voracity recently but mostly have been delving into their most recent album "The Hungry Saw", their first album in five years. It's an album that evokes different moods. The desolate piano film-noir-ish instrumental of the opening track 'Introduction' segues into the organ and punctuated guitar of 'Yesterday's Tomorrows' evoking the imagery of a dark, smoky bar. 'The Flicker Of A Little Girl' takes a surprising turn at pastoral pop music with it's acoustic guitar and quiet shuffling drums. The said piano & violin lament of 'Come Feel The Sun' quiets things down again. The horns and vibrato instrumental of 'E-Type' gives way to some subtle Thom York-like vocal meanderings, and then hands things over to the dark cinematic orchestral pop of 'The Other Side Of The World'. Yet another instrumental dots the album with 'The Organist Entertains' combining a string arrangement, keyboards and mysterious melody tapped out on piano. It's the title track 'The Hungry Saw' that finally sees the band approaching mid-tempo shuffling soul-pop with organ, guitar and drums. Skipping to the end of the album, the album's penultimate track 'All The Love' is perhaps it's most poignant, as Stuart Staples' confessional vocals intertwine with lonely-sounding oohing female background vocals. When the album concludes with the emphatic slow-building orchestral pop-rock of 'The Turns We Took', it is glorious.
A seven-member touring version of Tindersticks takes the stage tomorrow night at The Opera House and I fully expect it to be a fulfilling experience.
Video
:
Tindersticks - "Hungry Saw" (acoustic)
Video
:
Tindersticks - "Yesterday's Tomorrow" (live in Washington, DC - March 5, 2009)
Video
:
Tindersticks - "The Flicker Of A Little Girl" (live @ De Laatste Show - March 12, 2008)
Video
:
Tindersticks - "All The Love" (live 2009)
MySpace
:
Tindersticks