concert review
:
Canadian Musicfest
(part of
Canadian Music Week
) in Toronto - March 13, 2009
Black Hat Brigade @ Rancho Relaxo: photo by Michael Ligon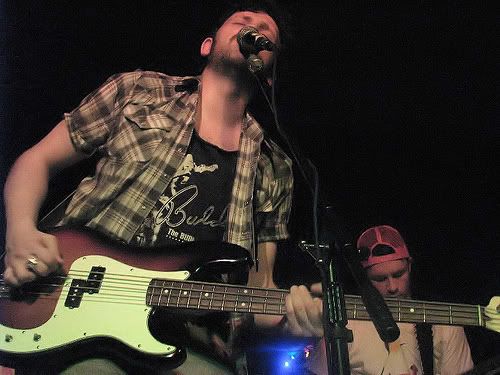 Friday the 13th turned out to be the final night of my CMF unfortunately - for reasons I can't get into, I wasn't able to make it out to my planned Saturday CMF schedule. An unplanned conclusion to my CMF as it turned out to be, in terms of new musical discoveries, it was an interesting if not fruitful evening at least.
9 PM -
An Horse
@ Tranzac
Surprisingly Australian guitar/drums indie rock duo An Horse's appearance on Letterman a few nights ago had little effect in creating any buzz for their CMF set. I'd expected a crowd, maybe even a lineup but encountered neither as I walked into the relatively sparse venue about 10 minutes to 9 pm. There were a row of young ladies and a few guys at the front of the stage psyched to see the band, although the scattering of other patrons seemed generally subdued. Promoting their debut album "Rearrange Us", drummer Damon Cox and guitarist/vocalist Kate Cooper kept things focused on the music although at times a little more banter would have been appreciated. Kate had a little scare with the mic as she genuinely thought she was mildy electrocuted and politely requested that someone check the mic before they continued. While someone did come up to check the mic, a few giddy audience members made an effort to chat up the duo, asking about their appearance on Letterman, and such but had little to say; the duo were generally cordial, and were even surprised that someone in the crowd was more up on their tour dates than they were (Damon mentioned they'd be back in Toronto in April but couldn't remember the date nor the venue at which point someone yelled out April 23 and Horseshoe Tavern) - but in general I think their lack of banter was a missed opportunity to better connect with the audience. Fortunately, I think they made up for it with their set of infectious scrappy, melodic indie rock, Kate Cooper's thick Aussie-accented vocals wrapping around her elastic guitar chord progressions like a glove.
Video
:
An Horse - "Camp Out" (live on Late Show With David Letterman - Mar 11, 2009)
MySpace
:
An Horse
10 PM -
Angil & The Hiddentracks
@ Central
I'd been intrigued by some of the YouTube live videos I'd seen of St Tinn, France band Angil & The Hiddentracks, which was enough to convince me to head down to Central to check 'em out, even convincing fellow blogger Frank Chromewaves to come along. If you thought the Drake was intimate, well then check out Central for a much more accurate example of intimacy. A row of tables lines the wall leading up to the small stage at the back, and the venue itself is barely wide enough that walking down the length of venue from the front to the back of the venue and back to the front you're almost bound to bump in to someone. The band performed as a four piece (rather than the larger membership that they're usually comprised of; I guess it's expensive for everyone to travel) imparting their sound in a more stripped down manner through drums, guitar, keyboards as well as some violin and french horn. The schizophrenic nature of their set showed the band's multi-faceted sound which jumped from lo-fi hip-hop, to Yo La Tengo-ish indie pop, to Fall-like post-punk, and classical underpinnings. It's heady stuff at times and it seemed to get lost on the chatty crowd at times, although there were times when they connected with the audience, their third song of the set being an example of their Yo La Tengo-ish indie pop side and their last song approaching instrumental bliss such that I could have imagine it sounding even better with a larger band. To be honest, their hip hop influence which they'd displayed on one song, just did not work for me. Their most recent album "Oulipo Saliva" is out now through Chemikal Underground.
MySpace
:
Angil & The Hiddentracks
11 PM -
Ruth Minnikin and Her Bandwagon
@ Holy Joe's
One of my favourite components of Ruth Minnikin's participation with Halifax orch-pop outfit The Heavy Blinkers was the lovely timbre of her vocals. She brings that same quality to her own material, although her songs favour a rootsier, East Coast folkiness. Her Bandwagon as she refers to her band, she had in tow an accordionist(Anna Plaskett?), The Heavy Blinkers' David Christiansen on bass clarinet, a drummer(Brian Murray?), and special guest Rheostatics' Tim Vesley on guitar. There seemed to be a slight disconnect between the band and the sparse crowd who seemed more interested in drinking and chatting, so when Ruth and company segued into their song "You Can't Choose Your Audience" I wasn't sure whether that was meant as a sly wink to the crowd. It was probably a mistake to have booked their set for the dank confines of Holy Joe's in the first place - I better imagine playing on someone' back porch on a warm summer evening. Maybe Ruth should write a song "We Can't Choose Our Venue".
MySpace
:
Ruth Minnikin and Her Bandwagon
12 AM -
Black Hat Brigade
@ Rancho Relaxo
I came to check out Toronto-Brampton outfit Black Hat Brigade entirely by chance only because I wanted to ensure I got in to Rancho Relaxo for Amos The transparent's set for later that night. After devouring a pizza slice I'd bought next door, I headed up to Rancho Relaxo where Black Hat Brigade were fervently performing to the enthusiastic crowd herded right up to the front of the stage. Rancho Relaxo's is the only venue I can think of where you walk in through the front door and you're at the front of the stage which worked out for me as I decided to maintain my position at the front to watch the band. Black Hat Brigade performed their brand of indie rock with sinewy guitar lines, shout-out/yelpy vocals, crisp drums and humming keyboards, reminding me of Modest Mouse at times but the band also revealed a admiration for the sea shanty on a song or two, an influence in their music that I found to be subtle and intriguing rather than overbearingly chessy. Revealing perhaps another of their influences, I loved how during one song they transitioned seamlessly into Television's "Marquee Moon" before seguing back into their own song. Songs like "Limbo" sounded a lot like Modest Mouse, perhaps a bit too much, but it was an thrilling song nonetheless as were most of their songs. Check them out again March 26 at Whippersnapper Gallery than March 28 at Walker's Brew in Brampton.
1 AM -
Amos The Transparent
@ Rancho Relaxo
Closing out my CMF were Ottawa's Amos The Transparent. They craft an intoxicating blend of melancholy indie folk rock, mostly due to Amos frontman Jonathan Chandler's expressive vocals (although backup vocalist Kate Cooke vocals are equally appealing) and scintillating melodies. While they displayed they can crank it up and show a more rockier side, during more straightforward mid-tempo pop-rock numbers the melodies were much more apparent. As quite apparent by the crowd's reaction, Toronto seems to have taken to the Ottawa outfit, singing along with band and fist-pumping at just the right moments during key guitar power chords. Amos frontman Jonathan Chandler expressed his love for the Toronto audience even jokingly throwing out a 'Fuck Ottawa' which drew a chuckle from the crowd. Overall, I can see why some of fellow music bloggers love them - I might not be at that level yet, but I certainly could be going down that path. Not a bad way to end my Canadian Musicfest. They'll be back for a show at the Horseshoe on May 22 and will also return for NXNE for I(Heart)Music's showcase at The Drake Underground on June 18.
MySpace
:
Amos The Transparent
Photos
:
Canadian Musicfest in Toronto (March 13, 2009)