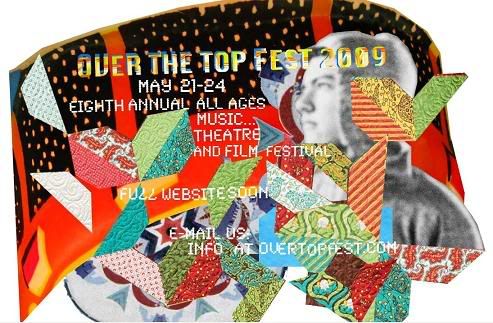 Although only April(btw, Happy Easter everyone), here's some early news on some upcoming festivals as well as some other concert announcements:
Eric Warner brings his annual
Over The Top
indie festival back this year to take place at various venues in Toronto from May 21-24. What started out as a music festival will this year at least include some films and plays. The music lineup's as follows(taken from
Stille Post
):
May 21:
Merbow w.
Growing
&
METZ
@ Polish Combatants Hall [
tickets
]
Clues w. Special Guests @ Sneaky Dee's [
tickets
]
Baby Dee
w.
Timber Timbre
&
Ghost Bees
@ 67 Nassau [
tickets
]
May 22:
Mecca Normal
- "How Art & Music Can Change the World" @ 67 Nassau [
tickets
]
Think About Life
w.
Tuneyards
& Bayonets @ Polish Combatants Hall [
tickets
]
Ulysses & The Siren
,
The Narrative
, Cool Dad & Guests @ Sneaky Dee's [not on sale online]
MV+EE
, WOODS + Special Guest @ Whippersnapper Gallery [
tickets
]
May 23:
Five Blank Pages
(Final Show) w.
Oh No Forest Fires
&
Boys Who Say No
@ The Mod Club [
tickets
]
Budos Band
w. Word People, Kae Sun & DJ John Kong @ Polish Combatants Hall [
tickets
]
Tiny Masters of Today
w.
Windom Earle
& The Superstitions @ Whippersnapper Gallery [
tickets
]
Shellshag
, Fiasco & Special Guests @ Sneaky Dee's [
tickets
]
May 24:
Concert on a Transit Bus, BBQ and Acoustic Concert [not on sale yet]
While not my thing overall, the
Toronto Jazz Festival
has in recent years at least seemed to draw a few bands that I'd been interested in seeing if it were not for the ticket price. Thanks to
The Singing Lamb
for pointing out the following -
Sharon Jones and The Dap Kings
(with Blackburn also on the bill) bring some soul to Nathan Phillips Square on June 26, tickets $35. That same night,
Jose Gonzalez
brings his self-named Trio to Harbourfront's Enwave Theare, tickets $30. June 27,
The Sea and Cake
infuse some post-rock sonics into the festival when they play The Supermarket, tickets $27.50.
Mr. Dan Burke's drops some names who'll be taking part at his
NeXT-at-NXNE
showcase taking this place in June at the Silver Dollar and Velvet Underground - artists include Japan's
Zoobombs
,
Red Mass
,
CATL
,
The Golden Triangle
(from Brooklyn),
The Two Koreas
,
The Sedatives
, "PIZZA PARTY" DJs,
Teen Anger
,
Hexes and Ohs
, and
Revolvers
. Via
Stille Post
Toronto's
Gentleman Reg
gets a 7.3 from
Pitchfork
for his newest album "Jet Black". Reg gets busy with several months of touring (US & Canada) starting with an instore on April 18 at Sonic Boom then returns home for a show at The Mod Club (opening for
A Camp
) on June 1 and after that returning for
Pride Toronto
to perform on the South Stage on June 27.
Also working their way touring through US and Canada over the next few months is Vancouver's
The Pack A.D.
who'll be at The Drake on April 17 and Horseshoe Tavern (w/
The Hanson Brothers
&
Potty Umbrella
) on April 25.
Headlights
will open for
Loney Dear
at the Rivoli on May 8.
Cryptacize
and
Casiotone For The Painfully Alone
will be at The Boat on July 8. Via
Chromewaves
.
Asobi Seksu
will open for
Yann Tiersen
at The Mod Club on April 19. Via
REMG
.
UK's
Gomez
will be playin the Phoenix on May 29. The band's new album "New Tide" was just released. Check out the first single "Airstream Driver" over at their
MySpace
.
Randy Bachman
plays a free show at Yonge Dundas Square on June 5, helping to kick off the just-over-a-week-long
Luminato
arts festival.