concert review
:
White Lies
,
Friendly Fires
,
The Soft Pack
@
Lee's Palace
(Toronto, Ontario) - March 31, 2009
White Lies' Harry McVeigh: photo by Michael Ligon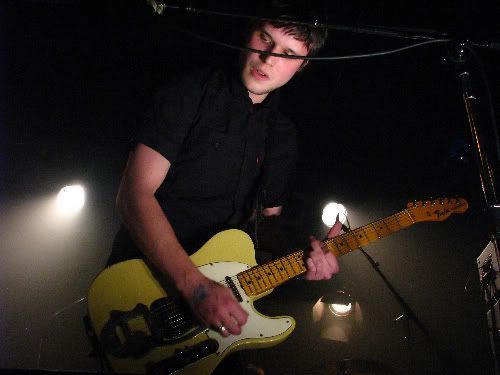 This past Tuesday night at Lee's Palace brought the "NME Presents" co-headlining tour of two hotly tipped UK acts, White Lies and Friendly Fire with San Diego's The Soft Pack along as the opener and of course it was sold out. I've been enjoying White Lies' debut "To Lose My Life" recently and had been disappointed that advance tickets had sold out so I decided to go to the venue early and perhaps get a ticket from a scalper and was pleasantly surprised that they were selling some tickets at the door. Score.
Opening the show were The Soft Pack, who apparently were previously known as The Muslims (Hmmm, I
wonder
why they changed their name?) They played an abrasive, angular brand of garage rock, with a lot of scratchy guitar work, thick basslines and earnest, shout-y vocals. They were part Velvet Undergound(minimalist rock instrumentation), part The Fall(dry vocals), and a dash of a CBGB's vibe circa late 70's like Television (guitar work). Their cue from The Velvets showed up particularly in the modified basic drumkit which the drummer played standing up, banging out simple yet effective rhythms although played with a lot more gusto. Perhaps a bit derivative but at least the influences are stellar and they more than did them justice.
For some, UK's Friendly Fires' set could have been THE headlining set of the evening as they absolutley brought it. Their disco-ish dance rock has one foot in the disco-punk revival of a a few years back and the other set in the electronic dance realm and really the resulting output sounds pretty fresh. Disco-y high-hat taps, rapid-fire wooden block beats, thick basslines, pumping keyboards, delicious programmed beats, and the emotive, smooth vocals from vocalist Ed McFarlane. It was all in there. Mr. McFarlane's competent frontman duties extend to his stage presence, singing and dancing to the beats totally devoid of any self-consciousness. By the time the band finished their set, they left most of the crowd drenched in sweat, some even yelling out for more. Yes, as I said at the beginning of this paragraph, they brought it. White Lies had to follow that.
The four youthful, black-clad lads of White Lies, their band name emblazoned in black and white across the drumkit's bass drum had, much to answer to following Friendly Fires' set. This after all was a CO-headlining tour and if you're going to perform last you'd better bring it. White Lies's set wasn't the sweat-filled euphoria of Friendly Fires' set but they did an admirable job nonetheless. They're not a band that you'd expect stage antics anyway but they at least exuded a certain level of enthusiasm. Charles Cave, bassist and co-vocalist on one song, rocked his lanky body back and forth, his bass guitar slung over his shoulder as he swung it from side to side. Vocalist Harry McVeigh exuded a subtle charisma and coolness, totally in line with the dark tone of the music singing with an earnestness, especially when their songs' choruses hit. Adding to the fold were the succinct drumming of Jack Lawrence-Brown and their touring keyboardist's (whose name I don't know, sorry) humming keys. Their debut album "To Lose My Life" may sound polished but thankfully the live set was performed with more of a raw feel, especially in the rhythm section, while still maintaining the album's melodic sensibility and musicianship. So no, they weren't the second coming of Joy Division, Echo and The Bunnymen, and any other band they've been compared to but they did siphon those influences well enough into a sweet racket full of thrilling melodies and big choruses. Fantastic.
Photos
:
White Lies, Friendly Fires, The Soft Pack @ Lee's Palace (March 31, 2009)
MySpace
:
The Soft Pack
MySpace
:
Friendly Fires
MySpace
:
White Lies