concert review
:
Glasvegas
,
Von Iva
@
The Mod Club
(Toronto, Ontario) - April 3, 2009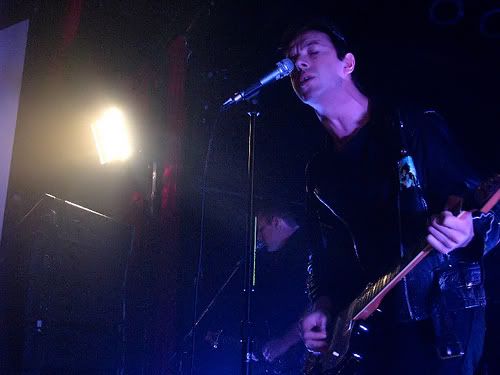 Over the last few month's Glasgow, Scotland's Glasvegas have been working the promo route, having gone to
SXSW
, played Letterman and Craig Ferguson, and touring intensively. They finally made it to Toronto for a show at The Mod Club last Friday night. When tickets went onsale, they sold out almost immediately, a good indication that more than a few people were aware of this wonderful band. Melding the sound of the Jesus and Mary Chain, Phil Spector and 60's pop, Glasvegas create a wonderful melodic racket.
Taking the place of Norweigan indie artist Ida Maria who'd originally been scheduled to open was San Francisco trio Von Iva. Working their electro-soul rock from a basis of drums, keyboards and vocals they do bear a bit of resemblance to The Gossip, although stylistically, both visually and musically, they trade in The Gossip's dance-punk angle and play it with a glammier sheen. Even though they're from San Francisco, they sound L.A. / Hollywood to me, if that makes any sense. Perhaps it's not surprising that they've already appeared in a film, the recent "Yes Man" where they played 'Munchausen by Proxy', the band backing Zooey Deschanel's character in the film. Von Iva vocalist Jillian Iva definitely has some vocal chops and she played to the crowd, at one point jumping down from the stage to get all up in the audience's faces. A bit cliched perhaps, and maybe she wasn't aware how stoic Toronto audiences could be, but you can't blame her for trying. Ok, maybe you can.
To put it succintly, Glasvegas' Toronto debut last Friday at The Mod Club was triumphant. With the rain having come down steadily all day, letting up slightly as the day ushered in the night, Glasvegas just seemed like the perfect soundtrack. Their rockabilly greaser fashions, in particular bassist Paul Donoghue wearing a Clash t-shirt with the sleeves rolled up to his shoudlers, and vocalist James Allan looking a lot like Joe Strummer, evoked a certain rock n' roll spirit that did carry over into their music. From the opening notes of their 'hit' song "Geraldine" it was pure bliss. Anchoring their melancholy melodies, it was an arsenal of guitar pedals which they used to augment their guitars(Rab Allan) and bass, while the primitive drum rhythms(played competently enough by Caroline McKay) kept things at pace. Guitarist Rab Allan frequently faced into his guitar amp while playing for a desired noisy effect. The lighting, hues of red and blue, and strobe lights which bordered epileptic levels seemed to mirror the frequent audio chaos. However, things did grow calmer when James Allan performed solo, shedding his black leather jacket to reveal a droopy black sleeveless shirt underneath. Whether the music was loud or softer, the crowd (one of the most enthusiastic I've ever seen recently) was along for the ride every step of the way, clapping hands and singing along with enthusiasm. Glasvegas displayed an anthemic streak that I could definitely see them playing larger venues. Even in a venue as intimate as The Mod Club, at the end of the show James proceeded to play up to the audience applause and cheers, and as if he were looking out at a stadium-sized sea of people, he proceeded to point to every part of the venue including the balcony as if he were thanking us one by one for giving them the best show of their life.
Photos
:
Glasvegas, Von Iva @ The Mod Club (April 3, 2009)
Chromewaves
,
The Toronto Sun
and
eye
all have glowing reviews of the show.
MySpace
:
Von Iva
MySpace
:
Glasvegas
Fan Site
:
Glasvegas