concert review
:
Junior Boys
,
Max Tundra
at
The Mod Club
(Toronto, Ontario) - March 29, 2009
Junior Boys @ The Mod Club (Mar 29, 2009): photo by Michael Ligon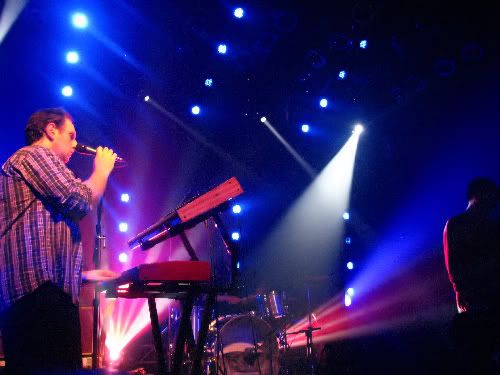 A cause for celebration at The Mod Club last weekend as it'd been
a good two years since I'd last seen
Junior Boys live and they were celebrating the release of their recently release third full-length "Begone Dull Care" out through Domino Records. Joining them for the show was labelmate Max Tundra who came brandishing his own poptronics. I consider myself fortunate to have caught the second show of their two night stint at The Mod Club
as I'd read
that the first show became victim to the venue's early curfew (in order to prepare for the venue's dance party night) and Junior Boys only got so far as to performing only six songs.
UK one-man-band, electro-pop act Max Tundra opened the night definitely on the playful side of things. His music is like a double-syringed shot of adrenaline on one hand meant for dancing (or at least nodding your head incessantly) and on the other hand his playful melodic vocals do grab your ears for listening pleasure. Always seeming to be in constant motion, he worked his way between his mic, keyboards, sampler, melodics, and a few percussive instruments, and when he had the sparest of moments would even throw in a spastic dance move or two. A nod to rave culture on one acid-laced dance track, or ending his set with an electro rendition of The Sound of Music's 'So Long, Farewell' might seem a little campy in retrospect but it was all in good fun. He's like a kid that never grew up - and he's now making a living at it. We should all be jealous.
While the darker-toned electro-pop of "So This Is Goodbye" remains their masterpiece (at least in my opinion), Junior Boy's new album "Begone Dull Care" doesn't fall far behind. But whereas Depeche Mode feels like a strong influence on "So This Is Goodbye" and does even extend to a few tracks on "Begone Dull Care" (especially opening track 'Parralel Lines'), it also seems like the Boys have been listening to more r n'b (listen to 'Hazel', 'Sneak A Picture', and 'The Animator'). While the set lay most heavily on the new album there was also a generous helping from "So This Is Goodbye" as well as a few from their debut full-length. Their live show hasn't changed much with sampler extraordinaire Matthew Didemus noodling about competently but not much else and vocalist/keyboardist Jeremy Greenspan thankfully being more animated for both of them. As I've said before and will say again, their live set does benefit greatly from their live drummer beefing up the songs and giving them more of a band feel. As their live set showed, Junior Boys make music pop music that you can sing as well as dance to[and dancing many did including myself, or at least my version of it], drawing together such disparate music fans like indie, dance and others. Now how's that for unifying?
Photos
:
Junior Boys, Max Tundra @ The Mod Club (March 29, 2009)
MySpace
:
Max Tundra
MySpace
:
Junior Boys
MySpace
:
Domino Records