Kim Gordon of Sonic Youth at Primavera Sound Festival 2009: photo by Michael Ligon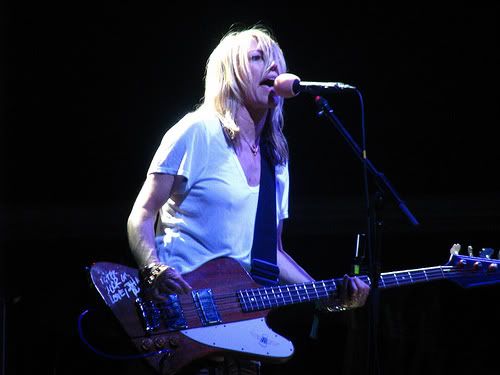 Perhaps festival headliners Sonic Youth of day 3 and the final night of the the 2009 edition of the Primavera Sound Festival summed up the feeling of this year´s festival with their main set closer "Express Way To Yr Skull". Yes it was. It was a lineup that I could only dream about(and know that it´d never happen) at any Canadian music festival, so I had to to go all the way to Barcelona, but with Spain being a destination I´d always wanted to go to, why not kill two birds with one stone.
The festival took place down at Barcelona´s waterfront Parc Del Forum that´s set nicely against the water but with too few greenery and way too much concrete for my liking. But as a space it does handle the festival atmosphere well. Like all music festivals it had corporate sponsorship, the main ones being
Estrella Damm
[a tasty beer at that], and
Ray Ban
. Tickets for drinks could be bought from electronic ticket machines and if you got there early you could beat the line and buy all your drink tickets for the night. There was also a good variety of food concessions [the thin crust pizza was delicious]. As for the music fans, it seemed mostly comprised of Barcelonians, other Spaniards, Italians, and Brits. If there were any North Americans like myself, then they / we were definitely in the minority. I´d underestimated music fans in Spain in terms of indie and alternative rock [although I knew there was a small loyal group of indiepop fans eg. Elefant Records], but Spanish music fans were as enthusiastic fans of indie and alternative rock than anyone I´ve ever seen. Disappointing that I know little to no Spanish [I said ´ola´ and ´gracias´ a lot] but Spanish music fans were quite vocal. They´re also quite fashionable.
Yes, I´m taking time out of my vacation to blog. It´s just after noon Monday and it´s been a physically demanding past four days [including yesterday during which I caught an afternoon full of bands at Parc Joan Miro and then roamed the Barri Gottic for the rest of the night, bypassing the closing party at Sala Apolo as it was all DJ´s and I was pooped] so don´t expect a long detailed festival review right now [maybe not ever] but here are the artists / bands I got to see and hear mostly full sets from [photos to come AFTER I get back from vacation]:
Day One [Parc Del Forum]:
Women,
La Bien Querida
, The Bats, The Vaselines, Yo Lo Tengo, Phoenix, My Bloody Valentine, The Horrors, Ebony Bones, Squarepusher
Day Two [Parc Del Forum]:
Extraperlo
,
Zahara
, Crystal Stilts, Bat For Lashes, Spiritualized, Jason Lytle, Throwing Muses, Jarvis Cocker, Saint Etienne, A Certain Ratio, (a bit of) Bloc Party
Day Three [Parc Joan Miro]:
Bowerbirds, Crystal Stilts, Sleepy Sun
Day Three [Parc Del Forum]:
Shearwater, The Jayhawks, Th´ Faith Healers, Neil Young, Liars, Sonic Youth
Day Four [Parc Joan Miro]:
Sedaios
, Angelo Spencer,
Klaus & Kinski
, Karl Blau, Plants & Animals, Kimya Dawson
I´ve hyperlinked to the Spanish bands above in particular. As I mentioned above, the Spaniards do like their pop music. Klaus & Kinski were my favourite of the Spanish acts I saw, merging electronic rhythm tracks with guitar, bass, keyboards and female vocals for a sound that alternated between shoegaze and a cleaner rock sound. Elefant Records outfit La Bien Querida, lead by the enchanting vocals of Ana Fernández-Villaverde were a close second, performing hazey, breezy pop music. Extraperlo draw comparisons to bands like Orange Juice, filtering their British musical pop influences through a more rhythmic approach, in their case touching on their Spanish routes with danceable guitar licks and Latin rhythms. Sedaios are thoroughly influenced by Belle and Sebastian, playing pop music with horns, guitar, bass, keyboards, and alternating male / female vocals with the added bonus of saxophone. Zahara performed an enjoyable acoustic guitar pop set at the MySpace Lounge on the second day of the festival as the sun beat down on. So yes, I didn´t go all the way to Barcelona JUST to see bands I already´ve seen. Check ´em out. If the Spanish acts are any indication, they do have a vibrant indie scene.