&nbsp&nbsp
The Magic @ Reverb: photo by Michael Ligon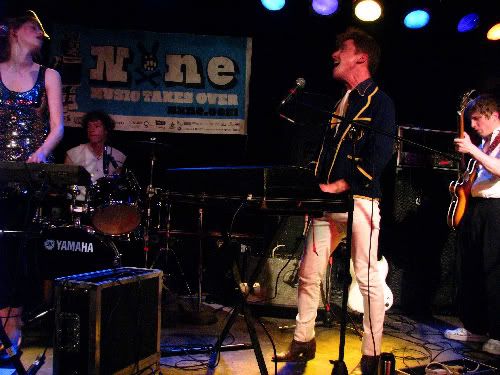 Last Friday night, the second day of my
NXNE
had it's share of successes, failures(well, more like disappointments) and spontaneity. As is the motto attending any music festival - always have a plan B (or C or D).
I was intent on catching Toronto-by-way-of-Brampton indie act
Black Hat Brigade
after spontaneously dropping in on their
CMW
set
at Rancho Relaxo this past March
and thoroughly enjoying their set of vibrant, Modest Mouse-inspired indie rock. While the vocals(shared between members RObert Haughey, Justin Myler and Adam Peterson) sometimes leans towards a yelp, a difference in vocal styles amongst the three keeps things fresh though perhaps a little schizophrenic. The band's strength lies with its musical prowess, in particular their melodic and punctuated guitar arrangements, subtle keyboards, and an urgency in tempo that keeps things for the most part exciting. Though having missed the first half of their 40-minute set, it wasn't too difficult to see that their daytime set at the Mill St. Brew Day Pub on the edge of Yonge Dundas Square wasn't the ideal setting to see the band. Of what I saw, the band seemed in good spirits although they didn't quite connect with the audience as they did back at Rancho Relaxo in March, with the audience response this time being some isolated 'woos' and polite if indifferent applause. Even an attempt to segue into a brief excursion into Television's "Marquee Moon" didn't get off the ground although they'd tried but apparently gave up. But then Yonge Dundas Square is just about the most distracting part of the city? How can you blame the band.
I ran into fellow blogger
History Jen
who'd been busy during the festival up to that point (as she was for most of the festival) recording interviews with luminaries, industry and others for the
Zygiella
podcast, and after rambling off a few of my own answers and NXNE highlights(
Silverghost
), we decided to grab a bite and afterward parted our separate ways for the evening. I'd decided on starting out the evening at the Dakota Tavern to see Montreal's hyped
Coeur De Pirate
at 8 pm and Toronto's own urban country darlings
One Hundred Dollars
but was floored when I got to in front of the venue at approximately 8 pm and found an unexpected lineup. I decided to wait it out for about an hour or so, speaking with and enjoying some conversation with random people in the lineup to pass the time, and finally gave up a little after 9 pm. Hey, but at least I know where the Dakota Tavern is now.
With my 8 and 9 pm timeslots ultimately failures in terms of getting into the venue, I was pretty sure my 10 pm choice of Los Angeles female punk act
Mika Miko
at Lee's Palace would be a sure thing. I got to Lee's and caught the tail end of
Bobby Conn
& Monica Boubou's set, a duo who displayed a glammy visual presence, performing a similarly glammy style of pop music which combined guitar, violin and exhuberant vocals. Mika Miko on the other hand went old school punk on us straddling the line between shouty, punk guitar blasts and punk-funk concoctions. There wasn't an all out slam-dance pit but there was definitely an enthusiasm brewing amongst the crowd on hand. I particularly liked the double-lead vocals and the minimal saxophone arrangement on one song was a cool change of pace. It was a busy night for the girls as they were also scheduled to play a midnight set at Sneaky Dee's where I'd imagine they probably killed.
As far as I recall, the NXNE guide used
Tokyo Police Club
as a descriptive reference point for only two of the participating NXNE acts, first Austin's
Built by Snow
who I'd seen the previous night, and Chicago's
Love In October
playing Holy Joe's who were next up on my schedule. Not nearly as new-wavey as Built By Snow, but Love In October had a similar musical and melodic urgency. Another reference point perhaps is
Weezer
circa Pinkerton, emulating their spiky guitar pop tunes. A quote on the NXNE site describes them as "Swedish indie dance rock with schizophrenic tendencies", 'Swedish' referring to vocalist Erik Widman and bassist Ken Widman being from Sweden though vocalist Erik sounds American(and I'd assume had grown up there) and 'schizophrenic tendencies' referring to a willingness to branch out with different musical styles such as a spacy, hypnotic number which had Erik shaking a skull adorned shaker/maraca. Erik exuded a confidence on vocals and guitar although perhaps showing a little a little constraint but only because of the confines of the small venue.
The remainder of the night's travels for me was minimized as the next few acts on my schedule were right downstairs from Holy Joe's at the Reverb with Toronto disco-pop outfit
The Magic
on at midnight and Toronto synth-pop act Parallel's on at 1 am. Both had been getting some hype lately and for the most part delivered. Of the two, The Magic defintely outshone delivering a refreshing take on disco, managing to express the genre's danceability and even singability but filtered through a DIY indie casualness. Vocalist Geordie Gordon crooned and falsettoed at times and co-vocalist Sylvie Smith added a female vocal element that complimented the dance grooves nicely. Although there was an air of hipness to them, they presented their version of disco with a total lack of irony - vocalist Geordie Gordon's glammy outfit, well there was a perhaps a tad bit of irony there but it worn all in good fun.
Final act of the night for me was Toronto synth-pop act
Parallels
. Not nearly as enticing or threatening as I'd hoped, but for the most part they entertained me and the crowd with their dark, cool synth arrangements(courtesy of Joey Kehoe), propulsive live dance drum rhythms(courtesy of drummer Cameron Findlay), occasional vocoder utilization and lead vocalist Holly Dodson's dance-pop vocals. If anything, they're a nostalgic reminder of the eighties when synths reigned supremed and I was all over it. Fans of
Ladytron
and
Cut Copy
will want to take notice of Parallels.
At this point in the night it was near 2 am when I decided to head over to the Silver Dollar to check out
These Are Powers
. Apparently
they were amazing according to History Jen
, although I'd only poked in my head long enough to see that it was packed, I was tired and hungry at which point I bolted and headed down the street to Massimo's for a slice of pizza. Sorry, These Are Powers that you lost out to a slice of pizza.
Photos:
NXNE in Toronto (Friday June 19, 2009)