&nbsp&nbsp
Woodpigeon @ Horseshoe: photo by Michael Ligon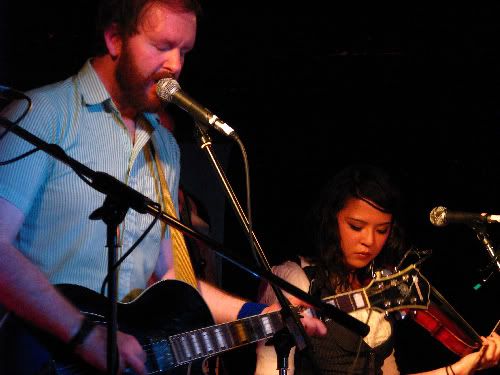 I didn't necessarily plan it but I ended up going hardcore for Day Three of
NxNE
this past Saturday. Specifically, I'd gone from 1 pm to 3 am straight and even at the end of it all I was surprisingly energetic. Perhaps the Timmies coffee, plus the
Amp Energy
drinks I'd sampled at Yonge Dundas Square earlier in the day had something to do with it.
The day started out on a rainy note but fortunately the first thing on my schedule was an indoor event. The only NXNE film I did check out was the documentary about
Depeche Mode
fans around the world entitled
"The Posters Came From the Walls"
which played at the
National Film Board
on John St. Compiling interviews and stories from fans around the world although focusing mostly on fans in Eastern Europe and Russia, it's an intriguing view of how deeply connected Depeche Mode fans are to the band. I've always been a casual fan myself, "Violator" being my favourite album of theirs, although the film does stir some interest in me to consider seeing them live when they stop in Toronto for a show at Molson Ampitheatre on July 24.
With the rain continuing to fall steady, I decided still to head to Yonge Dundas Square where I arrived to see Japan's
The Zoobombs
into their set playing for a small crowd of brave souls standing in the rain, most with umbrellas or rainwear at least. I was suprised that organizers scheduled them so early in the day because The Zoobombs rock n' roll which can span the spectrum from jammy, to funky, to soul and garage is enough to ignite a spark in any decent size crowd. Playing so early in the day, with the unfortunate element of rain, was a wasted opportunity. I'd skipped all their NXNE shows this time around(since I'd
seen them
several
times
in the past few years) but if anyone is still raring to catch a proper live set of theirs, they'll be back in Toronto for a show at Silver Dollar on June 30. They came all the way from Japan for NXNE; you didn't think they'd be going back home to Japan so quickly?
Almost like clockwork, the rain thankfully ended after the conclusion of The Zoobombs's set. The rest of the afternoon was padded out with a variety of young, American indie acts all possessing an energy and hipness although not quite up my alley. Brooklyn's
Golden Triangle
, a 6-piece consisting of equal parts guys and gals, specialized in a variety of garage pop stomp, led by double-lead female vocals. They similarities in sonics and simple but capable musicianship as fellow Brooklynites Crystal Stilts but perhaps with more stomp and less pop. Perhaps the best thing about them are the sassy vocals and emotiveness of the two female vocalists.
The Yonge Dundas Square sets during the afternoon were about half an hour each with about a half an hour intermission between set so things seemed to move fast. Next up were
Crystal Antlers
, all the way from Long Beach, California. Playing up a noisy pop racket with shouty vocals, guitar, organ, a tradional drumkit as well secondary more basic kit for additional effect, it's hard to convey in to words what they sound like more than that. The guy playing the secondary drumkit standing up was particularly energetic although the band in general exuded enthusiasm during their brief set.
Up next were drums and bass guitar duo
Japanther
, no strangers to Toronto but this was the first time for me seeing them. They apparently have some rabid fans in Toronto as at least indicated by an Asian girl near me who kept on screaming their name after every song. The duo played a raucous rock n' roll set taking turns with vocals and augmenting their sound at times with some prerecorded audio dialogue bits and such. Their mics were adorned with toy telephone receivers which made for an interesting visual effect when they sung into their mics. Basically, a fun rock
n' roll set with simple melodies and the most basic of instrumentation, no more no less.
Los Angelese punks
Youth Brigade
brought out the Toronto's punk rockers of all ages, even some old school punks, for what was for some a greatest hits set of punk classics. For most like myself, it was all new. At its core it was pure rock n' roll with simple but effective meloedies, generous amounts of fast guitar, bass guitar and drum playing, and equally energetic vocals. The punks in the audience were surprisingly mellow except for one fellow who decided to jump the barrier at one point(to do what I don't know) only to have security on his ass and get him back to the other side of the barrier pronto. Lead vocalist Shawn Stern mentioned the Amp Energy Rock Band contest which was to get going just after their set and expressed that he understands it's a contest to win money but perhaps people's time could better be used actually trying to learn a real instrument. Well said.
The main part of the evening's festivities for me began at the Horseshoe Tavern to finally check out Calgary indie-folk outfit led by Mark Hamilton. Like locals Ohbijou(who play there CD release for their new album "Beacons" at The Opera House tonight, btw),
Woodpigeon
's sonics are steeped in strings, keys, and subtle rock instrumentation with similarly subtle vocals. That might sound like a recipe for music that might float off into the stratosphere, but the tempos and the band's musicianship were performed effectively enough that that was never the case. Almost forgot to mention that the band was playing to a fairly packed house (although even though I got there just after the band started, I still manage to ease myself up close enough to the front to get a decent spot), all the better for the surprise occasion of CBC's 2009 NXNE Galaxie Rising Star Award which they presented to Mr. Hamilton at the end of the set which he humbly received then walked off the stage. A definitie must-see next time they come to town.
Woodpigeon's set unfortunately cut in to seminal American garage rock outfit
The Sonics
who were headlining a free show at Yonge Dundas Square. Woodpigeon's set ended about 20 minutes to 10 pm while The Sonics' set began at 9:30pm and with the Queen St East street car being diverted because of the preparations for Muchmusic Video Awards at John St I had to walk down to King St. to take a streetcar east before jumping onto the subway to get up to Yonge Dundas Square. (The whole transit confusion at Queen St was made somewhat easier with some random conversation with a equally confused TTC'r, coincidentally who'd also come from the Woodpigeon set and was heading to C'est What for another NXNE set - hope you had fun).) Eventually, I made it to the Square, to a hoppingly packed audience in time to catch about three songs, two of which were their classic "The Witch" and their captivating, slightly dirtier take on rock n' roll classic "Louie Louie". Older and greyer, and they weren't wearing the suits like I'd seen on some of their album covers but they still were terrific. They mentioned they're working on new material which should see the light sometime this year.
I was pretty much playing the night(well actually the whole day) by ear, although almost definite must-sees for me for the 11 pm timeslot were London, ON's
Olenka & The Autumn Lovers
playing the back room of Bread & Circus on Augusta in Kensington Market. Again, another venue which I'd never been in, Bread & Circus was a tiny space relatively full for Olenka's set. I was thoroughly happy to see a full room this time compared to the paltry attendance of their NXNE set at C'est What last year(which if you hadn't already known was my favourite set of NXNE last year, so I'd like to take a little credit for spreading the word about an awesome band, okay). The band's forays into gyspy-folk, roots and Eastern European waltzes were performed with the band's casual flair, though top-notch playing(strings, accordion, guitar), and newer tunes introduced a slightly heavier tone to their sound. Looking forward to the new material.
Sorry to Toronto's
Ketch Harbour Wolves
who'd I planned to see at the Rivoli at midnight, but as midnight rolled around I decided to stay within the Bathurst-Spadina neighbourhood near College St. and opted to check out Phillie act
Cold Cave
at Sneaky Dee's. Hey, the NXNE guide compared them to
New Order
, so how could I go wrong with that? The band is essentially a solo project for a one Wesley Eisold(on keys, vox) but he also had gent on a second set of synths(between which they switch from time to time) and the female on guitar(or was that bass? I can't remember). They sounded more like Ian Curtis fronting New Order, with vocalist Wesley Eisold having a similar deadpannedness though never broadening his emotive range much as Curtis was capable of doing. The icy synths and electronic rhythms and the guitar were performed dutifully but in general there was such a dour mood to their music and stage presence, that I'd almost wanted to tell them to lighten up a bit.
Filling my 1 am time slot was
Nightwood
at Rancho Relaxo (also allowing me to grab a pizza slice at Massimo's just next door before their set). The Montreal 3-piece(two girls on guitar and vox, and a guy on drums) played it simple with the drummer perhaps the most accomplished musician but the girls keep their guitar playing as uncomplicated as possible. Fortunately, they have some tunes to back it up. Their DIY ethic draws similarites in my opinion to the North-Western Olympia, WA, K Records scene, drawing influences from punk and playing pop music with an edge.
Finally, although crazily I almost felt I could go on for another few hours, the last set of the night and the festival for me was
Red Mass
at Silver Dollar at 2 am. And wow what a way to end. Described as a "garage-psych avant-guardian rockestra" the multi-member band is led by
King Khan/BBQ
associate Roy Vucino who is also co-frontman of
CPC Gangbangs
. It's the energy of garage rock with experimental, psychedelic aspirations. They absolutely killed - cross-dressing band members, mask-wearing, face-paint, capes, smashing guitar and all. What rock n' roll is all about.
Another year NXNE has come and gone. It was a busy one again for me this year. I enjoyed most of what I saw although still I'm wishing for the day that NXNE gets some of the calibre of acts that it's sister festival SxSW gets. Yonge-Dundas Square stepped it up with nicely themed bills each night of the festival. As I mentioned above, I only caught one film but in general there seemed to be an interesting selection of films screening during the festival. The festival seemed much better organized this year, especially in the delegate pass pickup at the Hyatt Regency which I picked up late on the Thursday(June 18) in record time. The delegate tote bag is so terrific that I actually might use it. It was great to meet a few new faces and chat with older ones, and for those I didn't bump in to, I'm sure we shall in the future. Until next year.
Photos:
NXNE in Toronto (Saturday June 20, 2009)