&nbsp&nbsp
Bell Orchestre @ Harbourfront: photo by Michael Ligon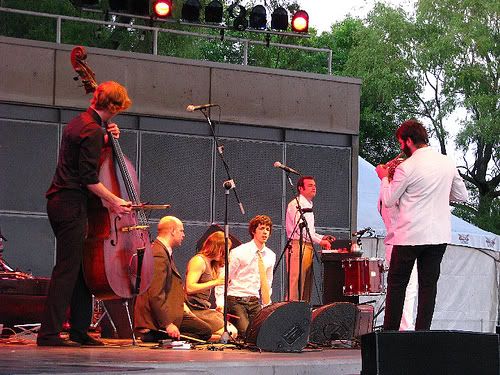 Montreal's
Bell Orchestre
took to the
Harbourfront Centre
Sirius Stage this past Saturday night as part of the
Luminato
festitivities. A supergroup of sorts, the band consists of Pietro Amato(french horn, member of
the Luyas
and
Torngat
), Stefan Schneider(drums & percussion, member of the Luyas), Kaveh Nabatian(trumpet), Richard Parry(bass, member of
Arcade Fire
), Sarah Neufeld(violin, member of Arcade Fire), and Mike Feuerstack(lap steel guitar, aka
Snailhouse
). I'm unsure of whether he's a full-time member, but saxophonist
Colin Stetson
also joined them. Their most recent effort is
"As Seen Through Windows"
released through Arts & Crafts. Obvious baroque influences, intermingle with rythmic and slight rock influences to create instrumental music that's intriguing as well as accessible. Defacto centrepiece Sarah Neufeld, if only because she's the lone female, does manage to live up to the attention with her energetic violin playing, with her violin arrangements often in conjunction with the horns guiding the pieces along. Although, a short percussive piece like 'Stripes' found Mike, Sarah and Pietro kneeling down at centre stage with the rest of the band around them as they tapped out rhythms on the floor with drumsticks. A polite call and response dominated the evening with each song prompting a courteous response from the audience but later in the evening things livened up first with the group singalong of 'Happy Birthday' for Pietro and lastly when the group pulled out a couple of livelier
dance
songs(which prompted a few to get up and dance) to end the set. An appreciative audience response even prompted the group to play an encore, and as that concluded the band expressed their polite(although appreciative) thank-you's, as politely as I'm sure they'd begun the evening.
Photos:
Bell Orchestre @ Harbourfront (part of Luminato) - June 13, 2009
MySpace:
Bell Orchestre