&nbsp&nbsp
Rural Alberta Advantage @ Horseshoe: photo by Michael Ligon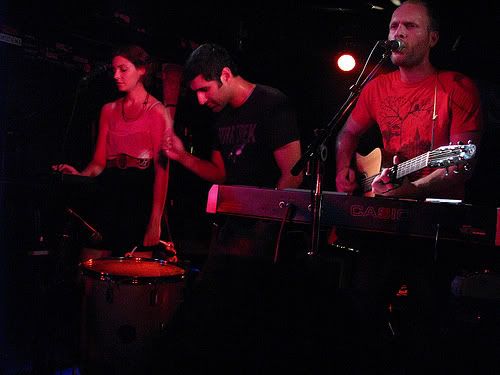 I've been back from the
Osheaga Festival
in Montreal for a few days now but been lazy about writing lately so I apologize. Coincidentally, Toronto's own Rural Alberta Advantage played Osheaga although I missed them but fortunately I'd caught them a few days prior when they played a hometown CD release show at the Horseshoe Tavern for their debut album "Hometowns" recently released in the US through
Saddle Creek
.
Opening the show were curiously-named Toronto band
The Wilderness of Manitoba
, a band name who in my mind conjures images both mythical and mysterious in quality. A sampling of their tunes over at their Myspace reveals indie-folk songs that are sombre in quality with a nice meshing of male and female vocals and spareness to the instrumentation. I'd arrived late and only caught the tail-end of their set during which I'd also been chatting with someone, but what I recall hearing from the band was more upbeat folk-rock and little less interesting than what I recall from their MySpace. Call me a sucker for the quiet stuff. I do hope to catch a full set from them in the future.
The first and only time I'd seen Toronto indie-pop band
Hooded Fang
was at an instore at Sonic Boom on Record Store Day
back in April
. While that performance was generally tight, this time around it was a looser, less-perfect performance. Lead vocalist Daniel with his makes-all-the-girls-swoon suave vocals and female vocalist Lorna whose whose own sweet vocals were attractive traded off vocal duties throughout the night but sparkled best on their song 'Land of Giants' on which they both sing.
On 'The Pageant' Lorna referred it to as their 'sexy' song, a song that sounded like a modernized version of lilting, fifties-melody, doo-wop song. The gang went on full-on twee on the keyboard-pop, female sung 'Circles N Blocks'.Add in some nicely added trumpet and trombone at times and it was a formula that definitely harkens back to my indiepop tastes from over a decade ago. I'm not saying they sound dated. They definitely seem to be in a minority in Toronto playing indie-pop and I'm glad they do it well.
I run in to and meet various bloggers, photographers, and strangers at various shows but it seems that Toronto's
Rural Alberta Advantage
was a unifying factor as it brought many of the people I've met or recognized from other shows, all to one place. Nice to meet a few new people and see old faces. But it wasn't just blogger central of course as the show was sold out (and really us bloggers don't make up but a miniscule portion of the music fans/concert-goers in Toronto). This being only the second time seeing RAA live(the first time being during CMW back
in March
at the Gladstone, I will vouch that it only took but the first time seeing them live to be convinced of their impeccable talent. Their deceptively simple set up of acoustic guitar [Nils Edenloff], drums [played impressively by Paul Banwatt], xylophone, tambourine, handclaps [the last 3 instruments enthusiastically performed by Amy Cole], and vocals are all that was needed to reveal songs that are full of melody and lyrical richness. They've been pegged as an indie-folk trio but make no mistake of them being mellow - they played with an energy and enthusiasm that trumps that of most amplified bands. At the same time, it's not about making a racket(although Paul Banwatt's drumming was fluid as a waterfall), but they're definitely based in song and songwriting. The hometown crowd(myself included) made them feel more than welcome. There were some overly enthusiastic individuals like the drunk dude and his equally drunk girlfriend who were yelling constantly it seems, or in the girl's case hugging or touching random persons like myself. And while some perceived such behaviour as an element of douchebag-ness, you can't deny that it added an element of entertainment and made the night memorable. Although, the band concluded the night with a 3-song encore, it was main-set closer 'Edmonton' which made it for me - strummed four-chord guitar, with both Paul and Amy both banging out on drums and Nils singing
'What if I'm only satisfied when I'm at home, Sittin in a city that'll never let me go'
- gives me a lump in my throat every time I hear it. Although if Nils was feeling torn between Toronto and his home province of Alberta, I think that night Toronto felt like home.
Photos:
Rural Alberta Advantage, Hooded Fang @ Horseshoe Tavern (July 30, 2009)
MySpace:
The Wilderness of Manitoba
MySpace:
Hooded Fang
MySpace:
Rural Alberta Advantage