&nbsp&nbsp
St. Vincent @ Horseshoe Tavern: photo by Michael Ligon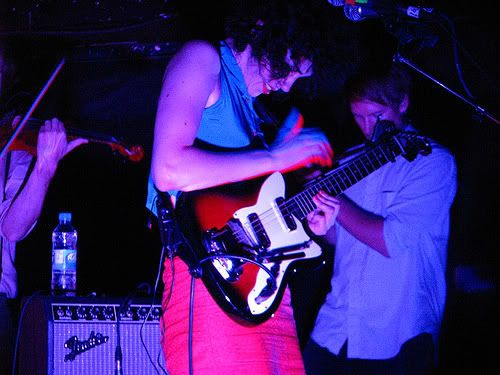 You read the name of a music artist on the internet or in print or see photos of them enough times and it's bound to pique my interest to check them out when they come to town even if I've hardly heard a note of their music. That is the case with Annie Clark aka St Vincent who's touring in promotion of her recent album "Actor", stopping in for a sold-out show at the Horseshoe this past Saturday night.
Opening the show was local Reg Vermue who goes by
Gentleman Reg
who's seemingly been touring non-stop but still found the time to open for this night. I only caught his live set briefly at this year's Pride and the first and only other time I'd seen him live was
back in 2005
at Tranzac as part of the farewell show to Guelph indie record label
Three Gut Records
. I'd primarily only known Reg as a some-time member of gay-friendly indie band
The Hidden Cameras
. Reg with a band in tow that included drummer Dana Snell(of
The Bicycles
) plus members on keyboards and bass played a set of gay pop-rock songs. Ok, 'gay pop-rock songs' might be somewhat of an over-generalization but it does at least apply part of the time. Reg's tunes had an exceptional melodicism and the instrumentation thankfully had an oomph(especially Dana's drumming) giving the songs a certain emphatic delivery. Reg came off as a frontman both humble and humourous, the latter especially when he asked the audience whether they like his black shirt, then asked them if they wanted to rip it off, adding further that it was a particularly 'rippable' shirt. His most recent album "Jet Black" is out now through Arts & Crafts, and maybe I should check it out.
Admittedly, I hardly heard a note of
St. Vincent
's music before deciding to pick up a ticket for the show weeks ago. Yes, popular(well, popular in terms of blogger/critic hype)opinion can sway me. Or perhaps, it was just the numerous lovely photos of Ms. Annie Clark which did it for me. But also the numerous album reviews were of particular persuasion as well. What was apparent immediately listening to St. Vincent's set was the dichotomy that could be found within the sonics of the music, between prettier sounds and harsher ones. Annie's angelic vocals gave the quieter, folkier material a particular etherealness and other prettier sounds could be found for example with the woodwinds and violin within some songs. But as if to balance it out in some sort of musical yin & yang, there were also bits of fuzz-tone guitar played by Annie and on one track skronky saxophone that expressed the band's 'uglier' sound. One song title I recall Annie mentioning was called "Laughing with a Mouth of Blood" a phrase she described as a reference to a comedic joke that's funny but also perhaps hurtful, a further reflection of the yin & yang that St. Vincent is about. There was a whimsicality & playfulness at times during the show but there's no denying that perhaps there was a bit of melancholy now and then.
Photos:
St. Vincent, Gentleman Reg @ Horseshoe Tavern (August 8, 2009)
MySpace:
Gentleman Reg
MySpace:
St. Vincent