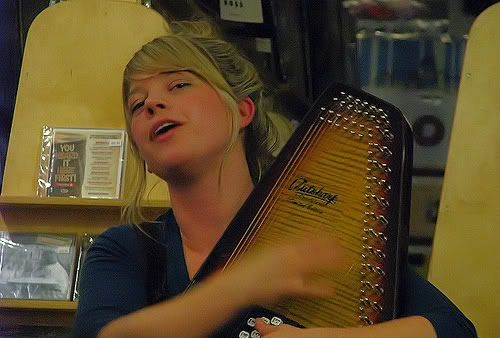 Basia Bulat: photo by Michael Ligon
Having treated fans to an apparently well-enjoyed show at the venerable Trinity St. Paul Church in Toronto back in mid-January, one probably wouldn't have expected London, Ontario singer-songwriter
Basia Bulat
to be back in these parts so soon. However, with a recently released new album "Heart Of My Own"[it's album cover, one of the loveliest things I've seen in a long time] to promote, I guess it wouldn't hurt to give fans another opportunity to see her live. Last Tuesday she played a well-attended instore at
Soundscapes
in Toronto. Most everyone sat on the ground which I'm grateful happened since I now had an unobstructed view and on a humourous note Basia said it reminded her of childhood storytime. Her stories of current though are of love and relationships, and Basia alternating from song to song between acoustic guitar, Autoharp, and a third stringed instrument played on her lap, used her expressive vibrato to communicate those tales. I haven't listened to her new album yet unfortunately but was quite excited to hear her perform "In The Night" from her debut album. She performed the whole set unamplified which made the set especially intimate. Ending the set with an accapella rendition of an old gospel spiritual(with the humourous occurence of her foot-stomping causing a few CD's on the shelves nearby to fall before she restarted the song by clapping and stomping her foot softer), I'd forgotten how wonderful musically as well as charming she is.
It's Not The Band I Hate, It's Their Fans
has a rundown of the set as well as some photos from closer up. Another fan perspective of the instore from
James Hong Conjecture
who says her next show in Toronto will be in June.
Photos:
Basia Bulat @ Soundscapes, Toronto (February 16, 2010)
MySpace:
Basia Bulat
Video:
Basia Bulat live @ Soundscapes, Toronto, February 16 2010 (highlights)
--------
ps. My
review
of the
Mumford & Sons
show at Lee's Palace on February 15, 2010 is now up. I'm now all caught up with all my show reviews from the past few weeks. Hopefully, I'll stay on track and post more timely. Hope is the key word.