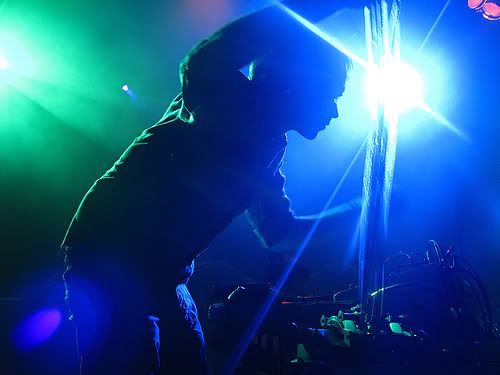 Holy Fuck: photo by Michael Ligon
Update [Feb 21/2010, 5 pm]: Review now up.
The week of February 8 was a busy concert week for me with my Monday to Thursday booked in a row. I don't remember the last time I had four nights of shows in a row but in recent years such a schedule seems like a daunting on. Fortunately I can say in retrospect that all shows were good to above average shows. I did manage to squeeze in the Thursday night show of
Wavelength
500 happening down at
Steamwhistle Brewery
, the least I could do for the venerable Toronto institution. On the bill was Toronto DJ Professor Fingers opening the show, but it was the rest of the bill that I was really excited to see, including a reunion of sorts with Toronto's Fembots who've been pretty quiet lately, Toronto hot commodity Diamond Rings, the resurfacing of Toronto electro-pop band The Russian Futurists, and headliners Holy Fuck.
One half of Toronto turntablist duo
Insideamind
, Professor Fingers was already working his turntable magic for the early crowd. Although, the crowd seemed generally indifferent to the beats and scratches, it was certainly good mood music for the audience who were busier getting their drink on, not such a difficult task with the alcohol and drink concessions that dominated the left side of the room. Certainly there was a bit of a corporate feel to the surroundings with the drink concessions, the food concessions near the back, and the overall aesthetics of the view of the CN tower and surrounding highrises through the windows but overall it was a comfortable space providing decent sightlines.
While things toned down musically for Fembots' set, there seemed to be a decent bit of enthusiasm for the outfit's eclectic roots rock songs. Fembots founding members Dave MacKinnon and Brian Poirier traded off lead vocal duties while Mr. MacKinnon alternated between guitar and keyboards. The Hylozoists' Paul Aucoin was also onhand to infuse songs with subtle vibraphone arrangements. I'll admit I lost track of Fembots after their wonderful 2005 album "The City"[the band did perform "Count Down Our Days"] and hadn't heard a note of their most recent effort, 2008's "Calling Out". They were a little out of place on that night's electro-oriented bill but at the very least politely appreciated.
Diamond Rings' John O'Regan seemed especially glammed up for the night's festivities, seeminly doing himself up with more makeup than ever and rocking the acid wash jean jacket, zebra-inspired spandex pants and construction hardhat. I've already expressed my adulation for Diamond Rings simple yet effective electro-pop tunes. Alternating between guitar and keyboards, O'Regan seemed especially elastic when he busted out his over-the-top dance moves. A spectacle to behold, but fortunately he has the tunes to back it up.
Toronto's The Russian Futurists have been quiet of late(their last album being 2005's "Our Thickness") but are planning to release their newest album "The Weight's on the Wheels" this summer. Founding member Matthew Adam Hart is of course still there but rounding out the lineup was touring member Scott Farmer on Keys, Sofia Silva (of Toronto's Planet Creature) on bass, and Shout Out Out Out's Clint Frazier on drums. Russian Futurists appeal to my musical geek sensibilities in somewhat the same way UK's Hot Chip having been making an impression with me recently, with their quirky melodies and vocals, electro-pop rhthyms and instrumentation combined with more conventional rock instruments. But at the same time there's something very sultry in the dense sonic package that the Futurists deliver. Good reintroduction to the Toronto crowd and there'll be another chance to check them out live when they play a set at Lee's Palace on March 12 as part of the
Billions
/ Chromewaves showcase during Canadian Musicfest.
Toronoto electro-rock instrumental assaultists Holy Fuck demonstrated their energetic talents to the crowd's delight. Utilizing conventional rock instruments like bass, guitar, and drums they interspliced various sonic affects into the fold using devices like a 35 mm film synchronizer. Those who are in the know will be familiar with Holy Fuck's instrumental beat-driven meltdowns and they certainly got the crowd going, at one point a mosh pit forming a few rows back from the stage. I eventually had to run for cover since I had my camera in possession but that short period of intense activity was enough to get my adrenalin going. I'd been a little disappointed with the outfit's headlining set at last year's Beats, Breaks and Culture festival at Harbourfront Centre - they displayed a little more restraint that time but their set at Wavelength showed me how hard they could rock it like I knew they could. The length of their set including encore brought the conclusion of the night to a later time than I expected but definitely not for naught.
Kudos to Doc Pickles for his sort of comedic, verbose introductions of each band and congratulations to Wavelength for a show well done.
Photos:
Holy Fuck, The Russian Futurists, Diamond Rings, Fembots, Professor Fingers @ Steamwhistle Brewery, Toronto (February 11, 2010)
MySpace:
Professor Fingers
MySpace:
Fembots
MySpace:
Diamond Rings
MySpace:
The Russian Futurists
MySpace:
Holy Fuck
----------
If you're interested, my
review
of the
Gentleman Reg
show at The Drake Underground last week is now up.
Also, public service announcement, but at the moment I have no commenting system because
Haloscan
have discontinued their service. I have exported my comments off Haloscan in the meantime, although currently Blogger doesn't have the means to import these comments into their commenting system. I'll figure something out. Actually, I'm having trouble enabling Blogger's commenting system onto my blog. So, if you have any suggestions, please leave me a...oh, forget it. (Facebook friends can reach through Facebook, but all others please reach me through e-mail, my e-mail link which is on the sidebar near the top of the page).


Update:
Got Blogger comments working - had to redo my blog template in the process, but the site's more navigable and a tad cleaner looking now. It'll do at least until I decide how I really want to revamp this blog. Only downside right now is that although I've exported all my previous Haloscan comments into a file but Blogger has no way of importing them. Wordpress seems the direction to go but I'll have to explore that a little more. So shoot off a comment if you so desire, at least so I can test that little 'Recent Comments' widget on the sidebar.