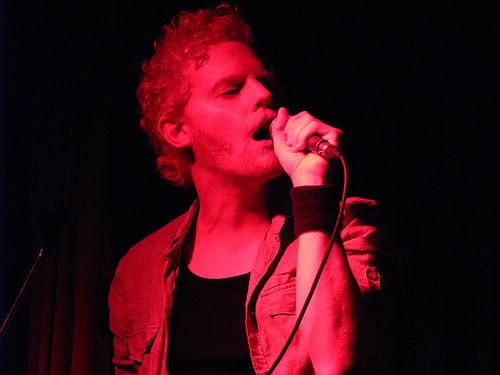 Gentleman Reg: photo by Michael LigonUpdate[Feb 18/2010, 11:50 pm]:
Review now up.
Just my luck it had to be a particularly chilly night last Wednesday, the night of an indie rock triple-bill happening down at
The Drake Undergound
. It'd been a while since I'd been to a show at that venue. Ultimately, the advance ticket I had didn't go to waste as I dragged myself down to the Drake for the second of
Gentleman Reg
's weekly residency at The Drake Undergound happening in February. Reg's weekly residency at the Drake during the month of February was in promotion of his recently released digital-only EP entitled
"Heavy Head"
. Also on the bill that night were Ottawa transplanted trio
The Balconies
who I'd been meaning to catch live for sometime, and Toronto music vet Jose Contreras' band
By Divine Right
.
The Balconies warmed up the thinner-than-expected crowd with their hooky, textural pop-rock songs with lead vocal duties alternating between the effervescent vocals of guitarist Jacquie Neville and the more laid back vocals of bassist Steve Neville (Jacqui's brother). Jacqui, looking more than a little
Suzi Quatro
-esque wearking a tight black pants and top combo, definitely put a lot of passion into her performance, reflected in her facial expressions and guitar playing while the rhythm section kept things tight on the backend. While I can't say every song was a winner in my books, their batting average was high with hooky tracks like "Elephant Lamp".
It's been quite a while since I've seen By Divine Right. If memory serves me, it may be bordering on a decade the last time I'd seen them live. Really, was it July 1, 2001 that I'd last seen By Divine Right live when they played the third stage at Molson Park as part of Edgefest? While By Divine Right's been an ongoing concern this whole time, their record release schedule's slowed down in recent years, with the band's most recent record being 2009's "Mutant Message" and the record prior to that being five years before with 2004's "Sweet Confusion". I'd really only been familiar/a fan of their 2001 LP "Good Morning Beautiful" (their song of "Hugger of Trees" is fantastic) so I'm relatively out of touch with the band. The current version of the band is a trio, Contreras of course taking lead vocal duties as well as guitar, with David Joseph(wearing a t-shirt that read "The Titty Shaker") on drums and the bearded(looking a little like Devendra Banhart) Michael Milosh on guitar. Age-wise, you could consider Mr. COntreras as somewhat of an elder statesman of the Toronto music scene, but there was no doubt that his songs contained as much youthful rock n' roll energy as anything released by any of the younger acts now running this town. There was a very casual flair to the brash guitar playing and drum arrangements. But even moreso than such rock n' roll energy was that Mr. Contreras' pop sensibilities were still intact. Over the course of the set, the melodic sensibility tended to meader a bit (such as on one drumless, atmospheric track featuring all three members on guitars) but overall the band and the music were immediately likable.
I don't remember the venue being packed to the gills but the crowd did seem to thicken nicely for By Divine Right and then Gentleman Reg. Reg gave props to both openers with special props to Jose who Reg had mentioned that it was such a long time ago, around the mid-90's, that he and Jose had last shared a stage. Mixing the set with old faves and some new songs, the perpetually good-spirited Reg peppered his inbetween-song banter with some funny comments such as mentioning he took Robaxin for his back, pondering whether it was a bad idea to take it with alcohol (which he admitted he did), but in any case his back pain was gone. The band's current lineup of Reg as well as Dana Snell (drums, vocals), Kelly McMichael (keys, vocals), and Jon Hynes (bass, vocals) plus one other guest(a blonde girl who joined the band for a song or two on keyboards, background vox, and tambourine), were as crack as could be. Details of songs at this point are sort of foggy, although definite impressions were made on me of how good Reg's melodies are at times. Over the multitude of times I've seen Gentleman Reg perform over the last year or so, Reg has consistently given his all, whether it be as the perpetual opening act in any number of venues small and large he's performed in Toronto, or at this headlining gig at the intimate Drake Underground. Class act all around. Saving perhaps the best for last, Reg pulled out for the encore crowd fave "The Boyfriend Song" which I believe a female member of the audience personally approached Reg at the front of the stage begging him to play. Sending at least the front crowd into a dancing frenzy, I couldn't think of a better way to saunter off back into the chilly night.
Photos:
Gentleman Reg, By Divine Right, The Balconies @ The Drake Undergound, Toronto (February 10, 2010)
MySpace:
The Balconies
MySpace:
By Divine Right
MySpace:
Gentleman Reg
----------
Just got my
review
up for the
Laura Marling
show which took place at Lee's Palace on Tuesday February 9.