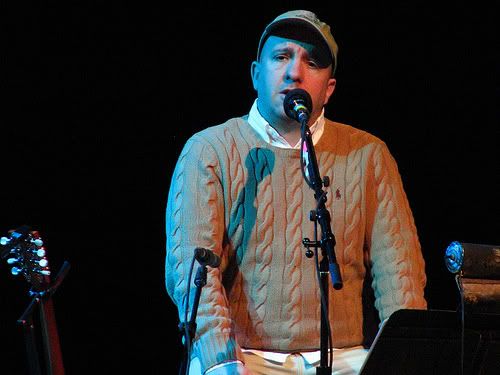 Stephen Merritt: photo by Michael LigonUpdate[Feb 17 2010, 12:36 am]:
Review now up.
It was a musical epiphany that one evening in the mid-90's that I'd first heard
The Magnetic Fields'
song "100, 000 Fireflies" on CBC Radio's Brave New Waves. The song's enchanting, delicate female vocals, it's metronic backbeat and simple yet effective piano arrangement, it's hopelessly romantic lyrics - to this day it remains one of my favourite songs ever. Somewhat surprisingly, it took me a while to explore Mr. Merritt's catalogue. Early on, his 6ths project and it's album "Wasps Nest" was a good representation of Merritt's sensisbilities with's it's electro-pop instrumentation, simple yet highly effective melodies and Merritt's skewed romanticism and it featured a range of vocalists that, at the time, were more attractive to me than Merritt's baritone. "Wasps Nests" remains my most listened to and favourite Merritt album ever although with his Merge Records release "Get Lost" I came to appreciate Merritt's baritone much more. It's only in more recent years that I'd gotten around to purchasing his subsequent 6ths release "Hyacinths and Thistles", and other Magnetic Fields albums like "The Wayward Bus/House of Tomorrow", "The Charm of The Highway Strip" and just last year had purchased his triple-album epic "69 Love Songs" while on vacation in Barcelona. Part of me believes that the only thing from diving head first into his ouevre was that he hardly came up to tour in Toronto/Canada. It's nice to cross The Magnetic Fields off my list of bands I hope to see one day as I did last week at Toronto's sold out show at
Queen Elizabeth Theatre
.
Leading up to The Magnetic Fields' long-awaited and highly anticipated set was opener
Laura Barrett
. I believe I'd only seen her once live
several years back at the Brampton Indie Arts Festival
and while I've always appreciated her whimsical vocals, tinker-toy melodies and her identifiable kalimba playing, I don't think I've ever truly grasped her music within my conventional indie-rock upbringing. Expanding her lineup to include Randy Lee on violin, Dana Snell as multi-instrumentalist and on backup vox, and a third gentleman[I apologize, I don't know his name] on glockenspiel, with Laura on vocals and kalimba, there was richness to their overall sound, taking full advantage of the venue's pristine acoustics, at least from where I was sitting. And perhaps it's just me but Laura's vocal phrasing just seems so much stronger - she has a decent range and she holds notes just long enough that lyrics flow one and into each other nicely. I highly commend Laura and her band for performing an understated yet highly confident set. And of course, Laura's quirky humorous banter is always charming.
It's the occasion of The Magnetic Field's recently released album "Realism" that brings the band out of hiding but as it turned out they performed a good selection of songs from many of their past releases including several from Merritt's 6ths project. I'm more in tune with The Magnetic Fields' electro-pop leanings and have even embraced Merritt's baritone and but the acoustic performance for the evening was impeccable. The new album's songs which are based in acoustic instrumentation were superbly performed but it was the older material that garnered the most attention. Stripped down to acoustic instrumentation like cello, banjo, ukele, keys and autoharp, Merritt faves like "You and Me and The Moon", or 6ths songs like "Falling Out Of Love With You" and "Movies In My Head" were still indentifiable and highly enjoyable. The most enjoyable element perhaps(aside from Stephen's droll banter) were the vocals, from Merritt's baritone to Claudia Gonson's airy vocals and Shirley Simms twang-inflected singing style. The crowd itself was as sedate as they come - no spontaneous singing or clapping from what I remember - but still I had such a large impression that the crowd was intensely enjoying themselves (the between song crowd reaction of course was a dead giveaway). Merritt in his Ralph Lauren polo cable-knit sweater and kaki baseball cap, and his band members conservatively dressed, looked more like a college study group than a band. Merritt's onstage demeanor is more that of arrogant, non-chalance but on the other hand his dry wit and droll sense of humour expressed during spontaneous moments of banter were never in question. Yes, looks can be deceiving and The Magnetic Fields are prime examples of that. I'd no sooner go more into more hyperbole but let's just say the evening was outstanding. My one lone criticism was the last song of the encore and the night, "100 000 Fireflies" with the band performing an adequate acoustic rendition, though far less superior than the song's original studio version. Hey, the fact that we got the song at all made me extremely happy.
Chromewaves
,
Much Music
, and
chartattack
have reviews and photos from the show.
Photos:
The Magnetic Fields, Laura Barrett @ Queen Elizabeth Theatre, Toronto (February 8, 2010)
MySpace:
Laura Barrett
MySpace:
The Magnetic Fields