concert review
:
Kathleen Edwards
w/
Jason Collett
@
The Mod Club
(Toronto, Ontario), April 7, 2005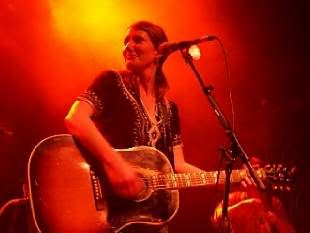 A sort of homecoming for now Toronto-dweller Kathleen Edwards she put on a great show at
The Mod Club
last Thursday. First up was Jason Collett playing a solo set of his alt-country tunes. I really enjoyed the songs that Kevin Drew(fellow
Broken Social Scene
'r) contributed backup vocals for. Some of the songs in my opinion could have benefited from a backing band like on the country-rocker
"Bitter Beauty"
, but even in its acoustic setting it was still irresistible. Mr. Collett played a selection of new songs which I hope'll transfer well on the next album.
Considering my state of mind last week, there was something uplifting about Kathleen Edward's music. The ache of her voice on
"Pink Emerson Radio"
was strikingly beautiful. Irresistibly catchy songs like
"Summerlong"
and
"What Are You Waiting For"
really made me think that Kathleen should be as big as
Sheryl Crow
. Kathleen's hubby Colin Cripps added some great guitar work to the songs, while multi-talented
Jim Bryson
contributed a variety of instrumentation including guitar, keyboards, xylophone, and background vocals. Between song banter included some funny remarks with regards to Mr. Bryson's loyalty to the Expos(when someone yelled out "Nationals"[as in the
Washington Nationals
] Jim said
"Fuck You"
and grinned) and Kathleen's "warning" for the hootin' and hollerin' women to
"stay away from her man"
(and she half-jokingly blurted out
"I mean it"
). On country-rocker
"Back To Me"
, Kathleen showed the swagger which really sets her apart from many female singer-songwriters: When she wants to be, she's dangerous. It was surprising then, but also quite touching, that at the end of the night, with her standing and soaking in the crowd's adoration, it almost looked like she was choked up. [
photos from the show
]
Aversion
has a feature interview with Sam Beam of
Iron and Wine
.
Pitchfork
gives
Great Lake Swimmers
' self-titled album(originally out in 2003 and just rereleased on
Misra
) 7.8.
Popmatters
discusses the use of string instruments in rock music. Says Rick Nelson, violinist for
The Polyphonic Spree
,
"For years strings were only possible for rock bands on recordings. Strings add an orchestral aspect unattainable through the timbres of traditional rock instruments. Violins and violas are a great harmonic addition to guitars and keyboard ranges, while cellos and the upright bass are very complimentary to the electric bass. Although it is in the beginning stages, more bands everyday are starting to use strings."
To add my two cents, I LOVE string arrangements.
The Dears
are on
Last Call with Carson Daly
tonight while
Martha Wainwright
will perform on
The Late Show with David Letterman
on April 15th
tonight as well. [from
rollingstone.com
] BTW, the debut full-length from Martha Wainwright comes out tomorrow!
Futureshop
'll have it for $12.99. I normally hate 'em but you can't beat that price.
I read over at
Kork
that
The Fall
will announce a US tour shortly. Nothing's mentioned so far over at the band website. Maybe Mark E. Smith and the lads'll finally make it to Toronto. We can only hope.